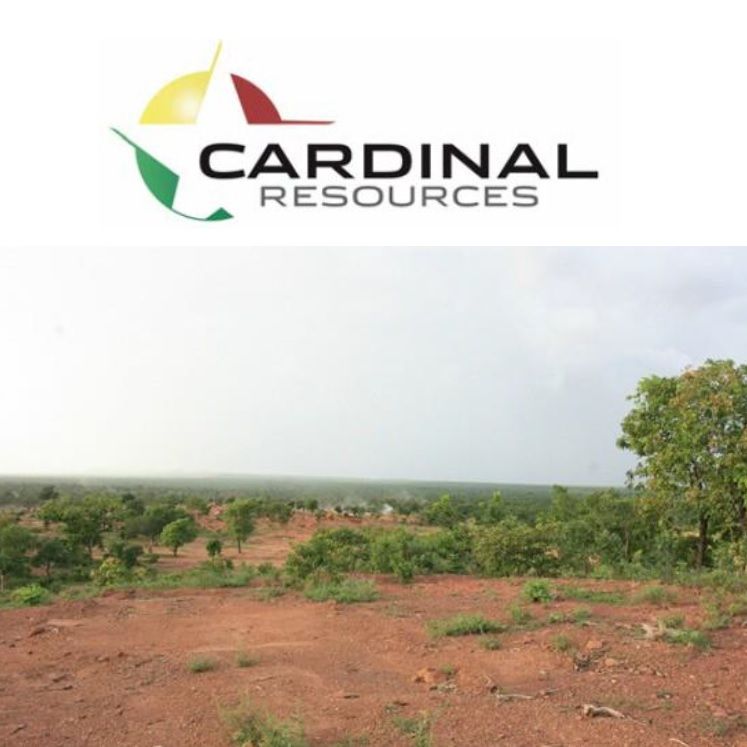 Half Yearly Report and MD&A
Perth, Feb 15, 2018 AEST (ABN Newswire) - The Directors are pleased to submit their report on Cardinal Resources Limited (

ASX:CDV
) (

OTCMKTS:CRDNF
) (

TSE:CDV
) for the three and six months ended 31 December 2017.
DESCRIPTION OF BUSINESS
The principal activity of the Corporation (and its subsidiaries) is gold exploration in Ghana. The Corporation holds interests in five tenements prospective for gold mineralization in Ghana in two NE-SW trending Paleo-Proterozoic granite-greenstone belts: the Bolgatanga Project and the Namdini Gold Project ("Namdini Gold Project" or "Namdini"), which are, respectively, located within the Nangodi and Bole-Bolgatanga Greenstone Belts in northeast Ghana, and the Subranum Project, which is located within the Sefwi Greenstone Belt in southwest Ghana.
The main focus of activity is the Namdini Gold Project where an Indicated Mineral Resource of 120 M tonnes grading 1.1 g/t Au for 4.3 Moz Au and an Inferred Mineral Resource of 84 M tonnes grading 1.2 g/t Au for 3.1 Moz Au each at a 0.5 g/t Au cutoff grade, has been established. The map that follows shows the location of the Namdini Gold Project and the Corporation's other properties in Ghana.
CORPORATE HIGHLIGHTS
- On February 5, 2018, the Company announced the results of a Preliminary Economic Assessment ("PEA") for the Namdini Gold Project. The full report will be filed on SEDAR within 45 days of the announcement and is summarized as follows:
o The report highlights a range of production scenarios (4.5Mtpa, 7.0Mtpa and 9.5Mtpa), all of which appear financially sound, and are expected to translate to high annual gold production at low operating costs (AISC) over long mine lives.
o Construction costs are largely in-line of expectations, with a phased development under consideration to reduce upfront capex.
o The development is based around the mining of a large-scale, single open pit operation, which has a LOM strip ratio of 1.2:1 (Waste : Ore)- Namdini remains open at depth.
o CDV plans to improve metallurgical recoveries, further increase resource confidence, and is fine-tuning operating and capital costs as part of work for the Pre-Feasibility Study ("PFS"), which has commenced and due end H1 CY18.
o A resource upgrade for the project is expected soon (Q1 CY18).
- On October 12, 2017, Mr. Jacques McMullen and Mr. Michele Muscillo were appointed to the Board. Mr. Mark Connelly and Mr. Simon Jackson resigned from the Board to focus on their other significant commitments.
- On October 19, 2017, the Company announced an updated technical report titled "Technical Report Mineral Resource Estimation for the Namdini Gold Project, Ghana", in respect of the Company's Namdini Gold Project in Ghana, West Africa (the "Technical Report"). The NI43-101 Technical Report was authored by MPR Geological Consultants Pty Ltd, and has an effective date of September 11, 2017. The Technical Report can be viewed under the Company's issuer profile on SEDAR at www.sedar.com. The updated Mineral Resource estimated an Indicated Mineral Resource of 120 Mt grading 1.1 g/t Au for 4.3 Moz Au and an Inferred Mineral Resource of 84 Mt grading 1.2 g/t Au for 3.1 Moz Au, each at a 0.5 g/t Au cut off.
- On October 23, 2017 Cardinal announced that it had entered into an agreement with Clarus Securities Inc., on behalf of a syndicate of underwriters, pursuant to which the Underwriters have agreed to purchase, on a "bought deal" basis, 18,461,600 Ordinary Shares of the Company at a price of C$0.65 per Ordinary Share for aggregate gross proceeds to the Company of C$12,000,040, with the deal closing on 22 November 2017.
- On December 12, 2017 a trial grade control programme utilizing a close spaced drilling pattern returned positive results in the upper benches of the targeted starter pit area. Correlation of grades, ounces and tonnes between the Mineral Resource Model (September 2017) and the trial grade control model, has been completed with a very accurate reconciliation.
- On December 14, 2017 infill drilling results were announced from the comprehensive campaign to continue to add definition to the Namdini Mineral Resource. The infill drill results continue to support strong continuity of the mineralized zones. Further results are pending which will form the basis for a Mineral Resource upgrade expected in Q1 2018.
- As at December 31, 2017, cash and cash equivalents amounted to $18,752,321 (June 30, 2017 - $28,592,718).
To view the full report with tables and figures, please visit:
http://abnnewswire.net/lnk/14A81QXX
About Cardinal Resources Ltd

Cardinal Resources Ltd (ASX:CDV) (TSE:CDV) (OTCMKTS:CRDNF) is a West African gold-focused exploration and development Company that holds interests in tenements within Ghana, West Africa.
The Company is focused on the development of the Namdini Project with a Maiden Ore Reserve of 4.76Moz and is now advancing the feasibility study.
Exploration programmes are also underway at the Company's Bolgatanga (Northern Ghana) and Subranum (Southern Ghana) Projects.

Cardinal Resources Ltd
T: +61-8-9322-6600
E: info@cardinalresources.com.au
WWW: www.cardinalresources.com.au

Related CompaniesCardinal Resources Ltd