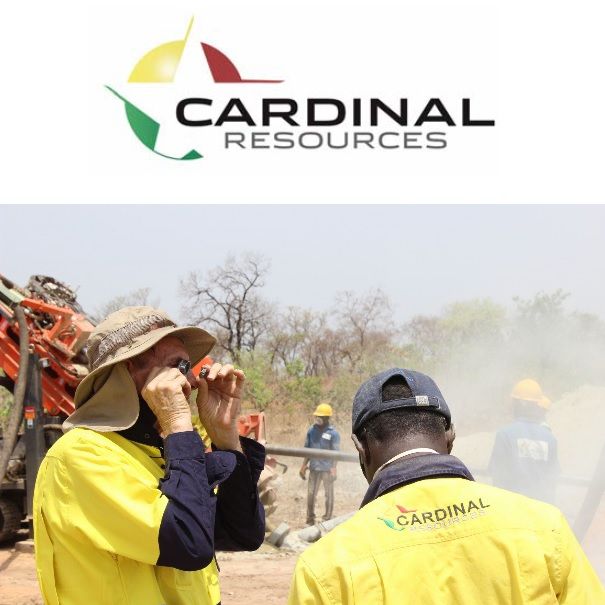 Infill Drilling Results Returned
Perth, Feb 22, 2018 AEST (ABN Newswire) - Cardinal Resources Limited (

ASX:CDV
) (

TSE:CDV
) (

OTCMKTS:CRDNF
) ("Cardinal" or "the Company") is pleased to advise that it has now received the final tranche of assay results from its current phase of infill resource drilling at the Namdini Gold Project in Ghana. These encouraging results follow on from the previously announced drilling results (refer to ASX/TSX announcement of 22 January 2018), and will now form the basis for an update to the Mineral Resource estimate which is expected to be delivered at the end of the March quarter.
Cardinal's Chief Executive Officer / Managing Director, Archie Koimtsidis said:
"These are the final tranche of drill results from the infill drilling programme which was specifically designed with the objective of increasing the confidence level by targeting our 3.1Moz of Inferred Resources into the Indicated Mineral Resource category which currently contains 4.3Moz at a 0.5 g/t gold cut-off grade. The Measured and Indicated Mineral Resources will drive our Pit Design and Mining Schedule for the Pre-Feasibility Study that is well underway, and expected to be completed by mid-2018.
"While we are continuing to work towards upgrading our current Mineral Resource base at Namdini by Q1 2018, we also have drill rigs actively testing our highly prospective regional exploration licences for new discoveries, and we look forward to providing information from these first pass drill programmes".
HIGHLIGHTS
- 17m at 5.4g/t Au from 216 - NMDD149
- 10m at 4.8 g/t Au from 377m - NMDD139
- 50m at 2.3g/t Au from 101m - NMDD141
- 11m at 3.0 g/t Au from 494m - NMDD149
- 16m at 2.3g/t Au from 436m - NMDD151
- 34m at 2.4 g/t Au from 345m - NMDD149
- 18m at 2.0 g/t Au from 510m - NMDD149
- 19m at 2.2 g/t Au from 477m - NMDD151
- 37m at 2.0 g/t Au from 98m - NMDD139
- 20m at 2.1 g/t Au from 99m - NMDD142
- 27m at 1.8 g/t Au from 145m - NMDD140
- 19m at 2.0 g/t Au from 286m - NMDD140
- 42m at 1.6 g/t Au from 255m - NMDD139
- 31m at 1.5 g/t Au from 232m - NMDD141
- 53m at 1.4 g/t Au from 150m - NMDD142
- 51m at 1.3 g/t Au from 199m - NMDD139
Individual gold intersections are >0.5 g/t Au with no more than 3m of consecutive internal dilution at <0.5 g/t Au.
Detailed results of the drill programme are included below and in the attached schedules (see link below).
DISCUSSION OF RESULTS
All drilling results from the current phase of infill drilling have been returned from the comprehensive campaign designed to increase the confidence in the current Namdini Mineral Resource and enable the establishment of a maiden Ore Reserve. The current phase of drilling specifically focused on Mineral Resource conversion by infilling the existing drill pattern to within a nominal 50m x 50m spacing targeting a vertical depth of approximately 400m below surface. In total, the Company has now completed 96,228m of drilling comprised of 62,935 HQ diamond drill metres and 33,293 5.5' RC drill metres for the Namdini Mineral Resource. The results strongly support the continuity of mineralization and increase the confidence in the current Mineral Resource.
The Namdini Project currently has an estimated Indicated Mineral Resource of 4.3 Moz of gold and an Inferred Mineral Resource of 3.1 Moz of gold (refer to ASX/TSX announcement on 18 September 2017 for details) at 0.5 g/t cut-off grade. The infill drilling is expected to upgrade a significant portion of the current Inferred Mineral Resource into a higher category thereby increasing the current Indicated Mineral Resource base. Optimisation studies will commence after the Mineral Resource update due Q1 2018, which will then underpin the Company's maiden Ore Reserve. The Ore Reserve will then form the basis of the Pre-Feasibility and Definitive Feasibility Studies that the Company is progressing for the Namdini Project.
Figure 1 (see link below) illustrates a plan view of the collar locations of drill holes and a typical interpretive section through the mineralization which is displayed in Figure 2 (see link below). Meta Data for significant intercepts are tabulated in Table 1, Schedule 1 (see link below). Details of all significant intercepts are provided in Table 2, Schedule 1 (see link below).
To view tables and figures, please visit:
http://abnnewswire.net/lnk/3J1V70SK
About Cardinal Resources Ltd

Cardinal Resources Ltd (ASX:CDV) (TSE:CDV) (OTCMKTS:CRDNF) is a West African gold exploration and development Company that holds interests in tenements within Ghana, West Africa.
The Company is focused on the development of the Namdini Project with a gold Ore Reserve of 5.1Moz (0.4 Moz Proved and 4.7 Moz Probable) and a soon to be completed Feasibility Study.
Exploration programmes are also underway at the Company's Bolgatanga (Northern Ghana) and Subranum (Southern Ghana) Projects.
Cardinal confirms that it is not aware of any new information or data that materially affects the information included in its announcement of the Ore Reserve of 3 April 2019. All material assumptions and technical parameters underpinning this estimate continue to apply and have not materially changed.

Archie Koimtsidis
CEO / MD
Cardinal Resources Limited
P: +61-8-6558-0573

Alec Rowlands
IR / Corp Dev
Cardinal Resources Limited
P: +1-647-256-1922
Related CompaniesCardinal Resources Ltd