Nankivel porphyry copper target revised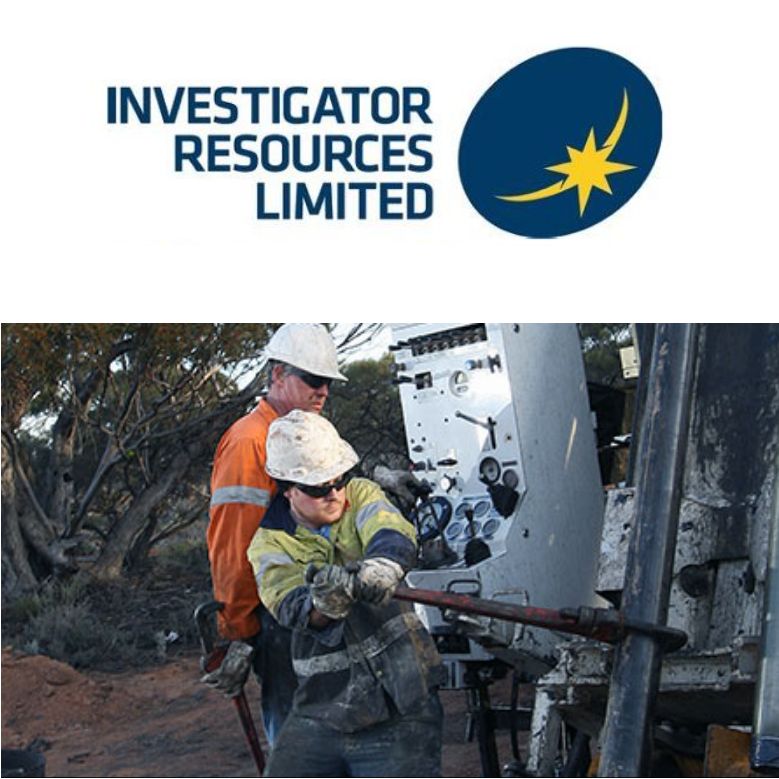 Trojan Drilling Intersects Pyritic Zone
Adelaide, Feb 26, 2018 AEST (ABN Newswire) - Investigator Resources Limited (

ASX:IVR
) announces the completion of three RCP holes to test the Trojan Induced Polarisation ("IP") target as projected in the Annual General Meeting in November 2017. All three holes, drilled between 252m and 275m downhole depths, intersected extensive iron sulphides without targeted copper sulphides being observed. Assays are awaited, with no significant copper values anticipated. The Trojan target lies within the 100% IVR-held Peterlumbo tenement (see Figure 1 in link below) 5km southeast of the Company's Paris silver project 42Moz Mineral Resource.
Three 400m-spaced reverse circulation percussion ('RCP') holes drilled in mid-February 2018 to test the large Trojan IP target intersected pyritic metasediments without visible copper sulphide.
- The pyritic metasediment can be interpreted as the southern pyritic halo to Nankivel porphyry system. Hence the location of central copper-prospective zone is revised.
- Assays are awaited to investigate metal ratio vectors to potential adjacent targets.
- Focus will continue to advance the Paris silver project with:
o A four-hole program of deeper RCP drilling completed last week in the prospective south-eastern Paris extension.
o Induced Polarisation ('IP') survey completed in early February is being assessed for satellite silver targets.
o Further drilling planned in March at Paris and satellite targets.
Investigator's Managing Director John Anderson said "The drilling showed the strongest IP anomaly (see Figures 2 & 3 in link below) in the Nankivel porphyry system results from pyrite in network fractures and quartz veining, and is interpreted as the outer pyritic zone to the system. This implies the drilling has over-stepped any copper-prospective centre to the system, north of and most likely significantly deeper than the recent drilling (see Figure 4 in link below). Investigator will not undertake any further sole exploration on the Nankivel Project. A joint venture partner will be sought to fund further exploration.
Investigator will continue to focus on the nearby Paris silver project. Following the Trojan program, four holes were also recently completed with the larger RCP drill rig in the south-eastern Paris extension zone. Assays are awaited." Mr Anderson added.
As referred to in TABLE 1, Appendix 1 (see link below), three holes were drilled and are summarised in Table A.
Table A: Drill collars for the reported drilling program for the Trojan Drilling, Peterlumbo Tenement
 
----------------------------------------------------------------------
Hole ID  Easting   Northing    RL (m)  Azimuth  Dip   Total depth (m) 
----------------------------------------------------------------------
PPRC468  598,839   6,383,781   226     20       -65   252 
PPRC469  598,579   6,384,265   240     0        -90   269 
PPRC470  598,090   6,384,098   220     20       -65   275 
----------------------------------------------------------------------

Additional Information
Refer to Appendix 1 for 'TABLE 1: Peterlumbo Tenement, Trojan Reverse-Circulating Drilling, Visual Results February 2018 - JORC 2012', information relating to the compliance of the 2012 edition of the JORC Code. This includes Section 1 - sampling Techniques and Data and Section 2 - Reporting of Exploration Results.
To view tables and figures, please visit:
http://abnnewswire.net/lnk/19W7O21Q
About Investigator Resources Ltd

Investigator Resources Limited (ASX:IVR) is a metals explorer with a focus on the opportunities for greenfields silver-lead, copper-gold and other metal discoveries in South Australia.
The Company's priority is progressing the development pathway for the Paris silver project with the preparation of a pre-feasibility study. The Paris Mineral Resource Estimate is 9.3Mt @ 139g/t silver and 0.6% lead, comprising 42Moz of contained silver and 55kt of contained lead, at a 50g/t silver cut-off. The resource has been categorised with an Indicated Resource estimate of 4.3Mt @ 163g/t silver and 0.6% lead for 23Moz contained silver and 26kt contained lead, and an Inferred Resource: 5.0Mt @ 119g/t silver and 0.6% lead for 19Moz contained silver and 29kt contained lead.
The Company has applied an innovative strategy that has developed multiple ideas and targets giving Investigator first-mover status. These include: the Paris silver discovery; recognition of other epithermal fields and the associated potential for porphyry copper-gold of Olympic Dam age; extending the ideas developed at Paris-Nankivel and using breakthrough government Magneto-Telluric surveying to rejuvenate targeting with the Maslins IOCG target as the next priority drill target.

Mr John Anderson
Managing Director
Investigator Resources Limited
E: info@investres.com.au
T: +61-8-7325-2222

Mr Peter Taylor
Investor Relations
NWR Communications
E: peter@nwrcommunications.com.au
T: +61-41-203-6231
Related CompaniesInvestigator Resources Ltd