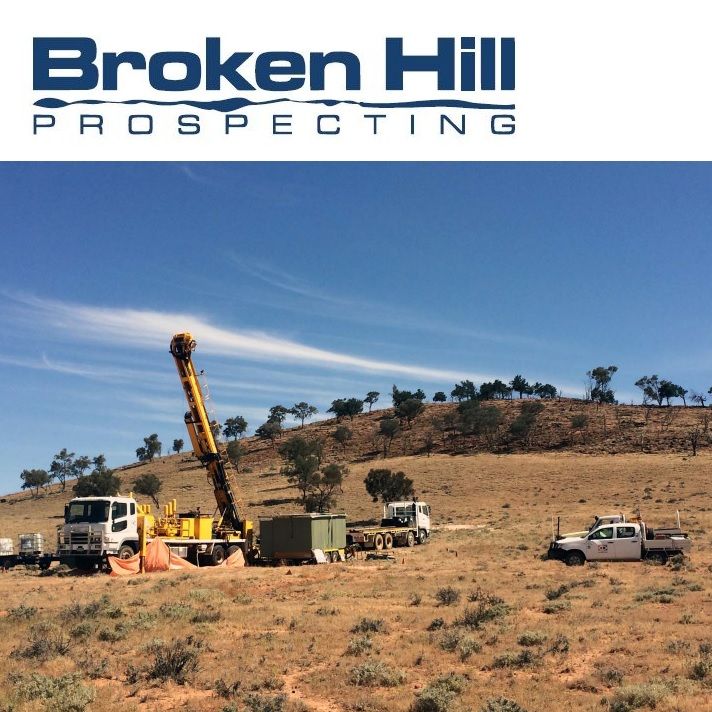 Half Yearly Report for the Period Ended 31 December 2017
Sydney, Mar 19, 2018 AEST (ABN Newswire) - The Directors present the following report including financial statements of Broken Hill Prospecting Limited (

ASX:BPL
) (Company) for the six months ended 31 December 2017.
Review of Operations
Broken Hill Prospecting Limited (

ASX:BPL
) is an Australian exploration company focussed on the discovery and development of strategic mineral resources across two primary geographical areas; the Broken Hill Region (base, precious and industrial metals, including the Thackaringa Cobalt & Base/Precious Metal Project) and the Murray Basin Region (Heavy Mineral Sands).
Additional information about the Company is available on BPL's website at
http://www.bhpl.biz
Thackaringa Project, Broken Hill, NSW
Thackaringa Cobalt Project Joint Venture (TJV)
The successful spin-off of Cobalt Blue Holdings Limited (

ASX:COB
) was completed in February 2017, with investors seeking shares and options exceeding the $10 million maximum being offered. The deal was an important initiative for BPL to realise significant value from its Thackaringa Cobalt Project.
An important part of the spin-off was that BPL enter a detailed farm-in joint venture agreement with COB to finance and undertake an extensive exploration and development program at Thackaringa (the TJV). BPL and COB agreed to certain changes to the joint venture agreement on the 30th June 2017, which are summarised in Table 1 in link below.
Under the TJV, COB can earn 100% of the Project if it completes a 4-stage farm-in by committing $10.9 million project expenditure before 30 June 2020 and paying BPL $7.5 million in cash. In addition, BPL will receive a 2% net smelter royalty on all cobalt produced from the Thackaringa tenements for the life of mine.
Subject to COB completing Stage 1 milestones, COB has a 51% beneficial interest in the Thackaringa Cobalt Project with BPL retaining a 49% beneficial interest. In order for COB to retain its 51% beneficial interest, key deliverables by 1 April 2018 are a 40Mt Indicated Resource sufficient to support a Prefeasibility Study to JORC 2012 standard. A Pre-feasibility Study is due by 30 June 2018 and forms part of Stage 2 milestones whereby COB can earn up to 70% beneficial interest.
Importantly, under the terms of the TJV, BPL retains the rights to lead, zinc, copper, silver and gold minerals on the TJV tenements.
Scoping Study
BPL received a Scoping Study for the Thackaringa Cobalt Project from COB on 30 June 2017. The results of the Study were positive and importantly provided strong encouragement for the joint venture to commit to the next stage of exploration and development.
Pre-feasibility Study
During the reporting period, a major drilling program was completed to support a resource upgrade in preparation for Pre-feasibility Studies.
The drilling program comprised seventy-four (74) drill holes for 12,458.7 metres and included sixteen (16) DD holes, fifty-five (55) RC holes and three (3) RC holes with diamond tails. By deposit forty-eight (48) holes were drilled at Railway, seventeen (17) holes at Pyrite Hill and nine (9) holes at Big Hill.
The results demonstrate strong continuity along both strike and down dip at the Railway, Pyrite Hill and Big Hill deposits. Cobalt mineralisation outcrops in prominent ridgelines that extend for 4.5km strike with widths ranging from 25 to 100m and open at depth.
The drilling program was designed to upgrade the resource to Indicated status, expand the overall resource base, provide comprehensive geotechnical information and additional samples for metallurgical testing.
The Pre-feasibility Study is well advanced with the continuation of metallurgical test work and ongoing geotechnical, hydrological, mining and environmental assessments. Results to date have been positive and the joint venture remains on track to complete Stage Two deliverables by 30 June 2018.
Thackaringa Base & Precious Metal Exploration
BPL retains the rights to all lead, zinc, copper, silver and gold minerals at Thackaringa under the terms of the TJV with COB.
During the reporting period, a major heliborne electromagnetic ('EM') survey (VTEM-Max) was completed at Thackaringa covering the entire project area (63km2) at a nominal 100m-line spacing.
The survey was fully funded by COB as part of the TJV.
The high resolution electromagnetic and magnetic data was used in conjunction with geological mapping to produce a new tenement-scale, 3D geological model which has greatly enhanced base and precious metal targeting at the Thackaringa Project.
Multiple base and precious metal anomalies have been identified for further evaluation, including a newly discovered zinc, lead and silver (Zn-Pb-Ag) prospect with outcropping quartz-gahnite veins - a key vector for Broken Hill-style Zn-Pb-Ag mineralisation.
The updated geology model has provided renewed focused on previously explored prospects, with rocks chips defining extensive Cu-Pb-Zn-Au-Ag mineralisation:
- Pyramid Hill
o 7.5% Cu, 40g/t Ag, 1g/t Au, 0.1% Ni & 0.2% Pb
- Old Coolgardie West
o -- 5.2% Cu, 140g/t Ag, 0.2g/t Au, 0.2% Ni & 0.1% Pb
- Himalaya North
o -- 2.6% Cu, 5.9% Pb, 62g/t Ag & 0.8% Zn
Key ASX Announcements
5 March 2018: PFS - Calcine and Leach Testwork Complete - Strong Results
24 January 2018: Significant Thackaringa Drilling Program Complete
12 December 2017: Latest Thackaringa Project Results
22 November 2017: Multiple large base and precious metal targets found at Thackaringa Project
27 September 2017: Geophysical Survey and 3D Modelling Commences at Thackaringa
Heavy Mineral Sands Projects, Murray Basin NSW, VIC and South Australia
Major Expansion
During the reporting period, BPL under took a restructure and major expansion of the mineral sands portfolio. BPL now holds the largest tenement portfolio in the world class Murray Basin placing the Company in a strong position to take advantage of improving market conditions.
The expanded tenement footprint is underpinned by extensive data compilation and prospectivity analysis that has equipped BPL with a unique proprietary database comprising approximately 45,000 drill holes for 1.5 million metres of drilling. The database reflects a total exploration replacement value of approximately $650 million in today's terms (drilling and assay only).
BPL is targeting the establishment of a sustainable pipeline of high grade, low tonnage deposits amendable to processing through low capex/low opex mobile plant equipment that could be deployed across the broader project area.
Joint Venture Dispute Resolved
Part of the tenement portfolio re-structure involved settlement of a dispute with former joint venture partner Relentless Resources Ltd. The partial divestment of the heavy mineral sands portfolio raised $3.1m cash and has put the Company in a strong financial position.
Maiden Resource Estimates
On 10 August 2017, BPL announced maiden Mineral Resource estimates for the Jaws and Gilligans HMS deposits. Jaws and Gilligans deposits are located in south-western New South Wales approximately 50km north of Mildura and 20km east of the Silver City Highway, which links Mildura to Broken Hill.
The Inferred Mineral Resources comprise a total of 113 Mt @ 1.8% HM and 3% slimes containing 2 Mt of HM with an assemblage of 10% total ilmenite, 10% zircon, 26% rutile and 21% magnetic leucoxene and 2% non-magnetic leucoxene including: (see table 2 in link below).
Subsequent to the end of the reporting period, the Company has applied for several additional tenements in the Broken Hill region. These application areas, prospective for base, precious and industrial minerals, are under review. At the date of this report the applications have not been granted.
Key ASX Announcements
4 October 2017: Murray Basin Heavy Mineral Sands Expansion Strategy Advances
28 September 2017: Completion of Legal Dispute Settlement
10 August 2017: Large Maiden Resource Estimate Murray Basin Mineral Sands
28 June 2017: Dispute Settled and HMS Expansion Plans Accelerate
The Company confirms it is not aware of any new information or data that materially affects the information included in the original market announcements, and, in the case of exploration targets, that all material assumptions and technical parameters underpinning the exploration targets in the relevant market announcements continue to apply and have not materially changed. The Company confirms that the form and context in which the Competent Person's findings presented have not been materially modified from the original market announcements.
To view the full report with tables and figures, please visit:
http://abnnewswire.net/lnk/KHX0812O
About Broken Hill Prospecting Ltd

Broken Hill Prospecting Ltd (ASX:BPL) is an Australian exploration company focussed on the discovery and development of strategic mineral resources across two primary geographical areas; the Murray Basin Region (Heavy Mineral Sands) and the Broken Hill Region (industrial, base and precious metals, including the Thackaringa Cobalt & Base/Precious Metal Project).
Broken Hill Prospecting Ltd
Trangie Johnston, CEO
T: +61-2-9238-1170
WWW: www.bhpl.biz

Related CompaniesCobalt Blue Holdings Limited



Broken Hill Prospecting Ltd