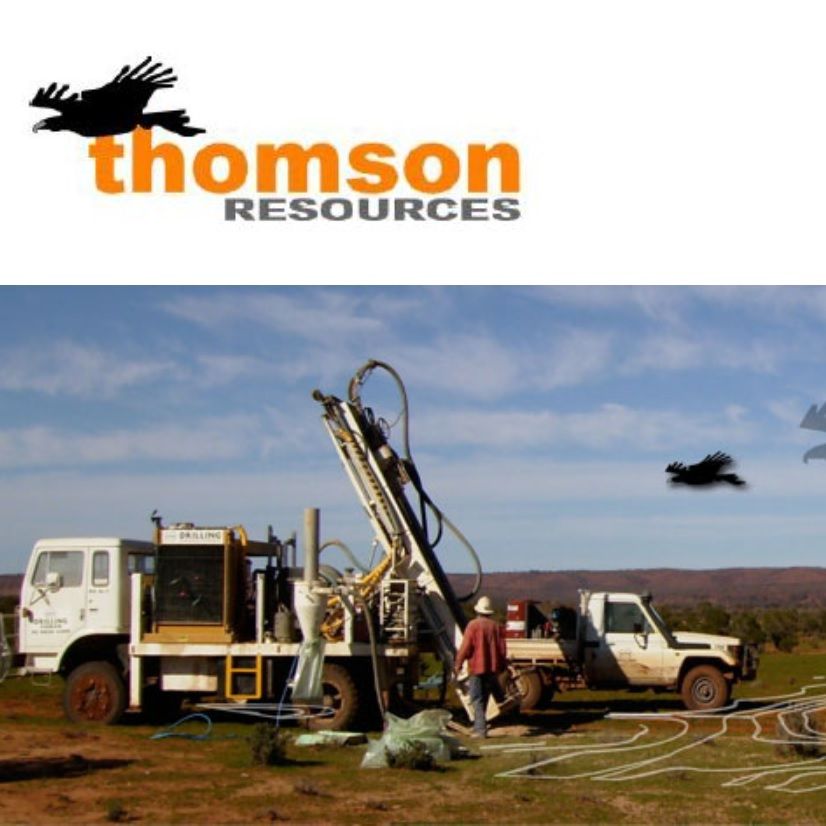 Strong Drill Results at Bygoo Tin
Sydney, Mar 19, 2018 AEST (ABN Newswire) - Thomson Resources (

ASX:TMZ
) is pleased to announce tin assays from its first 2018 drill campaign at the Bygoo tin project near the old Ardlethan tin mine, NSW. Twelve holes for 1104m were drilled at Bygoo North to confirm interpreted mineralisation zones and extend the mineralisation by testing along strike and at depth.
- Strong tin intercepts continue at shallow depths at Bygoo North
- Up to 10m at 1.0% Sn from 22m depth down hole
- Further extension drilling strongly warranted
- Further results from Bald Hill (tin) and Harry Smith (gold) awaited
High grade tin intersections of similar tenor to those previously recorded were obtained along interpreted northerly and easterly mineralised trends (see Figure 1 in link below). The standout intersections are -
- BNRC42- 10m at 0.5% Sn from 23m depth
- BNRC43- 4m at 0.8% Sn from 9m depth
- BNRC44- 12m at 0.6% Sn from 26m depth
- BNRC46- 8m at 0.8% Sn from 62m depth
- BNRC47- 3m at 1.4% Sn from 144m depth
- BNRC50- 7m at 0.9% Sn from 124m depth
- BNRC51- 10m at 1.0% Sn from 22m depth
- BNRC52- 13m at 0.5% Sn from 20m depth
Seven holes were drilled to the north of the historic "Dumbrells" pit searching for shallow mineralisation as seen in the previous drill hole BNRC038 (8m at 1.2% Sn from 16m depth). Drilling was successful (see Figure 1 in link below) with six of those holes intersecting wide, high grade, tin mineralisation in quartz- and tourmaline-rich greisen alteration zones at the granite-rhyolite contact. The new drilling has defined a north-south zone of mineralisation extending at least 120m from the historic pit area. The zone is shallow and open to the north. Follow up drilling is planned.
Holes BNRC47 (see Figure 2 in link below) and BNRC50 (see Figure 3 in link below) targeted deeper extensions of the main zone of mineralisation to the east and were also positive, although both holes encountered difficulty at depth and didn't reach final target depth. Intersections of 3m at 1.4% Sn and 7m at 0.9% Sn respectively confirm that not only is the mineralisation open in this direction but there are potentially additional greisen zones.
Holes BNRC52 and BNRC53 were targeted south of the old pit to verify the greisen geometry and were partly successful with BNRC52 intersecting 13m at 0.5% Sn from 20m depth. The interpretation here is that this mineralised zone is similar to the contact greisen north of the pit with the old workings having been undertaken on an outcropping portion of this north-south contact greisen (see Figure 1 in link below).
A new round of drilling is being planned to further extend and confirm the high-grade tin zones intersected.
Additionally, final results are awaited for drilling at the Bald Hill tin target and Harry Smith gold prospect.
Bygoo Tin Project
The Bygoo Tin Project was acquired by Thomson Resources in 2015 and lies on the 100% owned EL 8260. The EL surrounds the major tin deposit at Ardlethan which was mined until 1986, with over 31,500 tonnes of tin being produced (reference Paterson, R.G., 1990, Ardlethan tin deposits in the Australasian Institute of Mining and Metallurgy Monograph no. 14, pages 1357-1364). There are several early-twentieth century shallow tin workings scattered up to 10km north and south of Ardlethan, and few have been tested with modern exploration. Thomson has had immediate success in drilling near two of the historic workings, Bygoo North and South, which lie towards the northern end of the tin-bearing Ardlethan Granite.
At Bygoo North Thomson has intersected multiple high-grade tin intersections in a quartztopaz- cassiterite greisen including 11m at 1.0% Sn (BNRC10), 35m at 2.1% Sn (BNRC11), 11m at 1.4% Sn (BNRC13), 11m at 2.1% Sn (BNRC20), 29m at 1.0% Sn (BNRC33) and 19m at 1.0% Sn (BNRC40). This greisen appears to be steep to vertical; about 5-10m wide in true width; strike east-west; and the tin intersections appear to have continuity within the greisen.
At Bygoo South Thomson has intersected a sulphide-rich quartz topaz greisen with highgrade tin intersections including 8m at 1.3% Sn (BNRC21), 20m at 0.9% Sn (BNRC31) and 7m at 1.3% Sn (BNRC35). The orientation and geometry of this greisen is not yet clear.
As announced to the ASX on 21 November 2016, Riverston Tin PL (a wholly owned subsidiary of Thomson) signed a Farm-in and Joint Venture Agreement for its Bygoo Tin Project with a Canadian investor (BeiSur OstBarat Agency Ltd). Bei Sur (or nominee) can earn a 51% interest by contributing $A3 million in staged payments by 30 June 2018. Bei Sur then has an option to contribute additional $A22 million to earn a further 25% interest, which is exercisable until 1 October, 2018.
[For further information and the detail of the above see Thomson Resources ASX Releases of 21 November 2016, 28 June 2017 and 16 October, 2017]
To view tables and figures, please visit:
http://abnnewswire.net/lnk/3O8P09B8
About Thomson Resources Ltd

Thomson Resources Ltd (ASX:TMZ) is an NSW active mineral explorer. Thomson has several tin projects (including an advanced project near Ardlethan), as well as gold, copper and zinc targets in a range of settings. Thomson has a good record of discovery, with multiple new Intrusion-Related Gold (gold with copper, lead, zinc, molybdenum, tungsten) systems discovered in the Thomson Fold Belt in the NW of the state.

Thomson Resources Ltd
T: +61-2-9906-6225
E: info@thomsonresources.com.au
WWW: www.thomsonresources.com.au

Related CompaniesThomson Resources Ltd