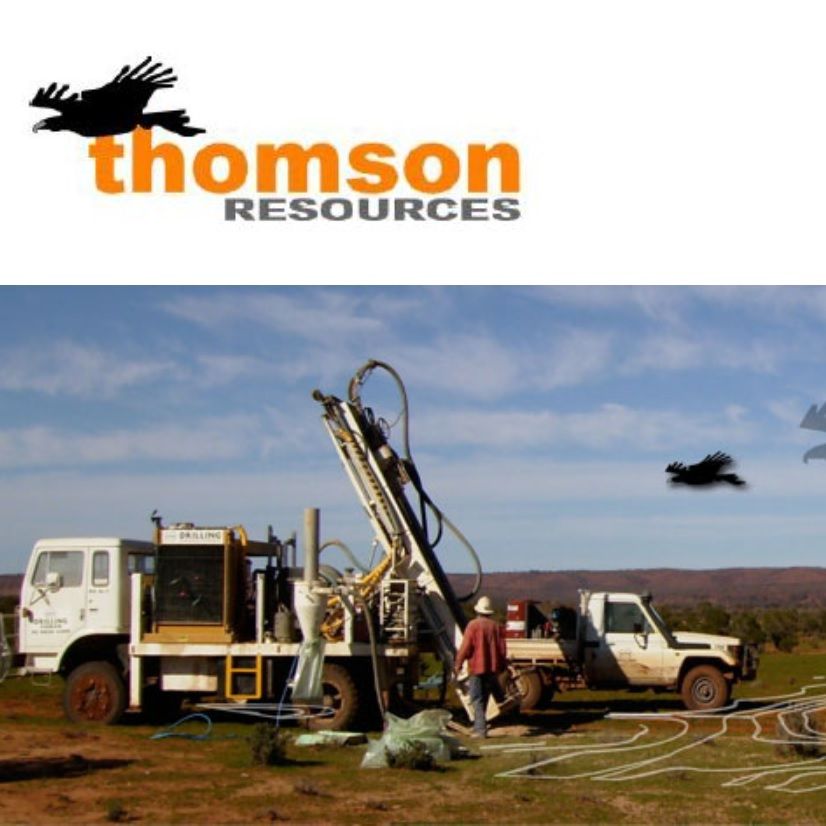 Strong Tin Results at Bald Hill
Sydney, April 5, 2018 AEST (ABN Newswire) - Thomson Resources (

ASX:TMZ
) is pleased to announce tin assays recently received from the 2018 drill campaign at the Bald Hill prospect near the old Ardlethan tin mine, NSW. Bald Hill is 12km south of the Ardlethan mine, or 20km south of the Bygoo prospects on the same exploration license (EL 8260). At Bald Hill, historic workings extend over one kilometer strike with multiple shallow pits and shafts. These include the old Maratholi pits at the southern end of the Bald Hill tin field which are the most accessible, situated within a ploughed field.
- Significant tin intercepts at shallow depths at Bald Hill
- Up to 15m at 0.4% Sn, including 6m @ 0.6% Sn recorded
- Further extension drilling strongly warranted
- Bygoo Joint Venture agreement amended
Three RC holes for 170m were drilled at the Maratholi workings to confirm interpreted mineralisation zones and strike extent of mineralisation.
Good tin grades were intersected in all three holes (see Figure 2 in link below).
- BHRC01- 15m at 0.4% Sn from 19m depth
o Including 7m at 0.5% Sn
- BHRC02- 17m at 0.3% Sn from 26m depth
o Including 6m at 0.6% Sn
- BHRC03- 16m at 0.2% Sn from 19m depth
o Including 6m at 0.3% Sn
All three holes obtained similar intersections of altered and greisenised granite of around 15m downhole width, with a distinct higher grade portion. Preliminary modelling shows that the intersections appear to have good continuity with the true width likely to be around 10m (see Figure 3 in link below).
Previous drilling at Maratholi by Shell Minerals in 1979 (two holes for 110m) recorded similar intersections to the new Thomson drilling (e.g. PBH16 24m at 0.2% Sn from 30m inc. 8m at 0.4%) and fall into the modelled zone (see Figure 2 in link below).
Of interest is the correlation between the tin mineralisation and reflective surfaces detected in a ground penetrating radar survey carried out by Thomson last year (see Figure 3 in link below). Two reflectors, a strong lower reflector and a shallower reflector, form a rectangular or diamond shaped area of bland or quiet response in which the tin mineralisation occurs. This may be indicative of the greisen alteration zone. Significantly, this lower reflector can be traced through the entire survey, which extends for 700m, north and south of the current drilling.
Based on its good RC drilling intersections and the results of the radar survey, Thomson believes that the southern end of the Bald Hill tin field has potential for significant tin mineralisation and warrants follow up drilling.
To the north of Maratholi, previous work defined a significant historic alluvial resource (described in Thomson's quarterly report of September 2016) based on 51 RAB holes and 7 percussion holes drilled between 1982 and 1983. The historic resource comprised 2.5M tonnes at 524 ppm Sn (0.05%) with an average thickness of 9.5m over a strike length of 1100m, containing 1,300 tonnes of tin metal. This alluvial tin deposit is not believed to have been sourced by Maratholi but from hard rock mineralisation from the Portal or Trig North areas (see Figure 1 in link below). Further drilling is needed at Portal or Trig North to locate the likely hard rock source of the alluvial deposit which has yet to be adequately tested by modern exploration (see Figure 1 in link below).
This historic resource estimate is not reported in accordance with the JORC code and it is uncertain that following evaluation and/or further exploration the resource will be able to be reported in accordance with the JORC Code. A competent person has not done sufficient work to classify this historic estimate in accordance with the JORC code.
Bygoo Farm In and Joint Venture agreement
An amendment to the Bygoo Farm In and Joint Venture agreement has been signed. The private Canadian investor (BeiSur OstBarat Agency Ltd.) is in negotiation with other parties (including listed company International Battery Metals Ltd - CSE:IBAT) to fund the outstanding payments. An interim payment of $350,000 was paid by BeiSur to Thomson on March 29th, with a further $350,000 due by April 30th. The last outstanding amount for BeiSur to gain its 51% interest in the joint venture is the $1.5 million payment that is due on June 30th, 2018. By paying a further $200,000 to Thomson as a direct investment by April 30th, 2018 BeiSur would get an option to defer this payment by up to 12 months: however a holding fee of $50,000 will be added to the amount for every month the payment is delayed past June 30th. Therefore the final payment will be $2.1 million if delayed till June 2019. In view of past delayed payments, EL 8531 (which includes Harry Smith Gold prospect) has been excised from the joint venture.
Bygoo Tin Project
The Bygoo Tin Project was acquired by Thomson Resources in 2015 and lies on the 100% owned EL 8260. The EL surrounds the major tin deposit at Ardlethan which was mined until 1986, with over 31,500 tonnes of tin being produced (reference Paterson, R.G., 1990, Ardlethan tin deposits in the Australasian Institute of Mining and Metallurgy Monograph no. 14, pages 1357-1364). There are several early-twentieth century shallow tin workings scattered up to 10km north and south of Ardlethan, and few have been tested with modern exploration. Thomson has had immediate success in drilling near three of the historic workings, Bygoo North, South and Bald Hill.
At Bygoo North Thomson has intersected multiple high-grade tin intersections in a quartztopaz-cassiterite greisen including 11m at 1.0% Sn (BNRC10), 35m at 2.1% Sn (BNRC11), 11m at 1.4% Sn (BNRC13), 11m at 2.1% Sn (BNRC20), 29m at 1.0% Sn (BNRC33) and 19m at 1.0% Sn (BNRC40). The greisen zones appear to be steep to vertical; about 5-10m wide in true width; strike east-west; and the tin intersections appear to have continuity within the greisen.
As announced to the ASX on 21 November 2016, Riverston Tin PL (a wholly owned subsidiary of Thomson) signed a Farm-in and Joint Venture Agreement for its Bygoo Tin Project with a Canadian investor (BeiSur OstBarat Agency Ltd). Bei Sur (or nominee) can earn a 51% interest by contributing $A3 million in staged payments by 30 June 2018. Bei Sur then has an option to contribute additional $A22 million to earn a further 25% interest, which is exercisable until 1 October, 2018. This arrangement is now amended as described above in the body of the current release.
[For further information and the detail of the above see Thomson Resources ASX Releases of 21 November 2016, 28 June 2017 and 16 October, 2017]
To view tables and figures, please visit:
http://abnnewswire.net/lnk/2036S6KS
About Thomson Resources Ltd

Thomson Resources Ltd (ASX:TMZ) is an NSW active mineral explorer. Thomson has several tin projects (including an advanced project near Ardlethan), as well as gold, copper and zinc targets in a range of settings. Thomson has a good record of discovery, with multiple new Intrusion-Related Gold (gold with copper, lead, zinc, molybdenum, tungsten) systems discovered in the Thomson Fold Belt in the NW of the state.

Thomson Resources Ltd
T: +61-2-9906-6225
E: info@thomsonresources.com.au
WWW: www.thomsonresources.com.au

Related CompaniesThomson Resources Ltd