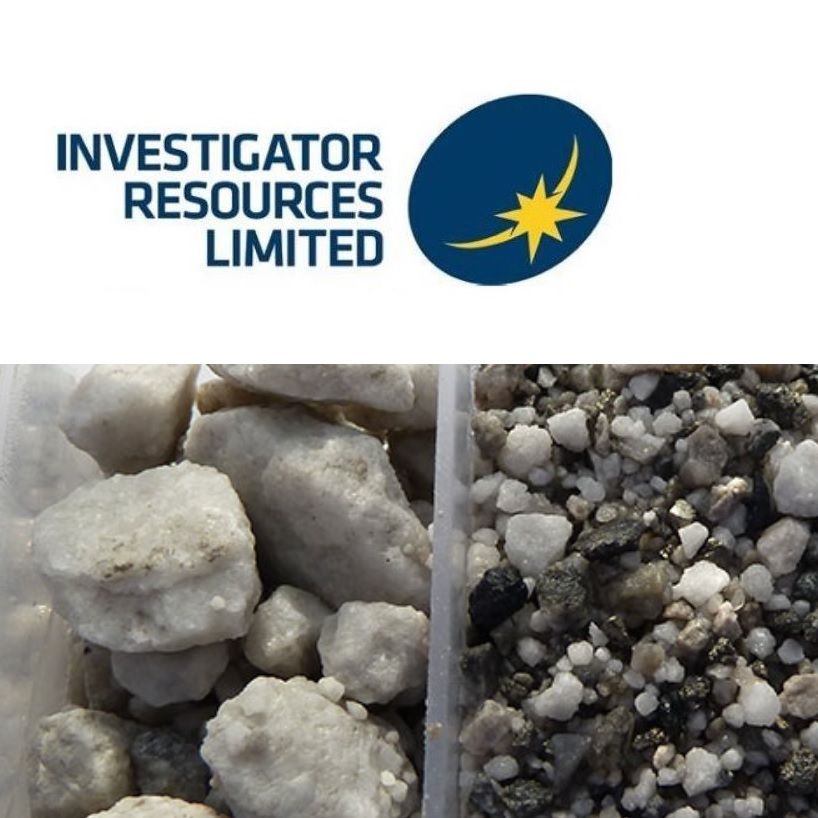 New Assay Results for Paris Silver Extension Drilling
Adelaide, April 26, 2018 AEST (ABN Newswire) - Investigator Resources (

ASX:IVR
) is pleased to announce all the assays are now received and compiled for the Paris extension drilling undertaken in December 2017 and February 2018.
- One metre sample re-assaying of December 2017 drilling confirms high silver grades at northern and southern ends of the Paris deposit; e.g.
o PPRC465: 5m @ 270g/t Ag from 15m (north end)
o PPRC457: 16m @ 169g/t Ag from 83m (south end)
- New vertical drilling confirms south east extension to the Paris deposit with modest silver intersections associated with lead and gold; e.g.
o PPRC471: 5m @ 87g/t Ag, 1.24% Pb, 1.07g/t Au from 58m
- South Eastern Extension shows progression into a copper cobalt molybdenum anomalous zone; e.g.
o PPRC474: 8m @ 0.10% Cu, 201ppm Co from 31m; 33m @ 27ppm Mo from 30m
Compared with the earlier assays on three metre downhole intervals for the December 2017 drilling, the narrower intervals but improved silver grades in some holes for one metre re-sampling are encouraging for the presence of higher grade zones at the less-drilled northern and southern ends of the Paris silver deposit (see Figure 1 in link below).
The drill results for the new South East Extension are interpreted to show geometry, plus metal grades and associations that indicate the limits of the silver deposit are reached in that area (see Figures 1 & 2 in link below). The extension is likely to add modest silver ounces to the resource. However, the metal zonation may offer new lateral and deeper target potential around the Paris mineral system.
This new potential will be investigated in parallel with the Induced Polarisation ("IP") delineation of satellite silver targets and the on-going metallurgical and geotechnical work on the Paris Silver Project.
As previously reported (IVR ASX Announcement: 29 January 2018), the first phase of extension drilling, aimed at building on the 42Moz silver Mineral Resource estimate at the Paris Silver Project, was undertaken with a small RCP drill rig in December 2017.
The December program completed 25 vertical reverse circulation percussion ('RCP') holes primarily at the under-drilled northern and southern ends of the Paris deposit with an average depth of 108m (minimum 60m and maximum 153m). Two holes drilled into the interpreted South East Extension encouragingly intersected the top of prospective breccias, but the small rig did not have the capacity to penetrate the strong clay alteration typical of the Paris silver mineralisation.
The intervals of silver intersections from 3m composites for the December holes were re-assayed at 1m un-composited sample intervals. Tables A to C (see link below) summarise the results of the 1m sample assaying for PPRC446, 449, 450, 455, 457, 458, 462, 464, 465 and 466 for silver, lead and gold respectively.
Further extension drilling was undertaken in February 2018 using a larger RCP drill rig to drill four holes, PPRC471 to PPRC474, into the South East Extension (see Table D in link below).
The significant assay results for the new RCP holes are summarised in Tables E to I (see link below) for silver, gold, lead, zinc and molybdenum respectively. Table J (see link below) shows the elevated cobalt assay results for the recent drilling, as well as previously drilled holes in the South East Extension Area.
Figure 1 (see link below) shows the drill locations and significant intersections in relation to the footprint of the Paris silver deposit Mineral Resource.
To view tables and figures, please visit:
http://abnnewswire.net/lnk/NZIVQ87N
About Investigator Resources Ltd

Investigator Resources Limited (ASX:IVR) is a metals explorer with a focus on developing its 2011 Paris silver discovery in the southern Gawler Craton on South Australia's northern Eyre Peninsula.
The Company announced a revised upward estimation for the Paris Silver Project Mineral Resource to 9.3Mt @ 139g/t silver and 0.6% lead, comprising 42Moz of contained silver and 55kt of contained lead, at a 50g/t silver cut-off. The resource has been categorised with an Indicated Resource estimate of 4.3Mt @ 163g/t silver and 0.6% lead for 23Moz contained silver and 26kt contained lead, and an Inferred Resource: 5.0Mt @ 119g/t silver and 0.6% lead for 19Moz contained silver and 29kt contained lead.
The Company is accelerating the development pathway for the Paris silver project with the preparation of a Pre-Feasibility Study.

Mr John Anderson
Managing Director
Investigator Resources Limited
E: info@investres.com.au
T: +61-8-7325-2222

Mr Peter Taylor
Investor Relations
NWR Communications
E: peter@nwrcommunications.com.au
T: +61-41-203-6231
Related CompaniesInvestigator Resources Ltd