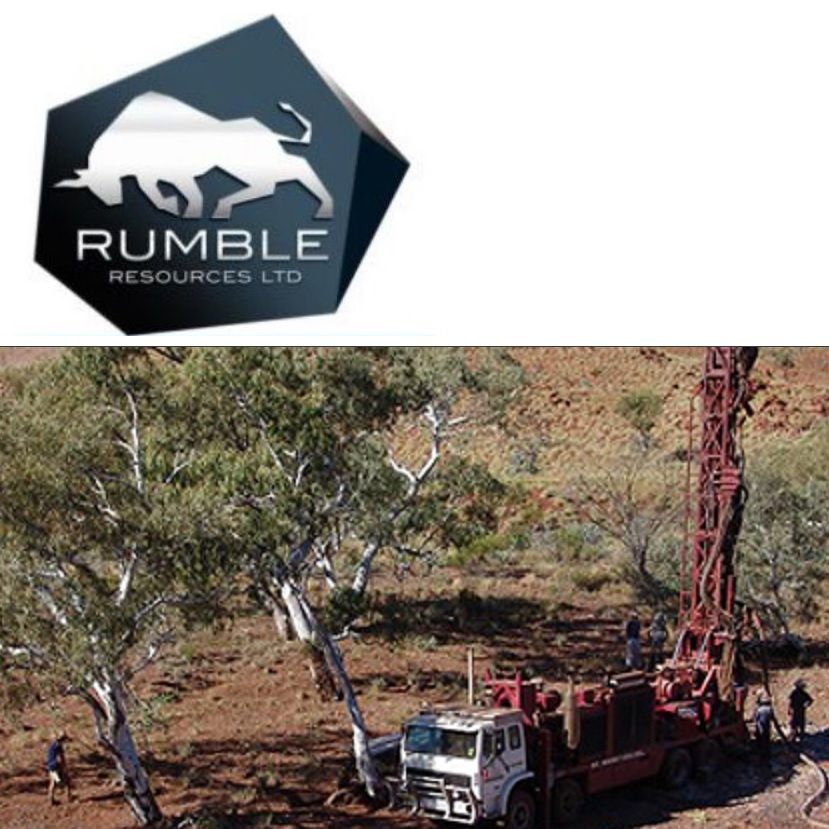 Option Exercised to Acquire Barramine Project
Perth, April 27, 2018 AEST (ABN Newswire) - Rumble Resources Ltd (

ASX:RTR
) (

FRA:20Z
) ("Rumble" or "the Company") is pleased to announce that it has exercised its option to acquire the Barramine Cu-Pb-Zn-Ag Project. The Barramine Project (E45/4368) is located approximately 150km ENE of Marble Bar in the Pilbara Region of Western Australia (see Image 1 in link below) and is contiguous to Rumble's Braeside project.
Highlights
Barramine High Grade Cu- Pb-Zn- Ag Project, Western Australia
- High-grade Cu, Pb, Zn, and Ag prospects associated with NNW structures have not been tested by drilling or modern exploration.
o Camel Hump Prospect - large open mineralised structure returned:
-- Cu to 13.4%, Pb to 3.08%, Zn to 1.79% and Ag to 131 g/t
o Barramine Cu Prospect - fault structure hosting significant Cu mineralisation, including:
-- 25.32% Cu, 279 g/t Ag
- The same geology and structures that hosts the high-grade Braeside Zn and Pb mineralisation extends into the Barramine Project.
o Recent exploration by Rumble within the Braeside Project, that adjoins the Barramine Project to the SSE, has identified anomalous Zn and Pb trends in soil geochemistry with VTEM conductors.
o Reconnaissance RC drilling by Rumble at Braeside recently identified significant widths of alteration and Pb/Zn mineralisation at the Barker Well Prospect, which lies 2km south of the Barramine Project southern boundary.
- Rumble successfully renegotiated the terms to significantly reduce the earn in expenditure requirement down by half, from $1.5m to $750k, to earn 70%.
Rumble's Managing Director, Mr Shane Sikora, said: "Rumble are pleased to exercise the option to acquire the high grade Barramine base metal Project on more favourable terms than originally agreed. The Barramine Project is a strategic opportunity to secure the northern extension to the Braeside Project's 34km mineralised structure, increasing the total strike length to over 40km's.
A recent reconnaissance RC drill program at Rumble's neighbouring Braeside Project significantly identified base metal mineralisation in 17 of 19 holes and included a high-grade zinc discovery on the first ever RC drill program completed at Braeside.
At the northern boundary of the Braeside Project, the identified base metal soil geochemistry trends (associated with the Barker Well large mineralised alteration on the main geological structure) are interpreted to extend into the Barramine Project to the north. This interpretation, recent drilling results at Braeside and stream and rock chips samples on the contiguous geological structures at the Barramine Project have provided Rumble with confidence that there is a high potential of finding high-grade base metal discoveries at the Barramine Project.
Rumble will fast track modern, systematic base metal exploration at the Barramine Project to generate first order targets for drill testing".
Previous Exploration
Previous exploration mainly focused on multiple Mn prospects that lie within the Carawine Dolomite, Pinjian Chert Breccia and to a lesser extent, the Jeerinah Formation (see image 2 in link below). Historic exploration for base metals and gold included select areas of stream sediment sampling with limited soil sampling and rock chip sampling follow up. Some 245 stream sediment samples, collected during the early 1990's (see image 2 in link below for locations), returned widespread low order gold and silver anomalism. Grab sampling was generally limited and poorly located with only approximately 12 samples with confirmed locations.
Two areas of base metal mineralisation have been explored. The Barramine and Camel Hump prospects consist of small historic diggings associated with major NNW trending structures. The structures and style of mineralisation are similar to recently defined base metal prospects within Rumble's Braeside project (see image 1 in link below). Grab sampling results returned generally high-grade Cu, with strongly anomalous Pb, Zn and Ag and are associated with mafic volcanics/volcaniclastics/shales of the Fortescue Group.
- At the Barramine prospect a channel sample collected by Blatchford in 1925 assayed 25.32% copper, 279 g/t silver, and a trace of lead.
- At the Camel Hump prospect, rock chip samples were assayed up to 13.4% Copper, 6% Lead, 1.8% Zinc and 131 g/t Silver.
Geology
The Barramine Project covers the northern extension of the Fortescue and Hamersley Group Rocks (late Archaean) that lie within Rumble's Braeside Project. The Barramine Project hosts shales, siltstones, carbonates and mafic volcanics of the Lower Hamersley Group which in turn overlies andesites, basalts, volcaniclastics, sediments and porphyry of the Fortescue Group.
The north and northwest trending faults/structural zones, some with associated base metal mineralisation are hosted in Fortescue Group intermediate/mafic volcanics and volcaniclastics in association with the Koongaling Felsic Volcanics. The felsic volcanics are bimodal with the Fortescue Group basalts and are potentially the source of the poly-metallic mineralisation. Elsewhere within the project, numerous Mn prospects are hosted within the Carawine Dolomite and Pinjian Chert Brecia of the Hamersley Formation.
Exploration Potential
Mineralisation Extending into the Barramine Project
Ongoing exploration (including reconnaissance RC drilling - Dec 2017) by Rumble at the Braeside Project has identified wide zones of alteration with strongly anomalous Pb and Zn. At the Barker Well Prospect (see image 3 and 4 in link below), a single recent RC drill-hole intercepted up to 120m of silica - sericite - chlorite alteration with wide zones of Pb and Zn anomalism. A near surface intercept of 14m @ 0.75% Pb with 2m @ 3.6% Pb from 6m had targeted strongly mineralised surface alteration (4.23 % Pb). Small diggings nearby returned grades of 38.1% and 24.04% Pb.
The main structure, anomalous soil geochemistry and VTEM conductor trends associated with the Barker Well alteration and anomalism are interpolated to extend north into the Barramine Project.
Historic stream sediment sampling conducted during 1987 - 1991 in the southern portion of the Barramine Project highlighted a number of anomalous Au and Ag drainages. Elevated silver is strongly associated with the main mineralised structure (see image 3 in link below) that extends north of the Barker Well prospect area (Braeside Project). Pb mineralisation within the Braeside Project is associated with silver (silver used as a proxy for Pb). Gold in stream anomalism is also associated with the main mineralised structure (see image 4 in link below).
Camel Hump Prospect (see image 2 in link below for location)
High grade copper mineralisation with associated Pb, Zn and Ag lies within a northwest trending fault/shear structure in contact with felsic schists (felsic volcaniclastics) at the Camel Hump prospect. Limited grab sampling (12 rock chip samples) has defined multiple zones over a strike length of 1.5km (see image 5 in link below). The zone of interest is completely open under shallow cover) and has not been explored by modern exploration (soil geochemistry, geophysics and drilling). Grab sampling results include:
- 13.4%, 1.78%, 1.4% Cu
- 3.08% Pb
- 1.79% Zn
- 131 g/t Ag
Rumble considers the potential for economic porphyry related style base metal mineralisation is high at the Camel Hump Prospect. No soil geochemistry or systematic grab sampling has been completed along the Camel Hump trend.
Proposed Exploration - Barramine Project
Proposed exploration by Rumble includes the following for the 2018 field season.
- Soil Geochemistry (multi-element)
o Extending the Braeside existing soil geochemistry north into the Barramine Project.
o Detailed soil geochemistry along the Camel Hump Prospect trend.
o Detailed soil geochemistry along the Barramine Cu prospect trend.
- Prospect geological mapping and rock chip geochemistry over soil geochemical anomalies.
- Ground geophysical surveys of geochemical/geological targets (if warranted)
Key Commercial Terms of the Barramine Binding Earn-In Agreement
RTR renegotiated the terms to acquire 70% of the title and interest in the Barramine Project and has provided notice to Great Sandy that it has exercised the option based on the below Terms:
a. RTR has to spend $750,000 on exploration over a period of 3 years from the execution of the agreement to earn 70% (renegotiated down from A$1,500,000)
b. RTR is required to spend $50,000 before it can withdraw from the definitive agreement (renegotiated down from $100,000
c. RTR to pay Great Sandy Pty Ltd $50,000 in RTR Shares
d. Great Sandy Pty Ltd is free carried to BFS
e. Following the completion of a BFS and decision to mine, Great Sandy Pty Ltd can either elect to contribute to ongoing project development or dilute to a 1.5% NSR
f. Great Sandy Pty Ltd will reserve and retain all rights relating to manganese and iron ore
To view figures, please visit:
http://abnnewswire.net/lnk/G35SHQ38
About Rumble Resources Ltd

Rumble Resources Limited (ASX:RTR) (FRA:20Z) is an Australian based exploration company, officially admitted to the ASX on the 1st July 2011. Rumble was established with the aim of adding significant value to its current gold and base metal assets and will continue to look at mineral acquisition opportunities both in Australia and abroad.
Shane Sikora
Managing Director
Email: enquiries@rumbleresources.com.au
Phone: +61-8-6555-3980
Website: www.rumbleresources.com.au
Related CompaniesRumble Resources Ltd