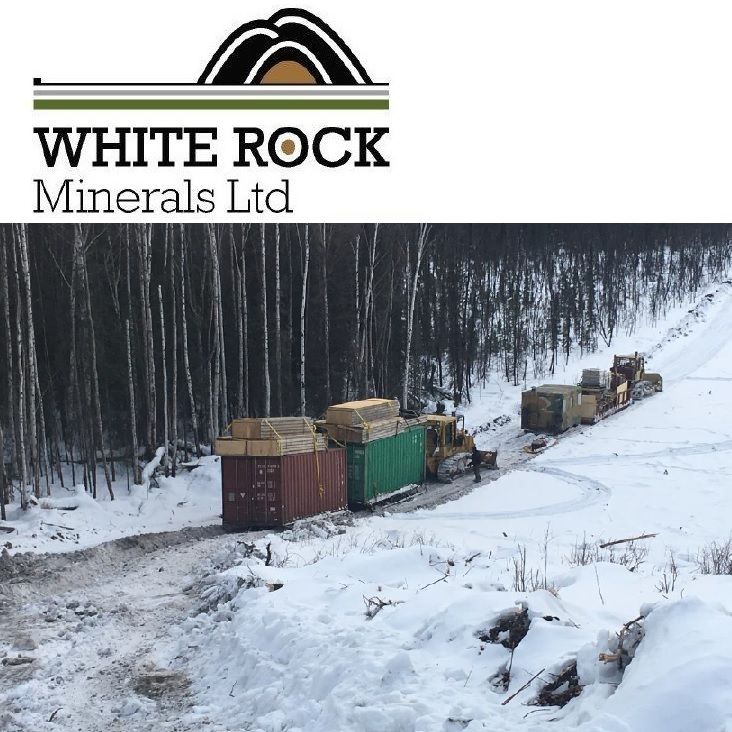 Secures Geophysics Contractor for Field Season at Its High-Grade Zinc VMS Project
Ballarat, May 2, 2018 AEST (ABN Newswire) - White Rock Minerals Ltd (

ASX:WRM
) ("White Rock" or the "Company") is pleased to provide an update on its plans to conduct a comprehensive exploration program at its globally significant 100% owned zinc VMS project at Red Mountain in Alaska.
White Rock's exploration for the upcoming field season is planned to include:
- A targeted diamond drilling program aimed at in-fill and expansion of the high grade maiden Resource,
- On-ground orientation EM and possibly geochemistry exploration across the two already identified deposits,
- Regional application of the best geophysics and geochemistry exploration tools determined from the on-ground orientation work, and
- A follow-up diamond drilling program on the best of the more than 30 already identified exploration targets.
A key part of the field program is the application of modern-day ground geophysics techniques for the first time on this project, particularly a range of surface and downhole electrical techniques to assist in identifying possible targets for subsequent drill holes that will test for high grade massive sulphide mineralisation both as extensions to the known deposits at Dry Creek and West Tundra Flats, and also some of the 30 already identified exploration targets developed from historic shallow EM and historic surface geochemistry.
White Rock is pleased to announce that Zonge International, Inc., one of the world's leading geophysical contractors, has been selected to provide these geophysical services for the Red Mountain field program.
The next steps in the Company's upcoming exploration field season are the construction of the field camp commencing next week, followed by full camp commissioning with drilling and field crews scheduled to commence the field program during the last week of May.
The drilling campaign will aim to infill and extend the maiden resource which already has two identified deposits (Dry Creek and West Tundra Flats) and a Resource base of 16.7Mt at 8.9% ZnEq (see Note below) including a high-grade component of 9.1Mt @ 12.9% ZnEq (see Note below) (refer ASX announcement 26 April 2017 regarding the maiden Mineral Resource).
This drilling is aimed to follow-up on drilling last done in the 1990s, which included
68.9m @ 4% Zn, 1.8% Pb, 58g/t Ag and 0.3g/t Au (DC98-60),
36.1m @ 6.2% Zn, 2.5% Pb, 183g/t Ag and 1g/t Au (DC98-40) and
12.5m @ 12.5% Zn, 5.5% Pb, 160g/t Ag and 1.1g/t Au (DC97-04).
(refer ASX Announcement dated 15 February 2016 "White Rock Minerals proposes to acquire VMS project in Alaska".)
MD & CEO Matt Gill said "The Company is very excited about the imminent commencement of field activities at our Red Mountain project. There is a real sense of anticipation that drill testing could yield additional high grade zinc deposits that catapult the project to the next stage and realise White Rock's aspiration to develop a new mine. This is an exciting time for White Rock".
The work program for Zonge will include on-ground orientation geophysics at the known deposit at Dry Creek (located in the bottom right hand corner of Figure One in link below), followed by the more regional application of the best identified geophysics tools on a number of the high priority conductors circled in pink in Figure One (see link below).
Note: ZnEq = Zinc equivalent grades are estimated using long-term broker consensus estimates compiled by RFC Ambrian as at 20 March 2017 adjusted for recoveries from historical metallurgical test work and calculated with the formula: ZnEq =100 x [(Zn% x 2,206.7 x 0.9) + (Pb% x 1,922 x 0.75) + (Cu% x 6,274 x 0.70) + (Ag g/t x (19.68/31.1035) x 0.70) + (Au g/t x (1,227/31.1035) x 0.80)] / (2,206.7 x 0.9). White Rock is of the opinion that all elements included in the metal equivalent calculation have reasonable potential to be recovered and sold.
To view figures, please visit:
http://abnnewswire.net/lnk/68L9VHC3
About White Rock Minerals Ltd

White Rock Minerals Ltd (ASX:WRM) is an Australian listed minerals exploration and development company with projects located in northern NSW (gold and silver) and central Alaska (zinc, silver, lead and gold). The White Rock vision is to explore and develop both precious and base metal projects.
White Rock's cornerstone asset is the Mt Carrington epithermal gold-silver project in northern NSW. The Mt Carrington project has great leverage to the Australian gold and silver prices with a positive scoping study providing a path towards feasibility studies and development in the near term.
White Rock is also exploring the Red Mountain project in Alaska. Red Mountain is a globally significant advanced VMS project with high grade zinc and silver in two deposits. White Rock is exploring for additional high grade deposits that will enhance the projects leverage to an upturn in the fortunes of zinc and silver.

Matt Gill (Managing Director & Chief Executive Officer)
Or Shane Turner (Company Secretary)
Phone: +61-3-5331-4644
Email: info@whiterockminerals.com.au
WWW: www.whiterockminerals.com.au
Related CompaniesWhite Rock Minerals Ltd