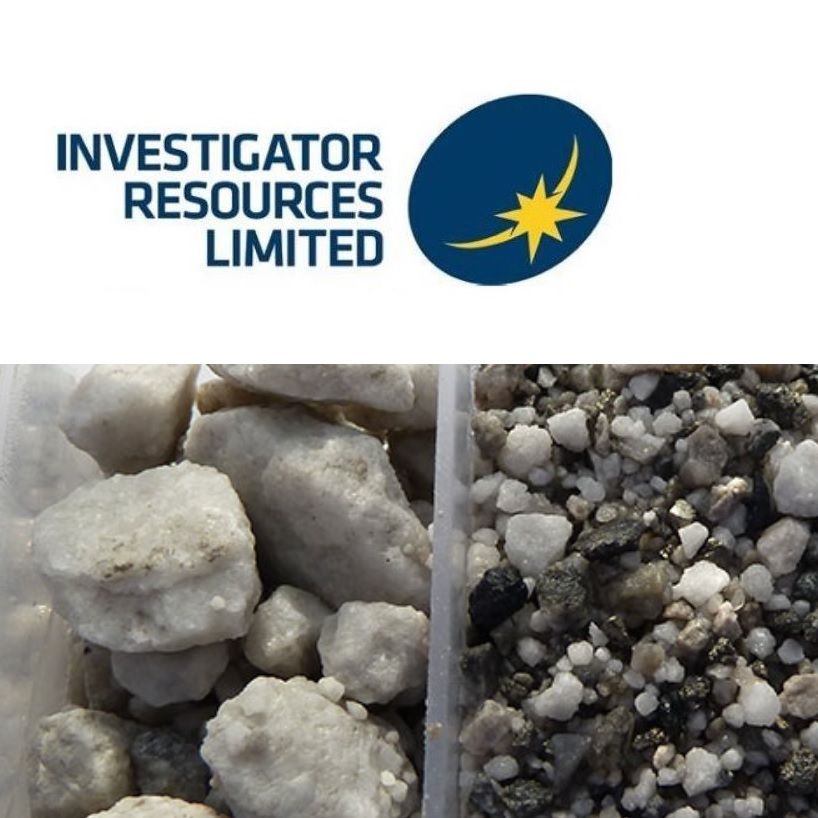 Paris Preliminary Metallurgical Results
Adelaide, May 7, 2018 AEST (ABN Newswire) - Investigator Resources Limited (

ASX:IVR
) provides an update on the progress on metallurgical results carried out as part of the Pre-Feasibility Study ('PFS') on the Company's Paris Silver Project.
The preliminary metallurgical results indicate that:
- Cyanide leach trials achieved weighted average silver recoveries around 74% with a range of 65% to 89% for the three main geometallurgical domains.
Additional scrubbing, flotation and mineralogical tests are continuing, aimed at recovering lead and more of the non-leaching silver.
These metallurgical results aim to enable the design and costing of a process flowsheet.
Investigator's Managing Director John Anderson said "The results reported by the metallur-gical consultants are consistent with 2013 testwork but require some further investigation to augment silver recovery and bring the processing options to a logical conclusion. This is expected to be reported in June 2018. The metallurgical performance of the Paris silver deposit is seminal in the decision to bring the Project into production and is worthy of the critical attention being applied to its' resolution."
The project lies within the Peterlumbo tenement on the northern Eyre Peninsula of South Australia (Figure1). The Paris silver deposit has an estimated Indicated and Inferred JORC Mineral Resource of 9.3 million tonnes at 139g/t silver and 0.6% lead (at a 50g/t silver cut-off) (Investigator ASX Release: 19 April 2017). The deposit occupies an area of about 400m by 1,600m with a shallow flat tabular geometry that is conceptually mineable by open-pit to 160m depth below the flat surface.
As announced previously (Investigator ASX Release: 21 October 2013), the results of initial standard metallurgical laboratory tests for the Paris Silver Project showed metallurgical performance in labora-tory trials conducive to conventional processing paths. The initial silver leach recoveries were in the range 65% to 75% for the samples of breccia mineralisation typical of most of the Paris deposit.
Metallurgical Investigations for the PFS
Following the release of the Paris Silver Mineral Resource estimate in April 2017, Investigator com-menced a phased PFS study with a central focus on metallurgical performance. An extended geomet-allurgical study of the geologically complex Paris deposit enabled the selection of four domains (Oxide; Breccia transitional - no Mg/Ca; Breccia transitional - Mg/Ca; and Dolomite) (Figure 2) for metallurgical testing of larger and more representative samples (Investigator ASX Release: 14 November 2017). The study is again being undertaken by the metallurgical testing and process engineering/flowsheet Company, Core Resources ("Core") in Brisbane.
Comminution testing showed that the Paris silver ore can be considered 'soft' and has relative low abrasive properties. This indicates potentially lower capital and power costs associated with the crushing and milling circuit (Investigator ASX Release: 14 November 2017).
In the 2018 study, Core has carried out flotation and leaching testwork, evaluating options for further improving silver recoveries, as well as identifying methods to recover lead/silver concentrate which was not examined in 2013.
Multiple mineralogical studies including scanning electron microscope work identified the main silver species as acanthite (silver sulphide - the most common globally mined silver mineral), chlorargy-rite/bromargyrite (silver chloride & bromide) and primary native silver. All species identified are gen-erally less than 30 microns in grainsize, and mostly less than 10 microns. The lead minerals are pre-dominantly galena (lead sulphide), laurionite (lead chloride) and coronadite (lead manganese oxide).
Grinding of the breccia ores to P80 of 53 microns (80% passing 53 microns) enabled 65% to 85% silver leach recoveries (Table A) by cyanide leaching with lead nitrate or hydrogen peroxide pre-condition-ing. The Dolomite domain returned 89% silver leach recoveries without pre-conditioning. The Oxide domain has performed poorly in leach trials thus far and, as this domain only hosts 5% of the resource it is discounted from the PFS. The balance of the silver that remained unleached is referred to as refractory silver. Ultra-fine grinding to 10 microns achieved improved silver recoveries in similar leach trials, but is unlikely to be an economic pathway.
Flotation and gravity tests were undertaken to assess the recovery of lead in concentrates along with some of the refractory silver in the Breccia Transitional (no Mg/Ca) domain. These tests produced concentrates with poor lead recoveries of approximately 8% in a flotation concentrate and 24% in a gravity (Knelson) concentrate. The unrecovered lead is attributed to the coronadite content and fine galena inclusions in quartz.
Additional scrubbing tests are being completed aimed at rejecting gangue minerals ahead of leaching. Additional flotation tests are investigating options for further upgrading of the silver and lead concen-trates.
Mineralogical studies have thus far identified very fine-grained native silver inclusions in quartz as one of the refractory silver species. On-going scanning electron microscopy is seeking further avenues to optimise the silver recovery.
Core will prepare a process flowsheet, mass and water balance/model, process description and a final process report for inclusion in the PFS in June 2018.
The Company is considering further testwork using CELP (CANMET Enhanced Leaching Process) tech-nology.
Other work towards the Paris Pre-Feasibility Study
Geotechnical, waste characterisation and infrastructure costing studies are on-going and will be re-ported as final reports are received. The completion of the metallurgical and geotechnical studies will enable the Company to make a decision on the future of the Project.
To view tables and figures, please visit:
http://abnnewswire.net/lnk/2M5L8G23
About Investigator Resources Ltd

Investigator Resources Limited (ASX:IVR) is a metals explorer with a focus on the opportunities for greenfields silver-lead, copper-gold and other metal discoveries in South Australia.
The Company's priority is progressing the development pathway for the Paris silver project with the preparation of a pre-feasibility study. The Paris Mineral Resource Estimate is 9.3Mt @ 139g/t silver and 0.6% lead, comprising 42Moz of contained silver and 55kt of contained lead, at a 50g/t silver cut-off. The resource has been categorised with an Indicated Resource estimate of 4.3Mt @ 163g/t silver and 0.6% lead for 23Moz contained silver and 26kt contained lead, and an Inferred Resource: 5.0Mt @ 119g/t silver and 0.6% lead for 19Moz contained silver and 29kt contained lead.
The Company has applied an innovative strategy that has developed multiple ideas and targets giving Investigator first-mover status. These include: the Paris silver discovery; recognition of other epithermal fields and the associated potential for porphyry copper-gold of Olympic Dam age; extending the ideas developed at Paris-Nankivel and using breakthrough government Magneto-Telluric surveying to rejuvenate targeting with the Maslins IOCG target as the next priority drill target.

Mr John Anderson
Managing Director
Investigator Resources Limited
info@investres.com.au
Phone: 08 7325 2222

Mr Peter Taylor
Investor Relations
NWR Communications
peter@nwrcommunications.com.au
Phone: 041 203 6231
Related CompaniesInvestigator Resources Ltd