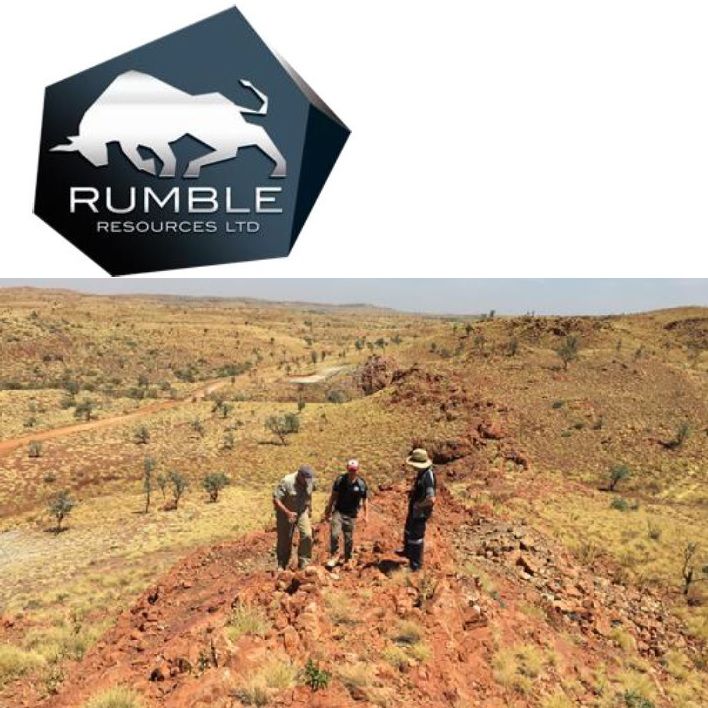 First Order Conductor Identified at Munarra Gully Project
Perth, May 7, 2018 AEST (ABN Newswire) - Rumble Resources Ltd (

ASX:RTR
) ("Rumble" or "the Company") is pleased to provide an update on the scheduled drill program at the Munarra Gully Cu-Au Project (with Ni - Co potential) ("Munarra Gully") some 50km NNE of the town of Cue within the Murchison Goldfields.
Highlights
- A large first order conductor has been defined by a moving loop transient electromagnetic survey conducted over the White Rose Cu-Au Prospect.
o The conductor lies 600m west along strike from the open cut workings where historic drilling has returned high-order intercepts including:
-- 40m @ 0.66% Cu, 4.85 g/t Au from surface to end of hole.
- inc 8m @ 1.32% Cu, 22.75 g/t Au from 24m.
o The parameters of the conductor have been modelled as a WNW dipping plate measuring 470m by 260m with a conductance of 650 siemens which is in line with disseminated to semi-massive pyrite - chalcopyrite mineralisation. Depth to the top of the plate is estimated at 120m.
- RC drilling is planned to test both the conductor and significant copper-gold mineralisation associated with the White Rose Prospect.
White Rose Prospect - M51/122 and E51/1677
Background:
The White Rose Prospect is a mineralised ultramafic intrusion that runs from east to west which hosts two open cuts where shallow historic RAB drilling has defined exceptional copper-gold mineralisation that is completely open along strike and at depth:
- 40m @ 0.66% Cu, 4.85 g/t Au from surface to end of hole.
o inc 8m @ 1.32% Cu, 22.75 g/t Au from 24m.
- 20m @ 0.54% Cu, 1.52 g/t Au from surface to end of hole.
Over the last 8 to 10 years, the current owner established a small gold plant (ball mill and Knelson concentrator) to process shallow saprolitic (oxide) gold mineralisation defined by the previous RAB drilling. No official gold production is known however during the 1980's an extensive alluvial gold operation covered most of M51/122 with a reported production of "12,300t of surface alluvium producing 234 oz of gold" (refer to recent announcement 27 February - JORC table for Open File reference). Base metals were not targeted.
The owner developed two small open cuts (down to 20m) which exposed a weathered (nontronite-talc saprolite) ultramafic intrusion at least 50m in width. The ultramafic unit did not surface and was covered by alluvium and hardpan which masked the copper anomalism.
Grab sampling completed by Rumble and others identified consistent copper, gold, nickel and cobalt in weathered ultramafic rocks exposed in the two small pits (currently being mined for gold). Results include:
- An average of 0.68% Cu for all 33 samples collected (max Cu value 2.1%).
- Au to 1.9 g/t.
- Ni to 0.37% and
- Co to 0.11%.
Rumble considers the copper-nickel bearing ultramafic unit at the White Rose Prospect to be highly prospective for disseminated to massive copper +/- nickel sulphide mineralisation. Rumble is currently earning into the Munarra Gully Project as per acquisition terms outlined in ASX announcement 27 February 2018.
MLTEM Survey - White Rose Prospect - M51/122 and E51/1677 - Image 1 and 2 in link below.
A ground moving-loop transient electromagnetics (MLTEM) survey was conducted at the White Rose Prospect targeting semi to massive copper and/or nickel sulphide conductors associated with an ultramafic intrusion that has returned significant copper-gold mineralisation and elevated nickel-cobalt.
A significant conductor has been identified 600m to the west of two small open pits (White Rose Prospect) and has been interpreted to be the western extension of the prospective ultramafic intrusion. Modelling of the conductor has highlighted a 470m by 260m conductive plate (mid-time channels 17.9 - 59.6ms) dipping to the WNW (dip at 54deg). The top of the conductor is estimated to be around 120m deep.
Important: The parameters and conductance (650 siemens) of the conductor is what would be expected from pyrite/chalcopyrite disseminated to semi-massive sulphides. The conductor is considered a first order base metal target based on the wide significant copper and gold mineralisation from historic drilling and significant base metal and gold results from rock chips associated with the ultramafic intrusion.
Proposed Drill Targets (Image 1 and 2 in link below)
Conductor
- RC drilling will target the top third of the modelled conductive plate.
- Subject to results and downhole TEM modelling, further drilling is planned.
White Rose Au-Cu Pits
- Two RC drill-holes will test beneath the two small open cuts targeting the strong copper - gold mineralisation associated with the ultramafic intrusion.
Subject to receipt of relevant approvals that are currently pending, it is anticipated that the drilling will be conducted late May.
To view tables and figures, please visit:
http://abnnewswire.net/lnk/MP0J3WN9
About Rumble Resources Ltd

Rumble Resources Limited (ASX:RTR) (FRA:20Z) is an Australian based exploration company, officially admitted to the ASX on the 1st July 2011. Rumble was established with the aim of adding significant value to its current gold and base metal assets and will continue to look at mineral acquisition opportunities both in Australia and abroad.
Shane Sikora
Managing Director
Email: enquiries@rumbleresources.com.au
Phone: +61-8-6555-3980
Website: www.rumbleresources.com.au
Related CompaniesRumble Resources Ltd