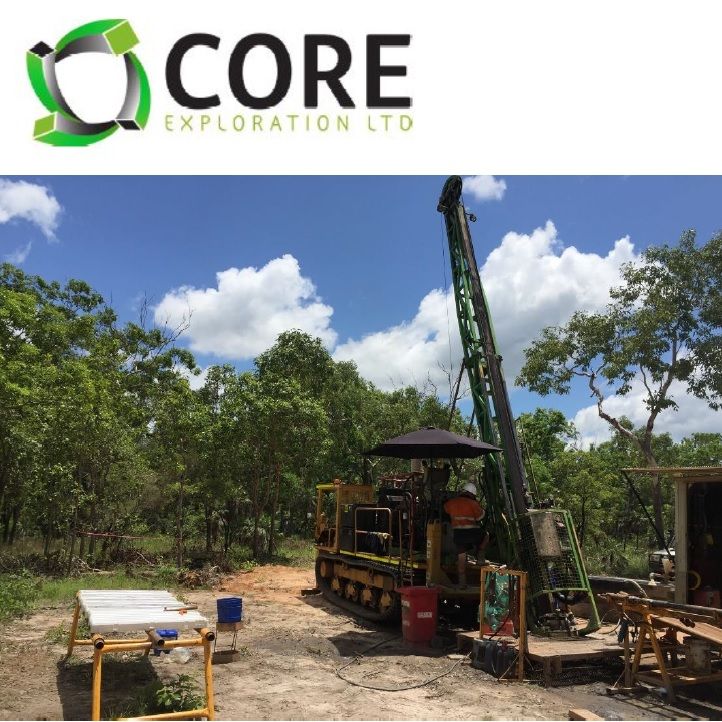 Grants Lithium Resource Upgrade Marks Major Step Toward Feasibility
Adelaide, May 8, 2018 AEST (ABN Newswire) - Core Exploration Ltd (

ASX:CXO
) ("Core" or the "Company") is pleased to announce a Resource upgrade for its Grants Lithium Deposit at the Finniss Lithium Project in the Northern Territory which has more than doubled the size of the Indicated Resource and substantially increased the Resource confidence ahead of Feasibility studies to be completed in 2018.
HIGHLIGHTS
- Core's Grants Lithium Resource upgraded - Indicated Resource has more than doubled in size at same high-grade 1.5% Li2O
- More than half of the Grants Lithium Resource is now Indicated Resource
- Increases confidence in Resource ahead of finalisation of the Pre-Feasibility Studies for mining and production of high grade lithium concentrate, commencing at Grants in 2019
- Grants Lithium Resource is one of the highest grade undeveloped lithium deposits in Australia
- Significant potential to grow Finniss Project Resources as Grants is only one of many lithium rich pegmatites identified within Core's large 400km2 of tenure at Finniss
- Strong newsflow ahead:
o Maiden Resource estimate for BP33 expected later this month
o PFS for development of Grants deposit expected next month
o Upcoming aggressive drilling campaigns targeting substantial resource growth at Finniss in 2018 to commence shortly
o Ongoing discussions with additional potential offtake customers
The Grants Lithium Resource defined comprises 2.0Mt at 1.5% Li2O (see Table 1 in link below) and is one of the highest grade spodumene resources in Australia. Over half of the Grants Lithium Resource is now contained in the Indicated category.
Core is in the final stages of completing a Pre-Feasibility Study ("PFS") for the development of a spodumene concentrate and direct shipping ore operation from the Grants Lithium Deposit and expects to deliver the PFS later this quarter. The Finniss Lithium Project has substantial infrastructure advantages; being close to grid power, gas and rail and within easy trucking distance by sealed road to Darwin Port - Australia's nearest port to Asia.
Core is working with the NT EPA to finalise the terms of reference for an Environmental Impact Assessment (EIA), following which, the Company will prepare and submit a Mining Management Plan (MMP) for the development of the Grants project. Based on the prescribed timeframes for assessment by the NT EPA, Core expects the environmental assessment process to take up to 12 months for the Grants project.
Core also expects to complete a full feasibility for the development of spodumene concentrate production from Grants and potentially other future resources within the Finniss Project, such as that at BP33, in 2018 and is planning to complete regulatory approvals and commence production in 2019. A Maiden Resource estimate for BP33 is expected this month.
Core will also be re-commencing an aggressive exploration drilling campaign soon with the aim of substantially growing the resource base for the Finniss Lithium Project to underpin a long-life lithium mining and production business.
Grants Lithium Resource
The results of the Mineral Resource Estimate are provided in Table 1 and Figure 1 (see link below). The Mineral Resources are reported at a high cut-off of 0.75% Li2O.
Dr Graeme McDonald (BSc PhD MAusIMM) was contracted by Core to undertake the Mineral Resource Estimate for the Grants Lithium Deposit. As part of the preparation of the Resource Estimate, Dr McDonald developed a geological interpretation based on cross sections, generated a 3D geological interpretation from interpreted cross sections, created domain interpretations for lithium, developed a block model of the deposit, undertook a geostatistical analysis of the data and estimated lithium grades.
Dr McDonald's report notes that fresh pegmatite at Grants is composed of coarse spodumene, quartz, albite, microcline and muscovite (in decreasing order of abundance). Spodumene, a lithium bearing pyroxene (LiAl(SiO3)2), is the predominant lithium bearing phase (see Figure 2 in link below) and displays a diagnostic red-pink UV fluorescence. The pegmatite is not strongly zoned, apart from a thin (1-2m) quartz-mica-albite wall facies. Overall the lithium content throughout the pegmatite is remarkably consistent.
Grants has a flat Grade-Tonnage curve at the 1.5% Li2O "sweetspot" for spodumene production (see Figure 3 in link below). A high 0.75% Li2O cut-off grade results in no significant reduction in the contained tonnes, demonstrating the consistent high-grade nature of the Resource.
To view tables and figures, please visit:
http://abnnewswire.net/lnk/E497T9P7
About Core Lithium Ltd

Core Lithium Ltd (ASX:CXO) is an emerging lithium producer focused on development of its Finniss Project near Darwin in the Northern Territory. Core owns 100% of Finniss, a major developing project that lies close to existing infrastructure such as the Darwin Port, grid power, gas and rail infrastructure.
The Finniss Project covers a 500km2 tenement holding and 25 historic pegmatite mines. The project area is about 80km from Darwin Port. Exploration work has generated a near term development timeline, with feasibility studies to be completed over the course of 2018 ahead of receipt of approvals in early 2019 and planned first production during 2019.
An aggressive exploration program is under way, which has confirmed the high quality prospectivity across much of the Finniss Project area. Core's stated ambition is to upgrade Finniss' resource base to fast-track commercialisation options.
For further information please contact:

Stephen Biggins
Managing Director
Core Lithium Ltd
T: +61-8-7324-2987
E: info@coreexploration.com.au

For Media and Broker queries:

Andrew Rowell
Director - Investor Relations
Cannings Purple
M: +61-400-466-226
E: arowell@canningspurple.com.au
Related CompaniesCore Lithium Ltd