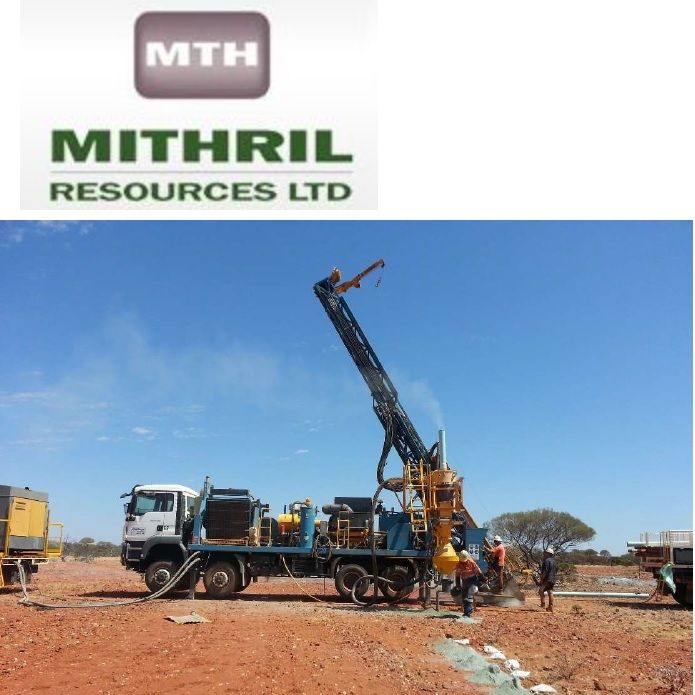 Drilling and Geophysics to Test Kurnalpi Nickel Targets
Adelaide, May 30, 2018 AEST (ABN Newswire) - Mithril Resources Ltd (the "Company") (

ASX:MTH
) has prioritised two nickel targets on its 100%-owned Kurnalpi Project (located 70 kms north east of Kalgoorlie, WA - see Figure 1 in link below) for drill testing and ground EM geophysical surveying.
The work program will be funded from the proceeds of the Company's current Share Purchase Plan (Closing Date of Monday 18th June 2018 - see ASX Announcement dated 18 May 2018) and is scheduled to commence in late June 2018.
- Two nickel targets prioritised for drill testing and EM geophysics
- Targets comprise an undrilled strong downhole EM conductor adjacent to existing nickel sulphides and a further 7 kilometres of prospective ultramafic highlighted by elevated nickel and cobalt in historic RAB / aircore drilling
- Work scheduled to commence late June 2018
Management Comment
Mithril's Managing Director Mr David Hutton said the Company was looking forward to testing the targets.
"At Kurnalpi we are exploring for Kambalda - style massive nickel sulphide mineralisation, and the recognition of nickel sulphides in our last round of drilling was a critical positive development in the project's journey to discovery".
"The undrilled strong late-time EM conductor adjacent to existing nickel sulphide mineralisation within prospective ultramafic rocks is a compelling target that will be drilled as soon as possible".
"Additionally, the nickel prospectivity of the area is strengthened by having a further 7 kilometres of ultramafic with indications of nickel, cobalt and copper. Given a lack of previous geophysical surveying over the prospective rocks, we will carry out EM geophysics as part of the proposed program which we expect will generate further targets for drill testing".
"We look forward to the EM geophysics and drilling to commence as soon as the Share Purchase Plan is completed in late June".
High-priority drill target
Drilling undertaken by Mithril at the northern end of the project (in March 2018) confirmed the presence of nickel sulphide mineralisation with a 4-metre zone of gossanous weathered ultramafic and several other narrow intervals of disseminated nickel sulphide mineralisation intersected beneath a flat-lying zone of near-surface nickel - cobalt mineralisation.
Subsequent downhole EM geophysical surveying identified a strong off hole conductor lying adjacent to the sulphide mineralisation at approximately 150 metres depth (See ASX Announcement dated 20 April 2018).
The south-plunging conductor (85m wide x 500m long / CT of 3,400S / visible at late times: Ch.36 - 200msec) has not been drill tested and lies within an interpreted shear zone that marks the eastern edge of the ultramafic unit that hosts the nickel sulphide mineralisation (see Figures 2, 3, 4 and 5 in link below).
The strength of the conductor is consistent with what could be expected from semi to massive sulphides and given its proximity to existing nickel sulphide mineralisation, is considered to be a high priority drill target.
Up to three Reverse Circulation holes (750 metres in total) will be drilled as an initial test of the EM conductor and the gossan / disseminated sulphide intercepts. Statutory approvals to conduct the drilling have been received.
High-priority geophysical target
As shown on Figure 2(see link below), the prospective ultramafic also continues south along strike from the nickel sulphides and EM conductor for over 7 kilometres within Mithril's tenements.
While the southern area is relatively poorly explored, several wide-spaced shallow RAB / aircore drilling undertaken in the mid 1990's has intersected strongly anomalous levels of nickel +/- cobalt and copper with no follow-up, i.e.;
- 20m @ 0.69% nickel, 0.07% cobalt from 32 metres in KURA50 including 8m @ 0.96% nickel, 0.09% cobalt from 36 metres,
- 15m @ 0.90% nickel, 0.08% cobalt from 9 metres in KURA69 including 7m @ 0.99% nickel, 0.13% cobalt from 10 metres,
- 2m @ 0.15% nickel, 0.09% cobalt from 24 metres in KURA451 (hole ended in mineralisation),
- 8m @ 0.07% nickel, 0.02% cobalt, 0.15% copper from 18 metres in KURA99, and
- 20m @ 0.21% nickel, 0.03% cobalt from 24 metres in KURA297.
The elevated nickel and cobalt in the drill holes is characteristic of weathered ultramafic rock types while the presence of elevated copper is potentially an indication of magmatic nickel sulphide mineralisation at depth.
Collectively the results highlight the nickel prospectivity of the southern extensions of the ultramafic and make it a priority target for follow-up.
Moving Loop ground EM geophysics will be undertaken over the area to define specific targets for drill testing.
To view tables and figures, please visit:
http://abnnewswire.net/lnk/272SG743
About Mithril Resources Limited

Mithril Resources Limited (ASX:MTH) is an Australian resources company whose objective is the creation of shareholder wealth through the discovery of mineral deposits.
The Company and its exploration partners are actively exploring throughout the Kalgoorlie, West Kimberley and Murchison Districts of Western Australia for economic nickel, copper, zinc, and vanadium deposits.
In the Kalgoorlie District, Mithril is exploring for nickel on the Kurnalpi, Lignum Dam and North Scotia Projects which lie along strike from, or adjacent to previously mined high-grade nickel at the Silver Swan and Scotia Nickel Deposits.
In the West Kimberley, Mithril is exploring for zinc on the Billy Hills Project which lies adjacent to the previously mined Pillara Zinc Deposit.
In the Murchison, Mithril is exploring for copper, nickel and zinc mineralisation on the Nanadie Well Project and for copper, silver, zinc and lead on the Bangemall Base Metal Project. Mithril's exploration partner – Monax Mining Ltd is also exploring for vanadium on the Limestone Well tenements.
Mithril Resources Ltd
David Hutton
Managing Director
E: admin@mithrilresources.com.au
T: +61-8-8132-8800
F: +61-8-8132-8899
www.mithrilresources.com.au
Related CompaniesMithril Resources Limited