Gold grades in excess of 6oz per tonne confirm Albury Heath Resource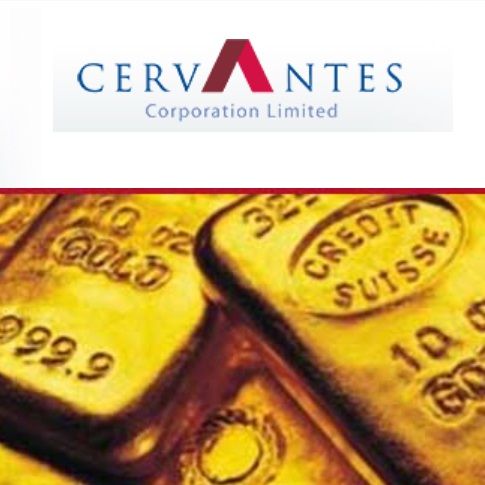 Confirms More High Grade Gold
Perth, July 17, 2018 AEST (ABN Newswire) - Cervantes Corporation Limited (

ASX:CVS
) confirms more high grade gold at Albury Heath.
- Significant gold intersections from the RC drilling at Albury Heath include (down hole length, true width not known):
17m @ 18.8 g/t from 77m in AHP139, incl 4m @ 52.3 g/t from 86m,
1m @ 14.1 g/t from 58m in AHP120
2m @ 7.0 g/t from 9m in AHP134, incl 1m @ 13.3 g/t from 10m
2m @ 3.2 g/t from 29m in AHP136
1m @ 15.2g/t from 46m in hole 135
8m @ 15.3 g/t from 87m in AHP135, incl 4m @ 30.1 g/t from 87m,
- Previously announced results from this round of drilling include:
2m @ 67.2 g/t from 27m in AHP116, incl 1m @ 129.3 g/t from 27m
4m @ 9.1 g/t from 19m in AHP119, incl 2m @ 16.5 g/t from 19m
2m @ 18.2 g/t from 4m in AHP127, incl 1m @ 31.4 g/t from 4m
1m @ 31.4 g/t from 36m in AHP128
4m @ 5.8 g/t from 45m in AHP129, incl 1m @ 19 g/t from 45m
3m @ 9.0 g/t from 81m in AHP130, incl 1m @ 21.3 g/t from 82m
5m @ 63.1 g/t from 32m in AHP134, incl 1m @ 202.8 g/t from 33m
8m @ 23.1 g/t from 87m in AHP135, incl 2m @ 49.0 g/t from 87m
- Drilling intersected quartz lode mineralisation with higher grades than that seen in historic drilling
All assays of samples collected during the recent RC drilling campaign at Albury Heath (see Figure 1 in link below) have now been received. Twenty nine RC holes for 1,866m were completed (see announcement on 14 May, 2018). Preliminary results were announced on 28 June, 2018.
The drilling was successful in:
- testing the down dip extension of the main known lode. Minor (subparallel) lodes have been shown to be less continuous than predicted, though these do not hold the bulk of the resource as announced on 7 February 2017,
- defining near surface mineralisation. Through this programme it has been recognised that additional shallow mineralisation may exist that could require further drilling. This may represent cheap ounces, and
- sampling zones around the existing open stopes. These areas were poorly sampled by the historic drilling.
All drilling was by Reverse Circulation (RC) with every metre sampled for assaying. Bulk samples were collected for future metallurgical testing purposes. Table 1 (see link below) summarises all significant intersections from this drilling campaign based on criteria noted in the table. Table 2 (see link below) lists the hole collar locations.
Hole AHP139 was drilled as a "scissor" hole to test the main quartz lode from the opposite direction to that drilled by holes AHP128 (maximum assay of 31.41g/t, or about 1oz/t), AHP129 (18.96g/t) and AHP130 (21.27g/t). AHP139 is interpreted to have intersected the main lode at 43 to 54m (max of 1m @ 15.17g/t) and again at 77 to 94m (max of 1m @ 69.19g/t, or about 2.2oz/t). It is likely AHP139 intersects the lode at an oblique angle and the intercepts do not represent true widths.
The previously reported intercept of 5m @ 63.1g/t (about 2oz/t) from 32m in hole AHP134, including 1m @ 202.8g/t (about 6.5oz/t) from 33m represents the north-east extension of this main lode.
The assays for the lode position in hole AHP135 have been updated to reflect assaying on the high grade zone between 87m and 95m.
Geology
The high grade gold intervals are hosted in steeply dipping (70o to 80o to the southeast) quartz-pyrite veins, stockworks, and stringers that vary in width from less than one metre to over four metres. These quartz systems are hosted by vesicular and altered (+/-carbonate, silica, fuchsite and pyrite) basalts of the Polelle Group. The first basalt encountered tends to be vesicular, giving way to altered basalts at depth. Felsic volcanics, volcanoclastics, and banded iron formation are seen locally, but not recognised in drilling.
The Albury Heath resource is typical of Murchison Domain gold mineralisation: related to major faults and shear zones within greenstone belts and preferentially associated with banded iron formations, and ultramafic and mafic lithologies. Most of the gold deposits are considered to be "lode-gold style" and many shears and mineralised vein systems are associated with metasomatism with the mineralising fluids possibly being derived by progressive metamorphic dewatering of mafic and ultramafic sequences (Browning et al, 1987).
Gold mineralisation at Albury Heath is closely associated with the Meekatharra Structural zone, a major regional northeast trending shear dominated zone approximately 50km wide. Specifically, the local northeast trending structure is related to an extension of the regional scale Mt Magnet Fault, host to the Burnukara gold camp, about 25 kilometres to the south-south-east.
Mineralisation
Up to seven lodes are recognised locally. The Main Lode was mined by underground selective mining methods. It represents the most consistently auriferous lode. While grades are best developed in the vicinity of the Albury Heath shaft, drilling has shown high gold grades extend along strike. For example, the 202.79g/t intercept in AHP134 occurs 80m NE from the old workings and a 129.32g/t intercept in AHP116 is located 40m to the SW of those workings; both in areas not exploited by historic mining.
The lodes transgress from oxidized into fresh rock. Oxidation level appears to have no discernable impact on gold grade although there may be some evidence of supergene enrichment in the overlying lateritic clays. Minor sulphides are recorded in the lode, but it is not ubiquitous, nor is it wholly pathetic with the gold mineralisation. There is no discernable trend between the mineralisation seen in the two basalt types, though most occurs in vesicular basalt, possibly a function of this unit being the most sampled by drilling.
Gold grades in both the saprolite zone and in overlaying ferricretes and lateritic clays is sporadic and in places apparently unrelated to the lode positions.
With all data now in hand, a re-interpretation of the geology has been possible. A typical cross section is shown as Figure 2 (see link below), with the location of the section indicated on Figure 3 (see link below).
Next Steps
The results of this drilling campaign will be used to determine if the resource at Albury Heath is sufficiently defined to pursue early opportunities for toll treatment. Initial indications are that there remains room for expansion of the resource, particularly at shallow depths where the impact of defining additional resources on the economics of an open cut pit may be greatest.
Bulk samples collected during drilling will now be considered for metallurgical test work to gain an understanding of the size distribution of the gold and its recovery.
The insight gained from drilling Albury Heath will now be fed directly into regional assessment of Cervantes tenement holdings. An evaluation of all historic work done over the areas controlled by Cervantes has begun. This consists mainly of RAB drilling. However, the recognition of a particular "fingerprint" in aeromagnetic data associated with the Albury Heath gold occurrence will form a supporting overlay to that evaluation.
About the Albury Heath Project
The Albury Heath Project is centred on the historic Albury Heath gold mine. Gold production from underground workings during the period 1948 to 1957 totaled 2,204 oz at an average head grade of 47.8g/t or 1.54oz/t.
Gold mineralisation is associated with quartz veining, quartz stringers, quartz stockworks, and wall rock alteration located in a major regional fault zone that trends north-northeasterly across the eastern side of the Meekatharra Greenstone Belt. The mineralisation occurs primarily in quartz-sulphide veins that are up to 4m in width. The main vein strikes north-northeasterly and dips steeply at 75o - 80o to the east-southeast.
Cervantes wholly owns six Prospecting Licences covering the Albury Heath mine and its surrounds (P51/2937 and P51/2997 to 3001). These comprise an area totaling 10.8km2 that cover the northerly and southerly extent of the main controlling structure.
To view tables and figures, please visit:
http://abnnewswire.net/lnk/8L1TX187
About Cervantes Corporation Limited

Cervantes Corporation Limited (ASX:CVS) is an emerging gold explorer and aspiring gold miner. It has built up a portfolio of gold properties in well-known and historically producing gold districts with a strategy to apply novel exploration and development thinking. Cervantes has identified opportunities in those districts that were overlooked by previous explorers. The company is committed to maximizing shareholder value through the development of those opportunities.

Collin Vost
Executive Chairman
T: +61-8-6436-2300
E: cvost@cervantescorp.com.au
Related CompaniesCervantes Corporation Limited