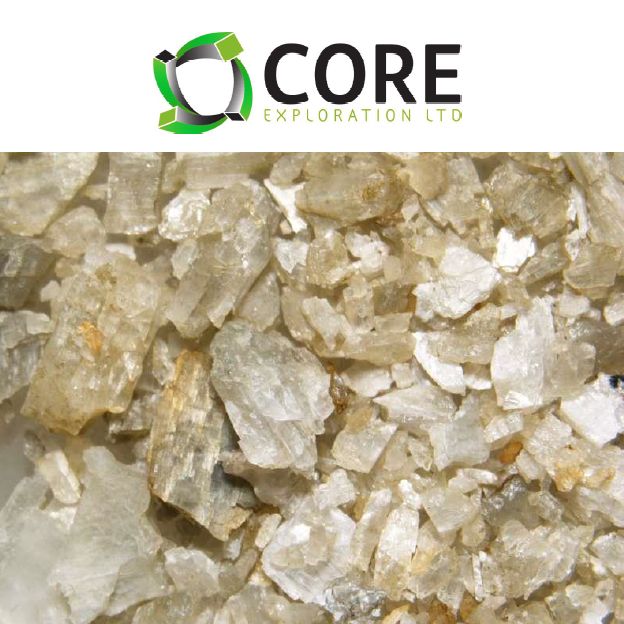 Improved Recovery of High Grade Lithium in New Results Strongly Positive for Finniss Economics
Adelaide, Aug 2, 2018 AEST (ABN Newswire) - Emerging Northern Territory lithium developer, Core Exploration Ltd (

ASX:CXO
) ("Core" or the "Company") is pleased to announce a strongly positive update on metallurgical results achieved since the release of the Pre-Feasibly Study (PFS), which are expected to further enhance the robust economics demonstrated by the PFS.
HIGHLIGHTS
- Improving Recoveries of High Grade Lithium Concentrate in new metallurgical results are expected to be strongly positive for the upcoming Feasibility Study;
- Recent metallurgical testwork shows a strong improvement in the assumptions utilised in the PFS, with up to 79% lithium recovery at a grade of 5.5% Li2O;
- Overall mass yield of up to 27% of head feed;
- Gravity only plant to be designed to deliver optimal yield;
- Further test work demonstrates a DMS circuit can easily produce a 6.1% Li2O concentrate at good recoveries of 69%;
- Testwork continuing to optimise recoveries and design in Feasibility Study.
Recent metallurgical test work on core from the Grants deposit has delivered outstanding results and supports the business case for saleable concentrate from a simple DMS plant designed to use a gravity only circuit.
High grade 5.5% lithium concentrate was produced at an elevated recovery of 79% in new metallurgical testwork for the design of a simple gravity separation plant using industry standard Dense Media Separation (DMS).
These new results significantly improve on the results of the preliminary testwork conducted in 2017 that were utilised in the recent PFS assumptions, based on producing a 5.0% Li2O concentrate at 76% recovery (see Table 1 in link below).
6.1% Li2O concentrate was also produced at good commercial recoveries of 69% using DMS at the same sizing in the recent testwork. Ongoing testwork will be further refined over coming months with the aim of optimisation of the production of higher concentrate grades to be considered in the Feasibility Study later this year.
Commenting on the successes of the metallurgical testwork, Core's Managing Director Stephen Biggins said "Core's metallurgical test work completed to date shows that Core can produce high quality, spodumene concentrates with good recoveries through a simple, low capital cost DMS processing circuit, therefore avoiding the much higher capex requirements of a large flotation circuit.
The high-grade lithium concentrate produced by Core is showing to be of excellent quality with low iron and low in other impurities being premium characteristics for customers.
These new improved grades and recoveries in the recent testwork are likely to have a significantly positive affect on economics of the project and will be considered by Feasibility Study numbers that is underway and scheduled for completion later in the year."
Positive Metallurgical Testwork Results
The new metallurgical testwork was conducted on a composite sample from an additional five HQ 1/2 core diamond holes spatially distributed within the Grants Lithium Deposit located near Darwin in the Northern Territory.
The sample, which had a head grade of 1.69% Li2O and 0.57% Fe2O3, was crushed to 5.6mm and screened at 0.5mm. The -5.6 +0.5mm fraction, which represented 83.7% of the mass and contained 86.9% of the lithium, was processed through two stages of 100mm DMS cyclone at Specific Gravity (SG) cut points of 2.9 and 2.7.
The primary stage, which cut at 2.7 SG, rejected 52.9% of the total mass which contained 5.3% of the total lithium. The second stage DMS, which processed the sink fraction from the primary stage, was operated in a standard configuration at a cut point of 2.9 SG and produced a concentrate of 5.5% Li2O in 27 % of the overall mass and at a lithium recovery of 79%.
The quality of the concentrate was excellent, with low content of key impurities. The iron (Fe2O3) was less than 0.71%, and combined alkalis (Na2O + K2O) were less than 3%.
To view tables and figures, please visit:
http://abnnewswire.net/lnk/9H09KA45
About Core Lithium Ltd

Core Lithium Ltd (ASX:CXO) is an emerging lithium producer focused on development of its Finniss Project near Darwin in the Northern Territory. Core owns 100% of Finniss, a major developing project that lies close to existing infrastructure such as the Darwin Port, grid power, gas and rail infrastructure.
The Finniss Project covers a 500km2 tenement holding and 25 historic pegmatite mines. The project area is about 80km from Darwin Port. Exploration work has generated a near term development timeline, with feasibility studies to be completed over the course of 2018 ahead of receipt of approvals in early 2019 and planned first production during 2019.
An aggressive exploration program is under way, which has confirmed the high quality prospectivity across much of the Finniss Project area. Core's stated ambition is to upgrade Finniss' resource base to fast-track commercialisation options.
For further information please contact:

Stephen Biggins
Managing Director
Core Lithium Ltd
T: +61-8-7324-2987
E: info@coreexploration.com.au

For Media and Broker queries:

Andrew Rowell
Director - Investor Relations
Cannings Purple
M: +61-400-466-226
E: arowell@canningspurple.com.au
Related CompaniesCore Lithium Ltd