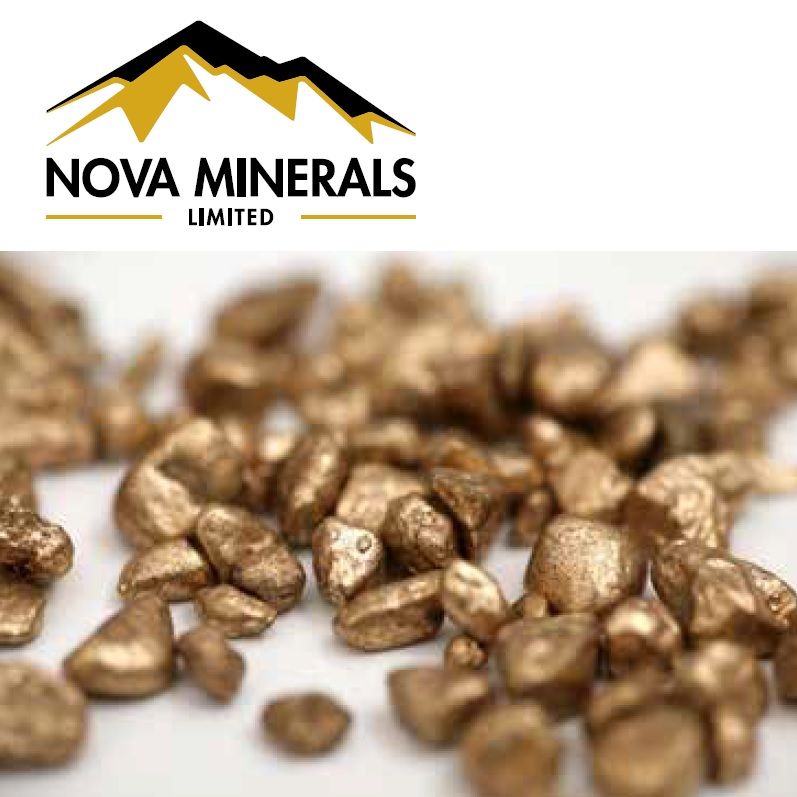 CEO's Letter to Shareholders
Melbourne, Aug 6, 2018 AEST (ABN Newswire) - Nova Minerals Ltd (

ASX:NVA
) provides the Company's CEO Letter to Shareholders.
Dear Shareholder,
Following the release of the Notice of Meeting, I am writing to outline our long-term vision and value creation strategy for Nova Minerals.
The last 12 months for Nova have seen the Company emerge to become a multi-faceted minerals explorer and developer focused on outstanding opportunities including the Thompson Brothers Lithium Project, the Estelle Gold Copper Project and the Officer Hill Gold Project Joint Venture. Our focus and fundamental measure of our success will be on maximising returns across our projects over the long term. This means that while some decisions won't yield immediate returns, we believe they will translate into shareholder value throughout this journey. In addition to having the agility of a junior minerals company with outstanding exploration and development upside, we also have set a strategic framework for sustainable, long-term value creation and growth.
Nova Minerals should be seen through two prisms. One is as a growth story. The other is as a value play.
Thompson Brothers Lithium Project (Snow Lake Resources Ltd.)
We have accomplished a lot over a short period of time across the Thompson Brothers Lithium Project. Over the past 6 months we have: completed our drill program and confirmed the resource is open along strike and at depth; completed initial metallurgical studies showing 6.37% concentrate; grew the tenement package by 186% and announced our Maiden JORC resource on a relatively small amount of cash expended.
The next step in the project's life is to obtain the development funding required through the capital markets to continue our fast track approach on expanding the resource, completing a PFS, meeting off take and funding partners for ultimate production and cash flow. This brings us to our basis of spinning off Snow Lake Resources Ltd. while maintaining a substantial holding (approximately 77%) within the Nova Minerals group. The spin off leaves the project with a strong balance sheet without further dilution to Nova shareholders, while the company can ride the upside as the project develops.
Estelle Gold Copper Project
Our immediate plans for the Estelle Gold Project are to convert the current 1.1 - 2.3 million ounce gold exploration target to a JORC resource. The project offers extraordinary exploration upside with the Exploration target on less than 1% of the project area in a favourable jurisdiction. The exploration target was defined over a strike length of 740 metres from historical drilling results; the upcoming drilling program has been designed to explore at least three times the exploration target area. The drilling will also enable Nova to delineate a maiden JORC resource targeted for end-2018.
The understanding and appreciation for gold is only going to improve since it is the only currency that cannot be printed at a time when major reserve currencies are being debased. The Estelle Gold Project offers leverage for when gold moves higher, and when the equity may be even more precious than the metal itself.
Our objective is to grow resource and reserve ownership per share and we look forward to updating you on this.
Officer Hill Gold Project
We are committed to continuing our working relationship with Newmont and proceeding with exploration on the Officer Hill Gold Project in the Tanami region of Northern Territory.
Exploration activities approved by the Operating Committee include follow up diamond drilling, airborne gravity gradiometry survey and interpretation, and follow up work at the Paris prospect using Newmont's proprietary 'Deep Sensing Geochemistry.
We have a clear focus and strategy for success
Our immediate key milestones and goals:
- Advance Thompson Brothers Lithium Project - Fully funded to PEA through partial spin off on the TSX.V with Nova maintaining approximately 77% from which point through our subsidiary we will pursue the project to production and cash flow.
- Delineate a JORC Gold resource on the Estelle Gold Project - Targeting to convert the 1.1 - 2.3 million-ounce exploration target to JORC resources in the near term with the view of expanding the extent of the exploration target area and to move the project to development category upon successful drilling.
- Officer Hill Exploration program - Continue exploration and a close working relationship with Newmont Tanami Pty Ltd across the Officer Hill gold project.
- Expand investor reach in Europe, North America and Asia - While meeting these growth objectives, we need to ensure the capital markets are fully informed of our progress. Therefore, we will be enhancing our engagement with the investment community to help build our profile and maximise valuations.
I see this as a transformational time for Nova Minerals with 3 potential company-making assets moving at the same time at different stages, with all 3 holding significant near term upside and further value creation over the long term. I am committed to delivering on our objectives, meeting your expectations, maintaining open communication, and delivering on our value creation strategy.
Thank you for your support.
About Nova Minerals Ltd

Nova Minerals Limited (ASX:NVA) (FRA:QM3) is an ASX-listed minerals explorer focused on lithium, gold and mineral exploration in Canada, Alaska and Australia.
The company plans to create shareholder value through two-pronged strategy:
- Capitalise on the growing demand for energy storage and the resulting demand for lithium, cobalt and nickel by fast-tracking exploration and development activities in our North American assets with particular focus on our flagship lithium project and prospective Chip-Loy Nickel Cobalt Sulphides project.
- Diversification by gaining exposure to base and precious metals through our farm-in JV at our district scale Estelle gold copper silver project and our Northern Australian gold exploration assets.
Nova Minerals Ltd
P: +61-3-9614-0600
F: +61-3-9614-0550
E: info@novaminerals.com.au
WWW: novaminerals.com.au

Related CompaniesNova Minerals Ltd