Regional evaluation of Ardea's 100%-owned NSW project highlights strong results in a historic mining area with drill targets defined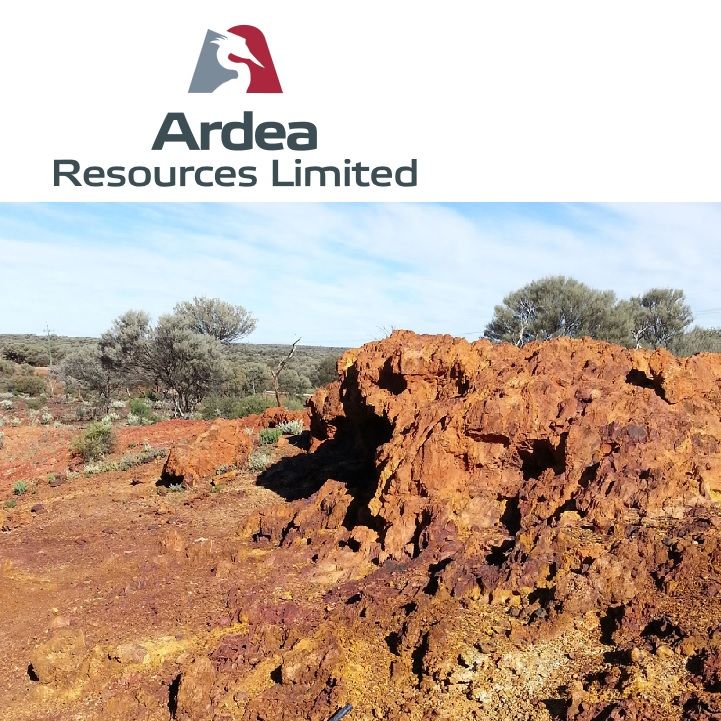 Exceptional gold-silver rock chip results Black Bullock NSW
Perth, Sep 5, 2018 AEST (ABN Newswire) - Ardea Resources Ltd (

ASX:ARL
) (

OTCMKTS:ARRRF
) announces exceptional gold-silver rock chip results at Black Bullock Prospect, NSW.
- First-pass rock chip sampling at the historic Black Bullock mining area (Wiseman's Creek EL8554) records exceptional assay results:
o Up to 38 g/t gold and 348 g/t silver.
o Significant samples have greater than 1 g/t gold.
o Several centres of workings located, largely obscured by soil cover and pine plantations.
- Historic mining area with high-grade epithermal gold-silver-lead mineralised pyritic deposits at Black Bullock:
o 4-5 years operation (1899-1902, 1905).
o Mining records show annual production up to 1,960 tpa (1902) containing up to 26.0 g/t gold (1905) and up to 540 g/t silver (1899), grades suggest epithermal system.
o Mined to a maximum depth of 40 m only
o Workings extend over 1000 m E-W and over 800 m N-S, with only extremities sampled by Ardea to date.
- Northwest/southeast trend of mineralisation coincides with anomalous geophysical trends extending ~6.5 km.
- Ardea's first-pass success combined with considerable upside for strike and depth extension support additional exploration to define the potential of the Black Bullock Project.
- New management appointments to oversee advancement of Ardea's NSW assets.
Initial rock chip sampling results from Ardea's Wisemans Creek Exploration licence EL8554 covering the Oberon gold and silver project in NSW have confirmed high-grade results from historic gold workings. Epithermal style mineralisation is present at the Black Bullock mine site. Reconnaissance rock chip sampling of poorly exposed mineralised rock and float material from the historic mining area has recorded assay results of up to 38 g/t gold and 348 g/t silver. These results are highly encouraging and support further exploration to fully define the extent of the mineralisation at Black Bullock.
Rock chip results from the Black Bullock area, Oberon Project
Twenty-eight rock chip samples were collected from the Black Bullock mining area as part of Ardea's ongoing regional assessment of its NSW projects. The Black Bullock mining area is home to historic small-scale mining of high-grade epithermal gold-silver mineralisation. The mining area was active around the start of the 20th Century.
Outcrop is limited, so sampling has been restricted to 3 centres where historic workings are recognised. Of the 28 samples collected, 7 of the samples contain in excess of 1 g/t gold. The sample with the highest values of 38 g/t gold and 348 g/t silver was collected from the southern workings which seem to have been the focus of much of the historic mining. Such results are consistent with historic grades mined at Black Bullock and this surface reconnaissance spatially reconciles the high-grade sample result with historic workings. As a result, a more focused sample program will be conducted in the near future.
On-ground observations show a northwest/southeast trend to mineralised rocks and workings. The results of the reconnaissance rock chip sampling program represent the discovery of a significant mineralisation occurrence that will require follow-up investigation.
Black Bullock mining area
The historic Black Bullock mining area is located on Ardea's Wiseman's Creek project area centred on the township of Oberon, around 40 km southeast of Bathurst and 85 km ESE of the company's base in Orange.
The Black Bullock group of mines was discovered in 1894 and worked from 1899-1902 with subsequent minor mining during the first half of the 20th Century only. Publicly available historic records show that:
- Major minerals include gold, pyrite, galena, arsenopyrite, and quartz.
- All recorded mining was within 40 m of surface.
- Total production quoted at 4,775 tons at 23 g/t gold and 107 g/t silver(see Note 1 below)
o 1902 production quoted at 1,961 tons at 24.1 g/t gold and 445 g/t silver(see Note 2 below)
Total production at Black Bullock is unclear. According to historical records, total quoted production is not the sum of the quoted annual production. It is likely that the total production represents total "stone raised" rather than ore processed, so grades are likely higher in the defined ore.
Exposure at Black Bullock is poor, with very little outcrop beyond the extent of the workings. Indeed, the workings are greatly degraded and are covered by pine plantations, from which there have been several generations of harvest. This has resulted in near obliteration of the historic workings in some areas.
Geophysical response
Importantly, the Black Bullock mining area corresponds with a distinct geophysical anomaly. Paralleling the observed trends of mineralisation and historic workings, a distinct northwest/southeast trend is evident in regional geophysical datasets, extending up to 6.5 km. Several cross-structures appear to correspond to some of the workings.
Presently, the available geophysical datasets are regional-scale State-supplied low-resolution data. Higher resolution data may need to be acquired to fully define the exploration potential of Black Bullock.
NSW projects and development strategy
Ardea's West Australian and NSW gold programs are being run in parallel with the Company's Definitive Feasibility Study (DFS) programs at the flagship Goongarrie Nickel Cobalt Project (GNCP). A search for a strategic partner or group of partners is progressing, with the data-room being accessed and investigated by several parties.
Ardea's portfolio of projects in NSW incorporates zinc-gold-silver-lead-copper mineralisation exhibiting both VMS and epithermal affinities at Lewis Ponds, orogenic gold mineralisation at Ophir, Calarie, and Gundagai, epithermal gold-silver mineralisation at Oberon (Wiseman's Creek), Calula (Copper Hill East), and Mount Aubrey (formerly mined by BHP Gold). Porphyry-style mineralisation has been intercepted historically at Yeoval.
Ardea has appointed Sydney-based mining engineer and corporate finance specialist Mark Sykes to oversee the NSW portfolio of projects, with a view to defining options including the potential spin-out via an IPO. To this end, the Company has also recently appointed Johan Lambrechts to manage the NSW operations including defining a new resource for the Lewis Ponds Project and to oversee day-to-day running and assessment of the NSW regional tenure.
Notes:
1 Quoted in Imperial values: 4700 long tons at 15 dwt/t gold and 3.5 oz/t silver. Source: DIGS Report D003173960, Pegum & Gibbons 1962 (search.geoscience.nsw.gov.au).
2 Quoted in Imperial values: 1930 long tons to produce 1,520 oz gold and 28,037 oz silver. Source: DIGS Report D003173960, Black Bullock Mine Annual Report, 1902 (search.geoscience.nsw.gov.au).
To view tables and figures, please visit:
http://abnnewswire.net/lnk/OO30NS4R
About Ardea Resources Ltd

Ardea Resources Ltd (ASX:ARL) (OTCMKTS:ARRRF) (FRA:A91) is an ASX listed resources company, with 100% controlled Australian based projects, prioritising a three-pronged value creation strategy which is:
- development of the Goongarrie Nickel Cobalt Project, which is part of the Kalgoorlie Nickel Project, a globally significant series of nickel-cobalt deposits which host the largest nickel-cobalt resource in the developed world, coincidentally located as a cover sequence overlying fertile orogenic gold targets;
- advanced-stage exploration at WA gold and nickel sulphide targets within the Eastern Goldfields world-class nickel-gold province; and
- the demerger of the NSW gold and base metal assets with planned in-specie share distribution, with projects located within the Lachlan Fold Belt world-class gold-copper province.
Ardea Resources Limited:
Katina Law
Executive Chair
Tel: +61-8-6244-5136

Media or Investor Inquiries:
Michael Weir, Citadel Magnus
Tel: +61-8-6160-4900
Related CompaniesArdea Resources Ltd