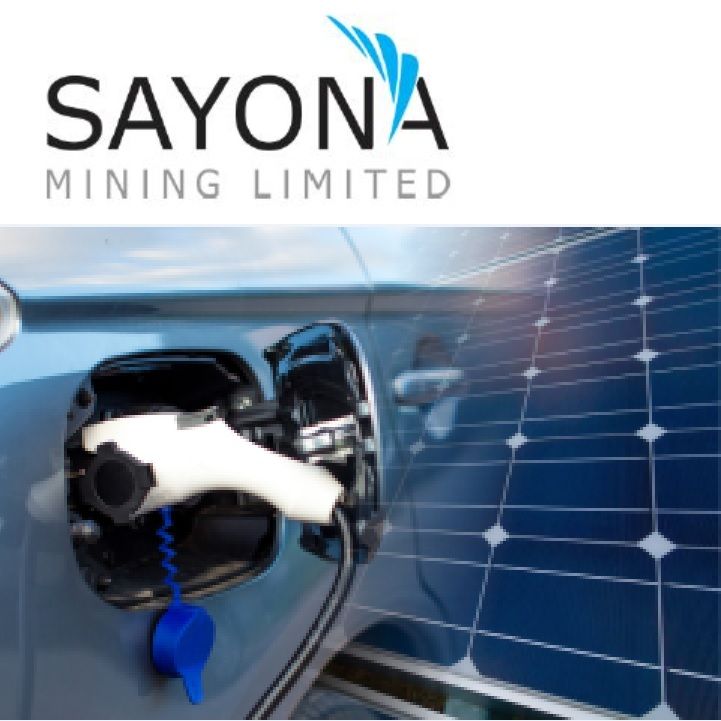 Positive Authier Definitive Feasibility Study
Brisbane, Sep 24, 2018 AEST (ABN Newswire) - Emerging lithium miner Sayona Mining Limited (

ASX:SYA
) (

OTCMKTS:DMNXF
) announced today a positive definitive feasibility study (DFS) for its flagship Authier Lithium Project in Canada, which demonstrates the project's potential to deliver a profitable and sustainable new lithium mine that will provide new jobs, investment and other benefits for all stakeholders.
Highlights
- Positive definitive feasibility study (DFS) for Authier Lithium Project shows potential for profitable and sustainable new lithium mine, delivering jobs, investment and other economic benefits to local community
- Pre-tax net present value (NPV) of C$184.8m (AUD $194.0m), pre-tax internal rate of return (IRR) of 33.7% and estimated payback of 2.6 years
- Life of mine (LOM) revenue C$1,394m; projected 1.58 million tonnes (Mt) of spodumene concentrate sales over 18 years
- Low start-up capital expenditure of C$89.9m, with production scheduled for 2020
- Downstream test work underway to produce lithium carbonate and hydroxide from pilot plant concentrate, with results to be used for a Pre-Feasibility Study
The new mine could create 150 jobs in construction and up to 160 jobs in operation, with the Company giving priority to local employment and suppliers. Sayona is targeting a number of potential markets for its product, which is in increasing demand due to the role of lithium-ion battery technology in the clean energy revolution for cars and electricity.
Key findings of the DFS include:
- Pre-tax NPV of C$184.8 million and IRR 33.7% (real terms at 8% discount rate);
- Annual average concentrate production of 87,400 tonnes at 6% Li2O;
- Average annual revenue of C$80 million;
- Mine gate cash costs of C$416/t and FOB Port cash costs of C$482/t (US$366/t);
- Initial capital expenditure of C$89.9 million;
- Updated Ore Reserve of 12.10 Mt @ 1.00% Li2O (Proven Reserve 6.10Mt @ 0.99% Li2O and Probable Reserve 6.00 Mt @ 1.02% Li2O) delivers a mine life of 18 years.
The DFS incorporates an increased JORC resource, results from a number of technical optimisation programs and realignment of pricing to reflect more recent industry forecasts. It includes results from the phase 3 drilling program, pilot plant metallurgical testing and further optimisation of the Authier resource and reserve.
Welcoming the DFS findings, Sayona's Managing Director, Dan O'Neill, said: "This study confirms the technical and financial viability of constructing a simple, low-strip ratio, opencut mining operation and processing facility producing spodumene concentrate for the lithium-ion battery market.
"The clean energy revolution is driving demand for new lithium projects such as Authier, providing a positive long-term outlook. We will now step up our engagement with potential partners and investors, while continuing our close consultations with the local community and government to ensure sustainable and beneficial outcomes for all stakeholders."
Significantly, the Authier project is located close to the established mining support city of Val d'Or (45 kilometres to the south-east) and the city of Amos (20 km to the north). It will benefit from Quebec's excellent infrastructure including low-cost hydro-electric power, extensive rail and road networks and the region's skilled labour, along with close proximity to US markets including the Tesla Giga factory in Nevada.
Authier DFS Key Study Outcomes and Assumptions
The DFS has been completed to an accuracy of -10/+15% and has contributions from a number of leading industry service providers including BBA, SNC-Lavalin and ASDR. All of the metallurgical testing was undertaken at SGS Canada Inc. at their Lakefield, Ontario facility that has been operating for over 70 years. SGS has considerable experience in testing for Canadian lithium projects. Dr Gustavo Delendatti was the Competent Person for the Mineral Resource estimate.
Key outcomes of the DFS include an NPV of C$184.8 million over an initial 18-year mine life, based on the current Proven and Probable Ore Reserve estimate of 12.10 Mt @ 1.00% Li2O at a 0.55% Li2O cut-off grade (Table 1).
Table 1- Authier JORC Ore Reserve Estimate (0.55% Li2O cut-off grade)

---------------------------------------------------------------------
Category          Tonnes (Mt)   Grades (% Li2O)   Contained Li2O (t)
---------------------------------------------------------------------
Proven Reserve    6.10          0.99              60,390
Probable Reserve  6.00          1.02              61,200
Total Reserves    12.10         1.00              121,590
---------------------------------------------------------------------

Note: The Ore Reserve estimate is based on the details published in a separate ASX release "Authier JORC Ore Reserve Estimate", 24 September 2018. The Ore Reserve Estimate is inclusive of dilution and ore loss.
The pre-tax Internal Rate of Return ("IRR") is estimated at 33.7% and payback on capital is 2.6 years. The LOM cash operating costs are estimated at C$416 per tonne (mine gate basis) or C$482 per tonne FOB Port of Montreal, based on a development capital expenditure of C$89.9 million and a life-of-mine capital cost estimate of C$83.6 million.
The Company will continue to pursue opportunities to optimise and enhance the value of the project, including:
- Additional definition and expansion drilling to optimise the size of the resource and reserves and extend the project mine life. The drilling will target potential shallow extensions of the resource in the eastern and western sectors which have the potential to reduce the overall waste to ore ratio;
- Further metallurgical test work to improve processing metallurgical recoveries. The DFS assumes a metallurgical recovery of 78% and a 6% Li2O concentrate grade however recovery rates of up to 79% and concentrate grades higher than 6% Li2O have been achieved in metallurgical testing; and
- Completing a Pre-Feasibility Study (PFS) to assess the economic and technical viability of producing lithium hydroxide and/or carbonate from Authier spodumene concentrates at a site to be determined. This follows the positive results of the Scoping Study (see ASX release, Lithium Carbonate/Hydroxide Concept Study Demonstrates Positive Technical and Economic Viability, 30 August 2017).
The Authier deposit will be mined by open cut methods enhanced by the shallow and thick nature of the mineralisation, allowing spodumene ore to be processed from the commencement of mining. The DFS demonstrated a LOM strip ratio of 6.9:1 (waste to ore) providing a low mining cost.
BBA designed a concentrator plant to process 675,500 tpa of ore feed using conventional flotation technology suitable for a pegmatite orebody. The plant will produce a 6% Li2O concentrate suitable for feedstock to downstream lithium conversion plants.
The DFS pricing is based on the average price forecasts of three leading lithium industry research groups including BMO, Canaccord Genuity and Macquarie Bank. The DFS assumes that concentrates are delivered FOB to an export ship at the Port of Montreal. The real LOM average price assumption is US$675/tonne for a 6% Li2O concentrate. The modelled price for the DFS is a significant discount to the current market pricing and is considered conservative.
The Company is exploring three separate options for the monetisation of the spodumene concentrates, including:
1. Exporting concentrates through a Quebec Port and selling to a Chinese lithium carbonate processing facility;
2. Selling concentrates into the Quebec domestic market. Two downstream facilities are currently planned within the province and are expected to be in operation by 2019- 2020; and
3. Processing and producing a lithium carbonate/hydroxide product through an integrated downstream processing facility at a site to be determined. The Company has completed a Concept Study assessing the economic and technical viability of constructing the downstream plant. The Company is currently undertaking a downstream testwork program at SGS to produce lithium carbonate and hydroxide from spodumene concentrate produced during pilot plant operation. Results will be incorporated into a PFS.
The Company plans to move the project forward with a number of work programs, including:
- Bridging engineering;
- Further flowsheet optimisation
- Final engineering and design;
- Procurement of long lead items; and
- Construction and commissioning.
The Company is also progressing its environmental permits and mining lease and believes the approvals can be achieved within the planned development timetable even if some permitting uncertainties still exist.
To view the full release with tables and figures, please visit:
http://abnnewswire.net/lnk/XAGY5746
About Sayona Mining Ltd

Sayona Mining Limited (ASX:SYA) (OTCMKTS:DMNXF) is an Australian, ASX-listed (SYA) company focused on sourcing and developing the raw materials required to construct lithium-ion batteries for use in the rapidly growing new and green technology sectors.
Please visit us as at www.sayonamining.com.au
Dan O Neill
Managing Director
Phone: +61-7-3369-7058
Email: info@sayonamining.com.au
www.sayonamining.com.au
Related CompaniesSayona Mining Ltd