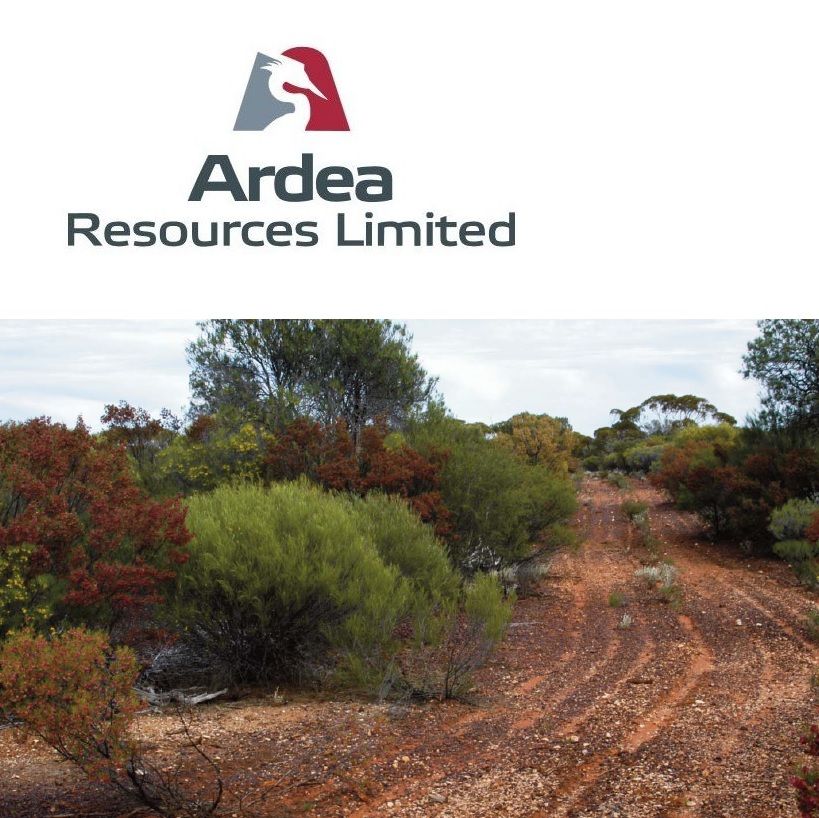 Annual Report to Shareholders
Perth, Oct 26, 2018 AEST (ABN Newswire) - Ardea Resources Ltd (

ASX:ARL
) (

OTCMKTS:ARRRF
) provides the Company's Annual Report to shareholders.
Chairman's Letter to Shareholders 2018
Dear Shareholders,
On behalf of the Directors of Ardea Resources Limited ("Ardea") I am pleased to report on the Company's activities over the past year.
Ardea has made significant progress in advancing the Goongarrie Nickel Cobalt Project towards development. In March 2018 the results of the Pre-Feasibility Study for both a 1.0Mtpa and a 1.5Mtpa option were released. In July 2018 we announced the results of an Expansion Study for 2.25Mtpa. All of these studies confirmed the strong potential returns for Shareholders from the development of the Goongarrie Nickel Cobalt Project.
The Company has also completed 29,747 metres of drilling at the Goongarrie project, which results are currently being used to update the resource estimate for the project. The drill core has also been used for metallurgical test work including Ardea's first pilot plant program to produce nickel and cobalt sulphate crystals.
To further enhance project value, Ardea plans to explore the upside potential of scandium, High Purity Alumina, manganese and vanadium at Goongarrie. These are potentially valuable by-products and warrant further evaluation to maximize the value Ardea can extract from this exceptional orebody.
The international interest in nickel and cobalt continues to rise, particularly with cobalt and its value in battery development for electric vehicles. As such in June 2018, Ardea announced that KPMG would conduct a Strategic Partner process to seek a well-financed, battery metal producer, end-user or mining company to assist in developing the Goongarrie Nickel Cobalt Project with us. Goongarrie is a multi-decade production platform in a first world location with significant infrastructure already in place. This Strategic Partner process is ongoing.
While the prime focus at Ardea is Goongarrie we have continued, in parallel to advance our gold and nickel projects in Western Australia (where drilling is planned in late 2018), and also the Lewis Ponds project in New South Wales (where a resource update is underway.)
The Company is well funded as Ardea raised $27.5M in 2018, leaving our cash position at 30 June at $19M. Issued capital remains tight at 105M Shares. After a stellar share price rise in 2017, the fall in the cobalt price over the last year has weighed on the Company's share price, however the long-term demand for nickel and cobalt remain strong due to the strong international uptake in electric vehicles.
I would like to thank our small but dedicated team of employees, directors and consultants for their work which has enabled us to achieve so much and look forward to the next exciting stage of the Company's development.
A development like the Goongarrie Nickel Cobalt Project works best when the local Community is in support. To this end, I would like to acknowledge the encouragement provided by the Menzies Shire and the City of Kalgoorlie Boulder where the Project is located. As Goongarrie advances, Ardea hopes to become the employer of choice in these Local Government districts, and elsewhere in our areas of operation.
I would also like to thank our Shareholders for their ongoing support.
To view the Annual Report, please visit:
http://abnnewswire.net/lnk/752U8M3W
About Ardea Resources Ltd

Ardea Resources Ltd (ASX:ARL) (OTCMKTS:ARRRF) (FRA:A91) is an Australian resources company which owns 100% of the Kalgoorlie Nickel Project (KNP), a globally significant series of nickel-cobalt laterite deposits which host the largest cobalt resource in the developed world. Ardea is focused on the development of the Goongarrie Nickel Cobalt Project (GNCP) within the KNP, 80km north of Kalgoorlie WA. Ardea has completed a Prefeasibility Study for a 1Mpta and 1.5Mtpa case on the GNCP and also a scoping study for a 2.25Mtpa case. Ardea is currently working with KPMG Australia Corporate Finance to secure a Strategic Partner to jointly develop the GNCP. Ardea also owns an extensive portfolio of projects in Western Australia and New South Wales which are highly prospective for gold, nickel sulphide and zinc.
Ardea Resources Limited:
Katina Law
Executive Chair
Tel: +61-8-6244-5136

Media or Investor Inquiries:
Michael Weir, Citadel Magnus
Tel: +61-8-6160-4900
Related CompaniesArdea Resources Ltd