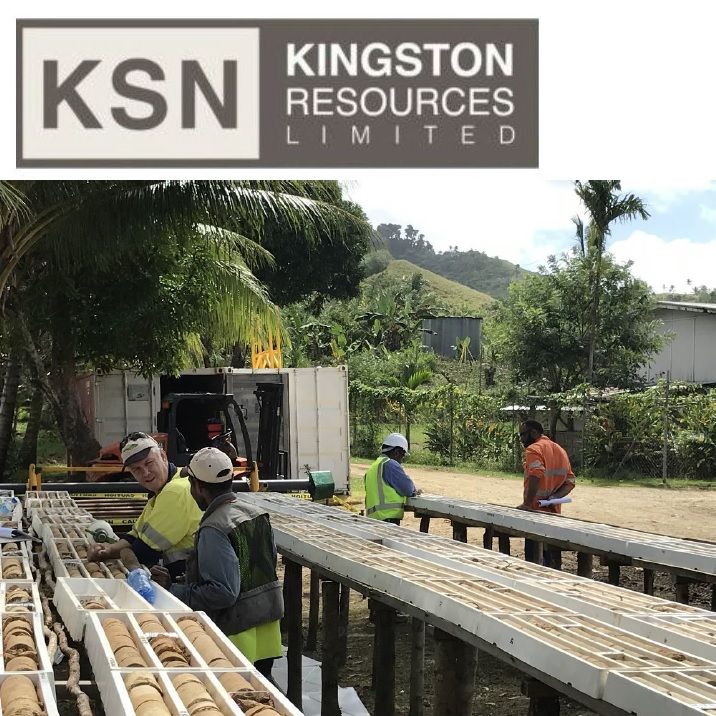 Misima Exploration Update
Sydney, Oct 29, 2018 AEST (ABN Newswire) - Kingston Resources Limited (

ASX:KSN
) (Kingston or the Company) is pleased to provide an exploration update with further assays expanding the newly discovered Ginamwamwa prospect, drilling progress within the Umuna resource and completion of the aerial Lidar survey over Misima at the 70% owned Misima Gold Project in Papua New Guinea.
Highlights
- Trenching at Ginamwamwa finds more large areas of high-grade gold:
o 50m @ 2.06 g/t Au
o 5m @ 9.57 g/t Au
o 34m @ 3.19 g/t Au
- Aerial LiDAR survey completed over Misima to assist in further target generation.
- Drill program ongoing, targeting resource extensions to central Umuna
Final assays have been received from further geochemical surface trench work at Ginamwamwa (see Figure 1, Table 1 in link below). Highlights include:
- 34m @ 3.19 g/t, at surface
o Incl. 8m @ 7.96 g/t
- 50m @ 2.06 g/t Au, at surface
o Incl. 8m @ 5.38
- 5m @ 9.57 g/t Au, at surface
- 6m @ 1.6 g/t Au, at surface
- 10m @ 1.23 g/t Au, at surface
o Incl. 2m @ 3.99 g/t
Kingston Resources Limited Managing Director, Andrew Corbett said: "Kingston's strategy at Misima is to demonstrate the potential of the existing 2.8Moz# resource while working up multiple exploration targets outside of the current resource. Ginamwamwa is just one of six such targets we are working on. It is a very positive sign for the exploration potential of the island that we are delivering these outstanding results at one of our first targets. Ginamwamwa is approximately 2km south of the Umuna resource and sits adjacent to the historic mill site. To be finding mineralisation at this type of grade away from the original resource is a big win."
Ginamwamwa now has mineralisation demonstrated over a broad 150m x 500m area. The current geochemical field program will see trenching continued over the next few months followed by preparation for drilling in 2019. Ongoing mapping of the prospective greenstone contact is helping the exploration team tighten the focus on surface mineralisation as the Company works to define the relationship between Ginamwamwa and other known mineralisation in the region, primarily the Quartz Mountain area to the northwest and Umuna to the northeast. At this stage, Ginamwamwa looks to have the potential to be a higher grade, low strip source of oxide ore. Such characteristics clearly illustrate that it is likely to add value to the Misima Gold Project as it becomes more defined.
Drilling Update
During the past 2 months, drilling has been hampered by an unacceptable level of mechanical problems with the diamond drill rig, which the contractor has had difficulty rectifying. This resulted in only a limited number of the planned holes being completed over this period. Following remedial work carried out in the last two weeks by the drilling contractor, productivity has improved. Drilling is now advancing along the west side of the Umuna Shear, targeting a variety of extensional and infill positions around the Inferred mineral resource near the Central Umuna area. Two further holes, GDD013 and GDD014, have been completed in this target area in October and the rig is currently drilling GDD015.
Results have now been received for three holes (GDD009, GDD010, GDD012, see Figure 2, Table 2 in link below). GDD009 and GDD010 were drilled in an area known as North Kulumalia, targeting down-dip extensions of the southern end of the main Umuna Shear beneath the existing resource. GDD012 was completed within the Central Umuna shear zone also testing depth extensions. While these holes have failed to identify the targeted depth extensions to the existing 2.8Moz Au resource, they represent only a limited area of the initial targeting. With the drilling performance now improving, Kingston anticipates being able to more rapidly assess remaining targets from this initial drilling program.
Andrew Corbett added: "There are a number of exploration targets at Misima and whilst the drilling performance so far has been slower than planned, we are very confident in the resource potential of the project. We have broad exploration optionality across Misima reflected by the number of targets identified and the early success at areas such as Ginamwamwa and Ara Creek, this gives us confidence in the outlook for the project."
Aerial LiDAR Survey
Kingston has completed an aerial LiDAR survey at Misima with the data now being collated and processed by the service provider. Kingston's aim with the LiDAR survey is to obtain an accurate and detailed terrain model which will assist and enhance the broader drilling and exploration program. The survey creates highly accurate and detailed models of the surface terrain while it is also expected to identify historical mining topography, current and historic artisanal mining, and potential geological features, as well as determining water drainage patterns.
To view tables and figures, please visit:
http://abnnewswire.net/lnk/8FO8DB81
About Kingston Resources Limited

Kingston (ASX:KSN) is a metals exploration company. Currently the Company's priority is the world-class Misima Gold Project in PNG, which contains a JORC resource of 2.8Moz Au, a production history of over 3.7Moz and outstanding potential for additional resource growth through exploration success. Kingston currently owns 70% of the Misima Gold Project.
In addition, Kingston owns 75% of the Livingstone Gold Project, WA which holds a 50koz resource and is the site of ongoing exploration and a number of high-grade historic intersections.

Kingston Resources Limited
T: +61-2-8021-7492
E: info@kingstonresources.com.au
WWW: www.kingstonresources.com.au
Related CompaniesKingston Resources Limited