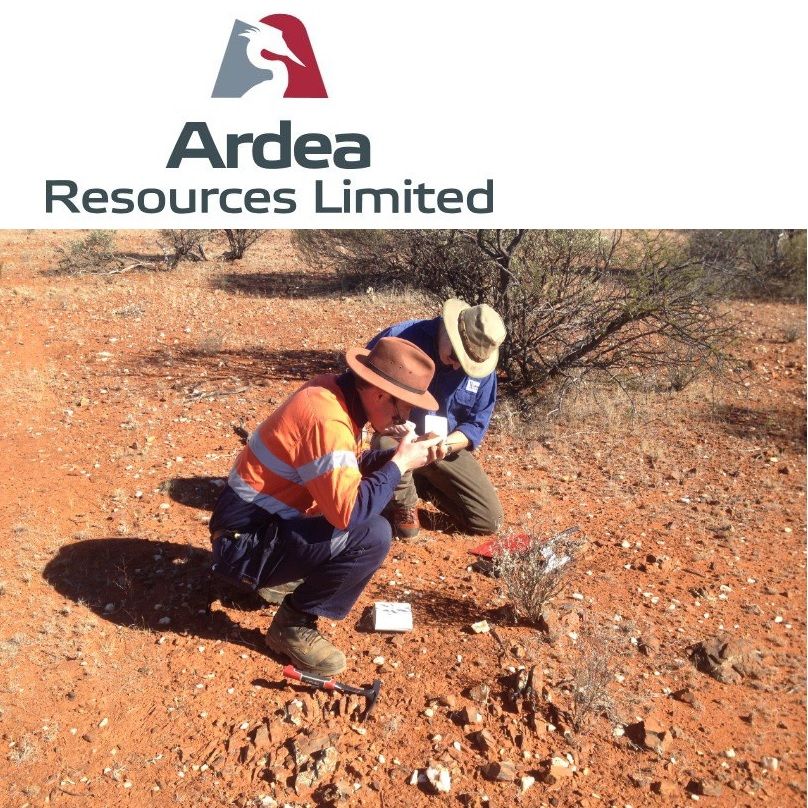 Corporate Strategy Update
Perth, Nov 27, 2018 AEST (ABN Newswire) - Ardea Resources Ltd (

ASX:ARL
) advises that it has revised the development timetable for the Goongarrie Nickel Cobalt Project ("Goongarrie" or "GNCP") in order to deliver the best value for shareholders from the Strategic Partner process, where several discussions are current.
While the Company remains focussed on systematically advancing the flagship Goongarrie Project, the full Definitive Feasibility Study (DFS) will only be completed once a suitable Strategic Partner is committed and announced.
Ardea has optimised the Company budget to ensure the GNCP continues to progress through prudent and targeted expenditure but is unlikely to commit to late stage Definitive Feasibility Study work such as engineering for at least six months.
Separately to progressing the GNCP, Ardea has allocated funds to advance drilling of its WA gold and nickel sulphide exploration targets within the Company's extensive WA and NSW 5,484km2 land holding. Ardea is also working towards completing a spin-out of the NSW gold and base metal assets over the next 12 months.
Commenting on the revised schedule to business operations, Ardea Executive Chair Katina Law said:
"It has been an extremely successful 12 months for the Company and Goongarrie has advanced considerably. However, in times of challenging market conditions, we should take a considered and metered approach to the ongoing development programs for such a large, world-class Project".
"It has become clear that due to the weakening nickel and cobalt markets the Strategic Partner process should be extended to secure the optimum outcome for our shareholders."
"Your Company is in an enviable position, having world-class assets and a strong cash position, combined with a prudent and diligent development approach."
Goongarrie Nickel Cobalt Project
The Strategic Partner process continues, with a number of well-credentialed parties active in evaluating the Project. Recent production of high-purity nickel sulphate and cobalt sulphate crystals from a pilot plant exceeded all available product specifications, and this has resulted in a renewed wave of interest in the Project. However, due to the current market conditions, the nature of the parties and their corporate decision-making timeframes, a final outcome to the partnership process is now likely to take longer.
These prospective Strategic Partners are looking for security and consistency of supply for multiple decades, and such timeframes exceed the usual short-term business windows which generally are measured in years. Long term, high quality projects such as the GNCP demand detailed scrutiny which process requires a certain amount of time and resources.
As a part of this process the Company has received a range of feedback from evaluating parties which has identified several opportunities to add value to the Project, de-risk further development and enhance the project economics.
Following a thorough review, the Board has set a revised schedule that will continue to advance development and grow the value of Goongarrie in a cost-effective manner while maintaining the Company's strong cash position.
The focus of works over the next six months at Goongarrie is outlined below and will comprise a mix of both value enhancement opportunities and continued work that is required in any event ahead of a DFS commitment. Completion of this work will ensure that, upon confirmation of a Strategic Partner, definitive studies can be undertaken quickly within the shortest possible timeframe to production.
Ardea will continue to advance the Project:
- Resource update - An update of the resource estimate is targeted for completion in early 2019. This will include the 47,239m of new drilling completed by Ardea, with the Company currently awaiting the final drill assays. A strong structural control on mineralisation was recognised in 2018 drilling, which will allow more appropriate resource block sizes to be used for selective high-grade mining to be investigated. The resource will also include variably mineralised carbonate saprock to be used for neutralising free acid after leaching the ore, which will provide additional nickel and cobalt production credits.
- Scandium resource - The new resource will also include for the first time a scandium grade estimate within the Project.
- High grade mine schedule - The new resource estimate will be used to prepare an updated mine schedule, which will be optimised to ensure the highest nickel-cobalt grades are mined during the payback years of the Project, along with suitable neutraliser recovered from below the ore.
- Approvals - Work is ongoing in relation to the referral of the Project to the EPA for evaluation. A number of studies including flora, fauna, tailings, emissions and water are being finalised to support the referral. At this stage Ardea expects to be in a position to refer to the EPA in early 2019. After referral there will be a continuing program of more detailed environmental studies as required to provide ongoing information to the EPA.
- Alternative product options - Including manufacture of a Mixed Sulphide Product (MSP) as opposed to solely nickel and cobalt sulphate crystals, or a staged combination (such as commission with MSP with later addition of a crystal refinery).
- In-pit tailings discharge - Lower cost in-pit slurry tailings disposal will be examined as opposed to the current higher cost dry-stack tailings model.
- Variability work - Further leaching, rheology, neutraliser and comminution studies will take place to cover the full range of ore-types for a 25 year mine-life. Additionally, thickening and filtration work will be completed on a range of geo-metallurgical drill core composites. Comminution work will also be completed on a range of ore samples for the design of the comminution circuit. Comminution and leaching test-work will also be completed on the run-of-mine neutraliser selected from the updated resource model.
- Mineralised neutraliser - Current metallurgical programs include optimising the mineralised neutraliser nickel-cobalt-scandium recoveries and allow their value to be realised in the financial model (not available in 2018 PFS).
- Water studies - Recent studies into water sources and water treatment options have identified that significant volumes of plant process water can be sourced from de-watering pits, due to the high permeability of Goongarrie ore.
The Company will continue to hold discussions with interested funding parties and will seek to obtain the best outcome for shareholders. Once Strategic Partner funding is in place, the above DFS programs can be quickly expanded to the full DFS level, including engineering once throughput and product type are settled with the Partner.
Goongarrie offers a wide variety of possibilities in terms product type, product purity, and by-products. Logically these will be determined by the requirements of the Strategic Partner/offtake parties. Therefore, rather than progressing with a single Company-defined option, the most prudent approach for the detailed final stage DFS-level studies, notably the engineering component, is to commence once the Strategic Partner process has been finalised.
Ardea's view is that high quality "ethical" nickel-cobalt-scandium projects such as the GNCP will become integral and a critical aspect in the supply chain for the global battery industry. As auto manufacturers continue to announce production plans far exceeding the most optimistic predictions of only a year ago, government incentives for home battery systems are promoted in the public arena, and sovereign control of energy supplies becomes increasingly important, surety of supply, consistency of quality and reliable production of high volumes of nickel and cobalt will be at the top of battery manufacturers' requirements. Goongarrie can deliver on all fronts.
Gold and Nickel Sulphide Exploration in WA
With the successful completion of the GNCP drill-out, Ardea will utilise this opportunity to move the drill-rigs to complementary assets within the Company's highly-prospective exploration portfolio, to potentially add further value for shareholders.
Ardea has a strategic land holding in one of Australia's premier gold and nickel sulphide provinces. The Kalgoorlie Nickel Project (KNP), Mt Zephyr, Perrinvale and Bedonia projects are all highly prospective for both gold and nickel sulphides.
Following completion of the GNCP resource drill-out, Ardea staff commenced evaluation of all the Company's gold and nickel sulphide plays in WA. Recently acquired airborne survey data has added to the understanding of these targets as well as detailed Geographic Information System (GIS) compilation of historic data. This work is being followed by field sampling of defined targets.
The data gathered has been used to rank these targets and a budget has been allocated which will allow systematic drill testing of the top three targets over the next six months.
Key drill targets include:
- Mount Zephyr gold and nickel sulphide targets have been defined and are ready to be drilled. Strong structural/intrusive parallels for gold mineralisation are drawn between the Mount Zephyr and Gruyere-hosting Yamarna greenstone sequences. Government approvals are expected shortly to enable commencement of drill programs.
- Gold deposits of the Bardoc Tectonic Zone (BTZ) at Goongarrie. A gold corridor parallels the 16km strike length at the eastern contact of the Goongarrie nickel-cobalt-scandium laterite orebodies (including Ardea's historic Big Four gold mine). The BTZ Gold Corridor requires systematic drill assessment.
- Bedonia gold and nickel sulphide targets are at an earlier exploration stage but initial Ardea sampling provides strong anomalism in a little explored area within the western margin of the Albany Fraser Province (which hosts the Nova nickel-copper deposit).
Drilling is planned at advanced gold and nickel targets around Mt Zephyr in the first quarter of 2019.
The majority of Ardea's nickel sulphide targets have been specifically targeted as nickel laterite plays since 1997 and have never been subject to modern ground EM geophysical prospecting.
Further details of the planned exploration activities and target generation will be provided in the coming months.
Spin out of NSW Assets
To create additional value for existing Ardea shareholders, the Company corporate strategy is to complete the spin out of its NSW mineral assets within the next twelve months.
Ardea controls a suite of highly-prospective tenements in NSW within the Lachlan Fold Belt which hosts multiple bulk-tonnage deposits such as Northparkes, Cadia-Ridgeway and Cowal.
Data validation and resource estimation is underway for Lewis Ponds and the Company is currently reviewing the results of promising metallurgical work which has been completed during 2018.
A detailed GIS compilation is underway, with multiple gold targets generated for Copper Hill East. GIS targets at Wiseman's Creek have had initial sampling completed, returning up to 38g/t gold and 348g/t silver at the Black Bullock prospect.
Further information about the proposed spin-put will be provided to shareholders in due course.
About Ardea Resources Ltd

Ardea Resources Ltd (ASX:ARL) (OTCMKTS:ARRRF) (FRA:A91) is an ASX listed resources company, with 100% controlled Australian based projects, prioritising a three-pronged value creation strategy which is:
- development of the Goongarrie Nickel Cobalt Project, which is part of the Kalgoorlie Nickel Project, a globally significant series of nickel-cobalt deposits which host the largest nickel-cobalt resource in the developed world, coincidentally located as a cover sequence overlying fertile orogenic gold targets;
- advanced-stage exploration at WA gold and nickel sulphide targets within the Eastern Goldfields world-class nickel-gold province; and
- the demerger of the NSW gold and base metal assets with planned in-specie share distribution, with projects located within the Lachlan Fold Belt world-class gold-copper province.
Ms Katina Law
Executive Chair, Ardea Resources Limited
Tel +61 8 6244 5136
Related CompaniesArdea Resources Ltd