Acquires Scotia Tenements from Breakaway
Adelaide, May 20, 2013 AEST (ABN Newswire) - Minotaur Exploration Ltd (

ASX:MEP
) and its wholly-owned subsidiary Minotaur Gold Solutions Ltd ('MinSol') have entered into a binding Sale and Purchase Deed ('Purchase Agreement') with Breakaway Resources Ltd (

ASX:BRW
) and its wholly owned subsidiary Scotia Nickel Pty Ltd ('Scotia Nickel') to acquire 14 tenements in Western Australia ('Scotia tenements').
The Scotia tenements cover approximately 160km2 located about 65km north of Kalgoorlie, where Aphrodite Gold Limited (

ASX:AQQ
) is earning a joint venture interest of up to 80% in the gold rights and is required to keep all tenements in good standing. The Purchase Agreement provides for MinSol to purchase Scotia Nickel's interest in the joint venture and the Scotia tenements for total consideration of $600,000 (plus GST) payable in cash on completion. The Purchase Agreement is conditional on Aphrodite not exercising its pre-emptive right to purchase Scotia's interest in the joint venture.
Upon transfer of the Scotia tenements and the joint venture interest, MinSol will acquire:
- 100% of the right to all minerals other than gold , and
- the right to no less than 20% of gold deposits which will be free carried unless and until a decision to mine any gold deposit is made. If a decision to mine is made, MinSol may elect to forego its interest in the gold mining area in consideration for receiving a royalty of 1.5% of the gold net smelter return.
Two of the Scotia tenements (M24/279 and M24/336) are the subject of an overriding obligation to pay to St Ives Gold Mining Company Pty Ltd and Agnew Gold Mining Company Pty Ltd a royalty of $1.20 per dry tonne of ore milled from any gold mining operation.
A further condition to completion of the Purchase Agreement is that each of Norilsk Nickel Australia Pty Ltd and Norilsk Nickel Avalon Pty Ltd must agree to convert certain rights over seven of the Scotia tenements into a 2.5% net smelter royalty on production of nickel, copper and platinum group elements (PGE) from the tenements.
Completion of the Purchase Agreement is also subject to ministerial consent to transfer of the Scotia tenements.
Minotaur considers the Scotia purchase to be a foundation step in its assembly of mineral prospective ground in WA and is specifically attracted by the gold potential at Chameleon and elsewhere on the tenements and its location proximal to AQQ's Aphrodite Gold Project.
Gold intercepts reported by AQQ from drilling at Chameleon have included 12m @ 10.99g/t (66-78m, Hole CHR0001), 6m @ 4.48g/t (92-98m, Hole CHR0016) and 11m @ 2.05g/t Au (129-140m, Hole 0002). Excellent historic gold intercepts have also been achieved at Chameleon including 34m @ 3.59g/t from 124 metres, 22m @ 5.43g/t from 150 metres and 8m @ 3.39g/t from 202 metres. Further information is contained in AQQ's ASX releases of 2 and 30 August 2011 and 15 December 2011.
The Scotia tenements fit neatly with Minotaur's ambition to establish a strategic presence in the Western Australian goldfields.
To View Location Map, please visit:
http://media.abnnewswire.net/media/en/docs/ASX-MEP-736098.pdf
About Minotaur Exploration Ltd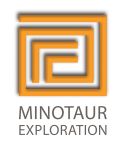 Minotaur Exploration Ltd (ASX:MEP) is a public company listed on the Australian Securities Exchange (ASX) under the market code MEP. MEP commenced trading on ASX on 25 February 2005. Minotaur has extensive minerals exploration tenements in South Australia, New South Wales, Victoria, Queensland and Western Australia.
The Company is governed by a Board of Directors according to Australian Corporate law and the Listing Rules of the ASX. Minotaur specialises in application of innovative geophysical techniques to locate virgin mineralisation deep below the surface. Often, economic mineral deposits are contained within basement rocks, buried below several hundred metres of transported cover (overburden) and cannot be located through conventional surface exploration methods such as soil sampling, geochemical assays and drilling. Minotaur's remote sensing and interpretative approach has proven very successful, time and time again.
The directors and management of Minotaur each have over 30 years of exploration, mining and mineral resource experience and are eminently qualified in their respective fields of expertise. Under their direction, Minotaur has earned a strong reputation for technical excellence and a high profile within the Australian resources sector. Minotaur's share register comprises 3500 shareholders.
Minotaur is actively exploring IOCG style targets in Australia, where geophysics have identified numerous sub-surface anomalies prospective for copper-gold mineralisation and other targets prospective for base metals such as zinc, lead, copper.
Minotaur Exploration Limited
T: +61-8-8366-6000
F: +61-8-8366-6001
E: admin@minotaurexploration.com.au
WWW: www.minotaurexploration.com.au

Related CompaniesMinotaur Exploration Ltd









Breakaway Resources Limited









Aphrodite Gold Limited