Cornerstone Placement and Copper Gold Funding Alliance
Adelaide, June 14, 2013 AEST (ABN Newswire) - Minotaur Exploration Limited (

ASX:MEP
) announces creation of an alliance with a private equity company ('Investor') to jointly advance both copper-gold and gold focused exploration and development projects within Australia ('the Alliance').
Projects of interest include existing Minotaur portfolio assets and other opportunities from advanced exploration through to development.
Formation of the Alliance includes an immediate cash injection of $1.05m into Minotaur, incorporating:
- a cornerstone placement of $750k for the issue of 4.2 million shares (at 18c per share) and 1 for 2 attaching options with a strike price of 30c; and
- a further injection of $300k plus stamp duty for a 50% interest in Minotaur's wholly-owned subsidiary, Minotaur Gold Solutions Ltd.
Minotaur Gold Solutions Ltd recently entered into a binding Sale and Purchase Deed with Breakaway Resources Ltd (

ASX:BRW
) and its wholly owned subsidiary Scotia Nickel Pty Ltd ('Scotia Nickel') to acquire the Scotia Project (subject to certain conditions precedent being met) for $600,0000 (refer to Minotaur's ASX announcement dated 20 May 2013 for more information).
Formation of the Alliance reinforces Minotaur's focus on becoming a pure copper-gold investment proposition. It provides Minotaur with a diverse funding channel through which to accelerate exploration activities, an important initiative in the current difficult equity capital market environment.
Andrew Woskett, Minotaur's Managing Director, said "the Alliance creates a partnership to support Minotaur's expanding profile within Australia's premier iron oxide copper-gold (IOCG) districts and our intent to expand into advanced gold opportunities. The Investor clearly recognises the benefits of partnering with Minotaur for its technical capabilities and for its ability to work with joint venture funding partners to create new discovery and development opportunities. We expect the Alliance to rapidly focus on a number of exciting new projects and look forward to further news as these unfold".
Minotaur currently estimates it will hold cash reserves of $8.5 million (including the placement to the Investor ) at the end of June 2013 and is well placed to increase the pace of activity through the Alliance mechanism and to maintain its work programs in respect of non-Alliance and other joint venture projects.
About Minotaur Exploration Ltd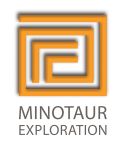 Minotaur Exploration Ltd (ASX:MEP) is a public company listed on the Australian Securities Exchange (ASX) under the market code MEP. MEP commenced trading on ASX on 25 February 2005. Minotaur has extensive minerals exploration tenements in South Australia, New South Wales, Victoria, Queensland and Western Australia.
The Company is governed by a Board of Directors according to Australian Corporate law and the Listing Rules of the ASX. Minotaur specialises in application of innovative geophysical techniques to locate virgin mineralisation deep below the surface. Often, economic mineral deposits are contained within basement rocks, buried below several hundred metres of transported cover (overburden) and cannot be located through conventional surface exploration methods such as soil sampling, geochemical assays and drilling. Minotaur's remote sensing and interpretative approach has proven very successful, time and time again.
The directors and management of Minotaur each have over 30 years of exploration, mining and mineral resource experience and are eminently qualified in their respective fields of expertise. Under their direction, Minotaur has earned a strong reputation for technical excellence and a high profile within the Australian resources sector. Minotaur's share register comprises 3500 shareholders.
Minotaur is actively exploring IOCG style targets in Australia, where geophysics have identified numerous sub-surface anomalies prospective for copper-gold mineralisation and other targets prospective for base metals such as zinc, lead, copper.
Minotaur Exploration Limited
T: +61-8-8366-6000
F: +61-8-8366-6001
E: admin@minotaurexploration.com.au
WWW: www.minotaurexploration.com.au

Related CompaniesMinotaur Exploration Ltd









Breakaway Resources Limited