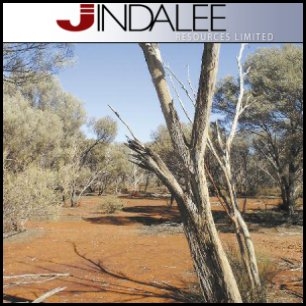 Sydney, Dec 21, 2009 AEST (ABN Newswire) - The Australian share market closed lower on Friday hit by National Australia Bank and Telstra. At close, the benchmark S&P/ASX200 index fell 19.8 points, or 0.42 per cent, to 4650.5 while the broader All Ordinaries lost 17.7 points, or 0.38 per cent, at 4671.9. The Australian dollar fell to a fresh 10-week low on Friday and closed at US$0.8888.
Key Economic Facts and Figures
The Commonwealth Bank Business Sales Indicator rose by 0.6 per cent in November after rising by 0.5 per cent the previous month. It was 6.8 per cent higher in November than the same month a year before, the fastest annual growth in 22 months. CommSec chief economist Craig James said the business sales indicator showed consumers and firms were being conservative about an improving economy.
On Monday the Australian Bureau of Statistics is due to release its new motor vehicle sales data for November.
M&A News
Jindalee Resources Ltd(ASX:JRL) has received A$33.4 million from the sale of 70 per cent of its holding in Energy Metals Ltd (ASX:EME) to China Uranium Development Company Ltd, pursuant to its proportional takeover offer for EME at A$1.02 cash per share. As a result of this transaction Jindalee now holds cash and shares worth approximately $52.8 million at current market prices and before taxation liability.
Important Corporate News
Foster's Group (ASX:FGL) says wine performance in the first half will be below its expectations given the significant impact of exchange rate movements and US market conditions. The company expects to lose A$80 million to a$90 million from wine earnings in the first half of fiscal 2010 due to exchange rate movements.
ANZ Bank (ASX:ANZ) says it expects the level of provisions for doubtful debts will fall in the year ahead and more significantly in 2011. The banks also said the net profits should be higher in the coming year while the Australian and New Zealand economies are recovering well and the Asian economies are showing strong growth. But it has an increase of 14 per cent in the average weighted number of shares on issue which will adversely affect the growth in earnings per share.
Shares in Telstra Corporation (ASX:TLS) fell on Friday as the company said it expects sales revenue in fiscal year 2010 to be flattish compared to fiscal year 2009 due to a higher local currency and stronger competition. The telecom giant said all other guidance measures remain unchanged and the company is confident of achieving its 2010 free cashflow target of A$6 billion. Telstra also formalised terms of engagement with the NBN Co, which is building Australia's national broadband network, to provide information from a trial fibre-to-the-premises deployment.
Colorpak (ASX:CKL) said it expects the NPAT of the first half will be about 12 per cent ahead of the previous comparable period. Strong operational efficiencies coupled with revenue growth of around 6 per cent above the corresponding half have driven this performance. Given the solid start to the first half and fact that most of its major contracts have been secured, the company expect that the out performance will translate to full year result at a similar level.
Origin Energy Resources Limited (ASX:ORG), as operator of the BassGas Joint Venture, has made the final investment decision for the A$345 million Yolla Mid-Life Enhancement project. Origin owns 42.5 per cent of the project and its share of cost for this project is expected to be A$147 million. Other project participants include AWE Limited (ASX:AWE) and CalEnergy Gas (Australia) Ltd.
Michelle Liang
Asia Business News Asia Bureau
Tel: +61-2-9247-4344
Email: michelle.liang@abnnewswire.net
Related CompaniesTelstra Corporation Limited.








Origin Energy Limited












Jindalee Resources Limited






Fosters Group Limited







Energy Metals Ltd









Colorpak Limited






AWE Limited







Australia and New Zealand Banking Corporation