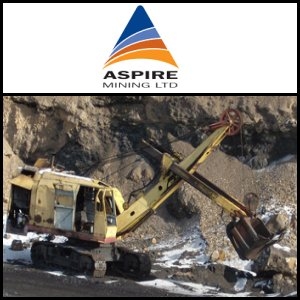 Aspire Mining Limited (ASX:AKM) Announces Financing And Strategic Partnership With Southgobi Resources (TSE:SGQ)
Perth, Oct 25, 2010 AEST (ABN Newswire) - Aspire Mining Limited (

ASX:AKM
) (

PINK:ASPXF
) is pleased to announce it has entered into a binding agreement with SouthGobi Resources Limited (

TSE:SGQ
) (

HKG:1878
), a leading Mongolian coal producer, that encompasses a A$20.1 million placement and strategic partnership.
Under the agreement, SouthGobi will acquire a 19.9% strategic holding in Aspire through the issue of 105.7 million shares at A$0.19 per share, representing a premium of 8% to the 7-day VWAP of Aspire shares. The 7-day VWAP represents the trading period since Aspire released its maiden 330mt JORC Resource at its 100% owned Ovoot Coking Coal Project ("Ovoot").
The significant cash injection from SouthGobi will provide cornerstone funding and strategic partnership benefits to accelerate the exploration and development of Ovoot through to the Feasibility Study.
SouthGobi is one of the largest coal miners in Mongolia with a market capitalisation of US$2.2 billion and cash reserves of US$744 million as at 30 June 2010. Its shareholders include Ivanhoe Mines (

NYSE:IVN
) and sovereign wealth fund China Investment Corporation.
Importantly Aspire has been able to attract significant financing while retaining unencumbered control of an emerging coking coal province. As a result, Aspire continues to own 100% of its exciting Ovoot project together with the valuable future marketing and off-take rights. At present only 10% of the existing Ovoot project area has been explored.
According to Mr. Alexander Molyneux, President and CEO of SouthGobi Resources, "SouthGobi's strong financial, technical and commercial capacities have enabled us to assess various growth opportunities. Aspire is an exciting strategic partner for SouthGobi given its large volume of potentially high quality coking coal in Mongolia.
We look forward to sharing our in-country expertise to help fast-track Aspire's Ovoot coking coal project into production."
Mr. David McSweeney, Chairman of Aspire Mining Limited said "This transaction will directly accelerate the transformation of Aspire from a quality coal explorer to a world class coking coal mine developer. Aspire believes this strategic partnership with SouthGobi Resources will add value for shareholders of both companies, and we welcome SouthGobi management as our strategic partner."
Strategic Partnership
SouthGobi has agreed to enter into a strategic partnership with Aspire to assist it with the development of the Company's Ovoot project. The strategic partnership will involve SouthGobi providing technical and other assistance to further the development of Ovoot; assistance and advice in relation to governmental and regulatory issues; and other assistance as reasonably requested from time to time in order to fast-track the development of the Ovoot project. Aspire also expects to benefit from SouthGobi's Asian relationships and experience in developing and financing coal mines in Mongolia.
As part of this partnership SouthGobi will be granted the right to appoint a Non- Executive Director. It is expected that Mr Tony Pearson, SouthGobi's Vice President Corporate Development, will join the Aspire Board post the placement.
Transaction Rights & Obligations
- Top Up Right
Aspire has agreed to provide SouthGobi with a right to maintain its shareholding in Aspire if it is diluted under a placement or new issue. This right to top up will be on the same terms as the new issue and will last for a period of up to two years.
SouthGobi also has a right to top up upon the exercise of options for a period up until February 12, 2015. The issue price for these top up shares is the 30 day weighted average closing price ending on the date of the exercise.
- Standstill
SouthGobi has agreed not to acquire shares which would result in voting power increasing to over 19.9% of Aspire for a period of up to 2 years. In return, Aspire has agreed not to issue shares to competitors except in limited circumstances for a period of up to 2 years.
Other Transaction Terms
The transaction is conditional on FIRB approval, Aspire shareholder approval as well as the granting of waivers from ASX in relation to the Top Up Rights. SouthGobi also has the right to terminate if an issue of shares is made to a competitor or there is a significant adverse change to our coal resource prior to completion of the placement.
Aspire has given usual no talk, no shop and notification undertakings in favour of SouthGobi and has agreed to pay SouthGobi a fee of A$300,000 in the event that these undertakings are breached or shareholders do not approve the transaction.
Next Steps
A shareholder meeting to approve the transaction will be convened as soon as practicable but in any event before the end of calendar year 2010. Aspire has been advised by Argonaut and Corrs Chambers Westgarth in relation to the Transaction
About SouthGobi Resources
SouthGobi Resources is focused on exploration and development of its Permian-age
metallurgical and thermal coal deposits in Mongolia's South Gobi Region. The
company's flagship coal mine, Ovoot Tolgoi, is producing and selling coal to
customers in China. The company plans to supply a wide range of coal products to
markets in Asia.
SouthGobi Resources is listed on the Toronto (SGQ) and Hong Kong (1878) stock
exchanges. Key shareholders include Ivanhoe Mines (57.2%) and China Investment
Corporation (13.3%). Current market capitalisation exceeds US$2.2 billion.
More information is available at
http://www.southgobi.com
.
About Aspire Mining Limited
Aspire Mining Limited (ASX:AKM) owns 100% of the Ovoot Coking Coal Project in northern Mongolia. Aspire completed a Pre-Feasibility Study for the Ovoot Project in May 2012, targeting a large scale open pit mining operation, with production of 10-12 Mtpa of saleable coking coal at full capacity. Aspire is targeting first production at Ovoot in early 2016 subject to approvals and licenses. Ovoot ranks as the second largest coking coal Reserve, by project in Mongolia, with a JORC Code compliant Coal Resource at Ovoot of 252 Mt (156 Mt Measured, 70 Mt Indicated, 26 Mt Inferred) and Probable Coal Reserves of 178 Mt. Aspire is continuing to progress its application for a mining license, and access to rail infrastructure and other regulatory approvals.

David Paull
Managing Director
Aspire Mining Limited
Ph: +61-407-22-5291

Kerry Griffin
Country Manager
Aspire Mining Limited Mongolia Country Manager
Ph: +976-999-01301

http://www.aspiremininglimited.com
Related CompaniesSouthGobi Resources Limited






Ivanhoe Mines Ltd.






Aspire Mining Limited