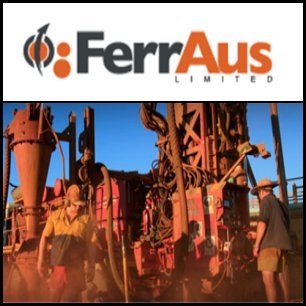 FerrAus Limited (ASX:FRS) Announces East Pilbara High Grade Manganese Results
Adelaide, Oct 27, 2010 AEST (ABN Newswire) - FerrAus Limited (

ASX:FRS
) (

PINK:FRRAF
) today announced the results of geological mapping and sampling recently completed at its wholly owned Enachedong Manganese Project located 60 kilometres south of known world class resource, Woodie Woodie.
The recent mapping program discovered previously unknown manganese outcrops within the tenement (EL46/614) and identified apparent high grade mineralisation in several zones at the surface. This mineralisation is consistent with known manganese producing mineralisation models such as Consolidated Minerals' Woodie Woodie style hydrothermal deposits and Hancock Prospecting's Boogina Hill manganiferous shale deposits.
A total of 69 surface rock chip samples were collected from around the Project area and submitted for analysis. Of the original suite, 56 samples returned significant manganese assay results.
The Executive Director, Bryan Oliver, described the results from this mapping and sampling exercise as a new and exciting development for FerrAus.
"These initial results indicate that there is tremendous potential for a high grade manganese deposit to be developed," he said.
"FerrAus is planning to develop a comprehensive manganese exploration program to confirm this potential.
"We are currently completing all of the necessary approvals, then we will establish an exploration camp which will allow FerrAus to begin an aggressive exploration effort at the beginning of the 2011 field season," Mr Oliver said.
The 56 manganese results show values that range from 26.6 per cent to 57.5 per cent manganese. Of these, there are 24 samples that returned manganese values of greater than 40 per cent.
Detailed mapping has identified three main prospect areas, Eastwood, Omen and Black Stripe, which delivered outstanding first pass rock chip assay results.
Mapping at Eastwood Prospect has shown anomalous manganese up to 40.6 per cent Mn within Balfour Formation shales over a 5 kilometre strike length recognisable from aerial and satellite photography by dark manganiferous staining, not dissimilar to Hancock Prospecting's Boogina Hill shale deposits.
Mapping at Omen and Black Stripe Prospects has shown anomalous manganese up to 57.5 per cent Mn 1.1 per cent Fe within strongly altered, brecciated and hydrothermally invaded Carawine dolomite, not dissimilar to Consolidated Minerals' Woodie Woodie style hydrothermal deposits.
It is anticipated that the reconnaissance RC drilling program, scheduled to commence in second quarter of the 2011 calendar year, will include an initial 4,000 metres with provision to extend to 6,000 metres subject to results.
For the complete Ferraus announcement including figures, please refer to the following link:
http://www.abnnewswire.net/media/en/docs/64033-ASX-FRS-511742.pdf
About Ferraus Limited
FerrAus Limited has been delisted from the Australian Securities Exchange following its acquisition by Atlas Iron Limited. For all enquiries please visit the Atlas Iron website at www.AtlasIron.com.au

Investor / Media Contact
Gareth Widger
Mobile: +61-4-1991-8272
Related CompaniesFerraus Limited