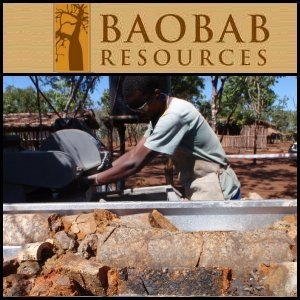 Baobab Resources plc (LON:BAO) Continue to Intercept Substantial Widths of Mineralisation at South Zone
London, Dec 1, 2010 AEST (ABN Newswire) - Baobab Resources plc (

LON:BAO
), the iron ore, base and precious metals explorer with a portfolio of mineral projects in Mozambique, is pleased to present an update on the exploration activities currently underway at the Tete iron/vanadium/titanium project.
Highlights:
- Step-out reverse circulation (RC) drilling continues to delineate substantial widths of mineralisation at the South Zone prospect with 4,100m now completed.
- The current round of results is from an oblique section of five RC drill holes, centred on scout diamond drill hole TDH0019, transecting the northern portion of the prospect. Mineralised intercepts reported best concentrate grades of:
TRC0024 - three significant intercepts, totaling 62m, including:
16m @ 62.3% Fe, 0.68% V2O5 and 42.6% mass recovery from 0m and
26m @ 59.5% Fe, 0.65% V2O5 and 35.8% mass recovery from 44m
TRC0038 - two significant intercepts, totaling 43m, including:
39m @ 55.1% Fe, 0.56% V2O5 and 30.2% mass recovery from 0m
TRC0039 - three significant intercepts, totaling 119m, including:
114m @ 58.0% Fe, 0.65% V2O5 and 23.9% mass recovery from 27m including
40m @ 60.0% Fe, 0.69% V2O5 and 32.4% mass recovery from 60m
TRC0055 - five significant intercepts, totaling 67m, including:
14m @ 60.8% Fe, 0.66% V2O5 and 33.2% mass recovery from 49m and
23m @ 61.5% Fe, 0.74% V2O5 and 24.7% mass recovery from 100m
- Continued drilling in the north of the South Zone prospect continues to intersect a wide sequence of stacked, heavily mineralised packages over a strike length in excess of 300m. Mineralisation remains open along strike and at depth.
- Concurrent drilling in the southern limits of the prospect is also delineating broad zones of mineralisation.
- The Company expects the next round of RC drill results to be available during December 2010.
Commenting today, Ben James, Baobab's Managing Director, said:"South Zone continues to return positive results outlining substantial widths of mineralisation. With six drill holes currently at the laboratory and more on the way, investors may expect a regular news flow through into the new year."
Step-out RC Drilling Programme - South Zone Prospect (Massamba Group)
Due to the significant widths and interpreted lateral continuity of mineralisation at the South Zone, the prospect has been prioritised for step-out reverse circulation (RC) drilling. The programme is systematically assessing a sequence of seven mineralised zones over a strike length of some 2km, drilling on traverses spaced 100m apart.
A total of 50 RC drill holes have been planned for a combined meterage of 7,000m. Drilling commenced in August and to date thirty holes have been completed for an aggregate total of approximately 4,100m.
The first nine RC drill holes tested the along strike continuations of mineralisation intersected in scout diamond drill hole TDH0019 over five cross sections. Analytical results from these drill holes were announced to the market on 20 October and 8 November 2010. Due to mechanical issues, drill holes TRC0006 to 9 did not reach their target depths (TRC0007 and 8 ended in mineralisation). The drill holes will be re-drilled, at the operator's expense, in due course and updated intercepts will be reported as soon as they become available.
Please note that drill holes have not been drilled in sequence, consequently there are gaps in the hole numbering.
Drilling in the northern most target area over three east-west cross sections and an oblique cross section has intersected a stacked, 200m wide sequence of moderately to steeply dipping, heavily mineralised packages over a strike length of more than 300m. Results from the oblique cross section, centred on scout diamond drill hole TDH0019, have been returned with significant intercepts tabulated below. Please note that the results are presented as drilled along the traverse from northwest to southeast and includes the TDH0019 intercepts for completeness. A location plan and cross section is available in the Company's website version of this announcement available for down load from
http://www.baobabresources.com/Pages/invest_centre/Aim_Releases.html
.
Concurrent drilling in the southern limit of the South Zone prospect is beginning to delineate broad zones of magnetite mineralisation.
It is the Company's intention to combine the results of the scout diamond drilling and RC programmes to estimate a global resource for the South Zone prospect. International consultants, Coffey Mining Pty Ltd, have been commissioned to carry out the resource estimation in accordance with the JORC code once the drilling programme is completed.
Tete Project - Overview
The Tete Project, covering an area of 632km2, is located immediately north of the provincial capital of Tete and shares licence boundaries with Vale and Riversdale's mega coal projects. The project is strategically located to access abundant, low tariff hydro-electric power from existing and developing schemes on the Zambezi River. The ports of Beira and Nacala are being refurbished, as are the rail corridors through to Tete.
The project contains two areas of magnetite-ilmenite mineralisation; the Singore area to the south and the Massamba Group trend in the north. The 8km long Massamba Group trend is composed of a series of five prospects (Chitongue Grande, Pequeno, Caangua, Chimbala and South Zone) that have experienced little or no historical exploration.
The Company commenced exploration initiatives in mid 2008 and has focused its efforts to date on the Massamba Group area. The Singore area remains largely untested, but highly prospective (refer to announcement dated 28 January 2010 for results to date).
Work completed by the Company during 2009 culminated in the estimation of a 47.7mt maiden Inferred Mineral Resource over a 500m portion of the Chitongue Grande prospect and a 400mt to 700mt Exploration Target over the broader Massamba Group area. Independent scoping metallurgical studies and financial modelling indicate positive project economics in the production of high quality magnetite (iron and vanadium) and ilmenite (titanium) concentrate commodities (refer to announcements dated 24 September 2009, 29 September 2009 and 8 October 2009).
A scout drilling programme, designed to assess the Chimbala and South zone prospects of the Massamba Group trend, has been completed for an aggregate total of approximately 7,500m. The purpose of the campaign has been two-fold: to improve confidence in the Company's Exploration Target and to clarify geological domains for continued metallurgical test-work. For detailed information on the scout drilling programme, please refer to announcements dated 1 February, 19 February, 17 May, 11 June, 15 July, 12 August, 2 September and 20 October 2010.
Baobab has entered into a strategic partnership with International Finance Corporation (IFC), the commercial arm of the World Bank, at both the corporate and project equity levels.
About Baobab Resources plc

Baobab Resources plc (LON:BAO) is a Mozambican-focused explorer with a large landholding in the central north of the country. The company's flagship project is the Tete iron ore deposit.

Ben James
Managing Director
Baobab Resources plc
Tel: +61-8-9430-7151

Jeremy Dowler
Chairman
Baobab Resources plc
Tel: +44-13-7245-0529

http://www.baobabresources.com
Related CompaniesBaobab Resources plc