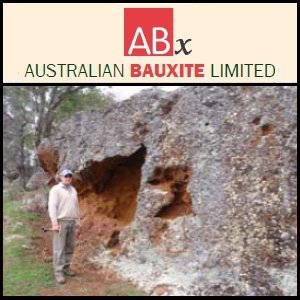 Australian Bauxite Limited (ASX:ABZ) Extended High Grade Brown Sugar Bauxite at Binjour Project Over a Wide Area
Sydney, Sep 19, 2011 AEST (ABN Newswire) - Emerging bauxite exploration and development company, Australian Bauxite Limited (

ASX:ABZ
) has received laboratory results from drilling at its Binjour project in central QLD.
89 holes intersected a thick layer of bauxite located beneath a surface clay horizon, including some exceptionally high grade, thick gibbsite bauxite, ideal as a "sweetener" to any bauxite refinery.
Australian Bauxite CEO Ian Levy said; "Binjour is proving to be a fine bauxite deposit, containing premium grade bauxite, with good potential for more discoveries, including new discoveries of bauxite lying right at surface.
"Binjour project is destined to sell large tonnages of bauxite to alumina refineries needing "sweetener" bauxite that processes at low temperature and with low reactive silica contents.
"We call this "Brown Sugar" bauxite - sweet and greatly sort after. It will become a brand name.
Logistical Setting
In addition to the sealed Burnett Highway, a disused rail line sits at the southern end of the Binjour lease which has a low tonnage capacity unless significantly upgraded. Engineering studies and government discussions have been underway for several months to find a cost-effective solution. The Binjour project is near regional cities, power, water and a pro-development workforce.
Resource Estimation Underway
Good continuity of bauxite qualities and thickness on Swains Plateau may lead to a maiden resource estimation, albeit based only on those parts of the deposit that have had sufficient infill drilling. The extent of bauxite is being extended substantially as drilling continues.
Further Work Planned
The Swains Plateau bauxite deposit is open in many locations and at least four other deposits have been identified. Follow-up drilling of the latest bauxite discoveries at Binjour is scheduled to continue for October-November; such is the potential at Binjour.
It is planned to restart a second drill rig to test other deposits as soon as a rig and field team is in place.
For the complete Australian Bauxite Limited announcement including figures and tables, please view the following link:
http://media.abnnewswire.net/media/en/docs/ASX-ABZ-649227.pdf
About Australian Bauxite Ltd

Australian Bauxite Limited (ABx) (ASX:ABX) has started its first bauxite mine in Tasmania and holds the core of the Eastern Australian Bauxite Province. ABx's 37 bauxite tenements in Queensland, New South Wales and Tasmania exceed 5,000 km2 and were rigorously selected for (1) good quality bauxite; (2) near infrastructure connected to export ports; and (3) free of socio-environmental constraints. All tenements are 100% owned, unencumbered & free of third-party royalties.
ABx's discovery rate is increasing as knowledge, technology and expertise grows.
The Company's bauxite is high quality gibbsite trihydrate (THA) bauxite and can be processed into alumina at low temperature.
ABx has declared large Mineral Resources at Inverell and Guyra in northern NSW, Taralga in southern NSW, Binjour in central QLD and in Tasmania confirming that ABx has discovered significant bauxite deposits including some of outstandingly high quality.
In Tasmania, at Bald Hill, the Company's first bauxite mine commenced operations on schedule on 9 December 2014 – the first new Australian bauxite mine for more than 35 years.
ABx aspires to identify large bauxite resources in the Eastern Australian Bauxite Province, which is emerging as a globally significant bauxite province. ABx has created significant bauxite developments in 3 states - Queensland, New South Wales and Tasmania. Its bauxite deposits are favourably located for direct shipping of bauxite to both local and export customers.
ABx endorses best practices on agricultural land, strives to leave land and environment better than we find it. We only operate where welcomed.

Related CompaniesAustralian Bauxite Ltd