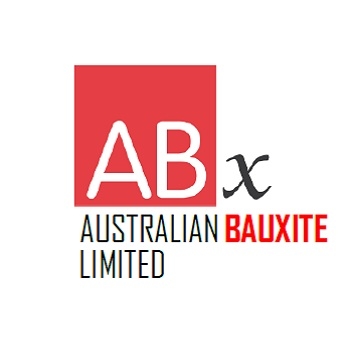 Fingal Rail Bauxite Resource Increase to 6 Million Tonnes
Sydney, Aug 25, 2016 AEST (ABN Newswire) - Australian Bauxite Limited (ABx)'s (

ASX:ABX
) Fingal Rail Bauxite Project in northern Tasmania has proven to be ideal for production of cement-grade bauxite for rail transport and export from Bell Bay Port.
Cement-grade bauxite resources for the Fingal Rail Bauxite Project total 6.3 million tonnes 1 which is a 5-fold increase compared with its maiden resource estimate of 1.18 million tonnes.
Fingal Rail is considered the most likely second mine for ABx and would be operated as part of the Campbell Town production centre under the same operating team that is working on the Bald Hill Mine, which was the first new bauxite mine in Australia for more than 35 years.
When long-term sale contracts are finalised, ABx will expedite development of Fingal Rail which holds substantial tonnages of cement-grade bauxite that are ideal for large-scale production and are located immediately adjacent to the rail line (see Figures 1 to 4 in link below).
90% of Fingal Rail resources meet saleable grade in its raw state but it is anticipated that most of the bauxite production from Fingal Rail Bauxite Project will be dry-screened into a range of quality-assured product types to suit the specific requirements of each customer.
Total Tasmanian bauxite resources now exceed 12 million tonnes (an increase of 33%).
The upgrade to Fingal Rail bauxite resources increase ABx's total resource base for all regions in Eastern Australia to 124 million tonnes, of which 12 million tonnes are in Tasmania.
Tasmanian bauxite deposits at Nile Road, DL-130 and Portside (see Figure 2) will be reassessed for their cement-grade bauxite resources and for their economic potential.
Fingal Rail Bauxite Resource Estimates
Location & Infrastructure: In northern Tasmania, 14km by road north of Campbell Town via the heavy duty Midland Highway and Esk Highway. Bauxite product will be loaded onto rail that passes through the project area to Bell Bay Port - see Figures 2 to 4. Project Centroid 541841E, 5370543N
Geology: bauxite occurs on a remnant plateau, generally covered in loose sand layer up to 4 metres thick - see Figure 5 overleaf (in link below). Basement is a clay zone with variable amounts of bauxite nodules that grades into basal Volcanic tuffs of Lower Tertiary age at depth. Dolerite plugs and sills of mid Jurassic age occur in the area.
Mineralisation: Tasmanian bauxite has lumps of bauxite in clay, forming an irregular, tight-packed formation. Soil is thin. Overburden up to 4m thick is approximately 2 metres of unconsolidated sand and approximately 1.5 metres of low grade bauxite mixed with loose clay material and is excluded from resources - see Figure 6 overleaf. Internal waste is rare. A clay horizon with nodules of bauxite beneath the bauxite formation is also excluded.
Tenement: Fingal Rail lies within Conara Exploration Licence EL 7/2010. A Mining Lease application is in preparation.
Discovery: ABx encountered bauxite in the area in 2011 but did not find the main deposit until 2012.
Land use: firewood harvesting & hunting
Drill Statistics see Figure 4: 392 holes were drilled using the reverse circulation aircore technique for a total of 5,150 metres. 94% of samples were collected at 1m downhole intervals and the rest at 0.5m.
222 holes returned ore grade bauxite totalling 775 metres of fully assayed, bauxite-grade samples.
195 metres were low grade bauxite, mainly overburden and internal dilution. An additional 326 metres of non-mineralised material were assayed and tested for mine geotechnical information and to search for vectors to ore concealed beneath the sand layer.
Cutoff Grades & Density: Cement-grade bauxite minimum grades were applied to the raw whole-rock drillhole samples - see table 1 (in link below). In-situ density was measured to be 2.0 tonnes per cubic metre.
Other critical bauxite qualities are required to meet strict engineering specifications in the production of high-standard, corrosion-resistant cement with excellent late strength performance. All samples tested by major cement makers to date have met all specifications, but details are commercial-in-confidence.
To view tables and figures, please visit:
http://abnnewswire.net/lnk/S7ELTQ81
About Australian Bauxite Ltd

Australian Bauxite Limited (ABx) (ASX:ABX) has started its first bauxite mine in Tasmania and holds the core of the Eastern Australian Bauxite Province. ABx's 37 bauxite tenements in Queensland, New South Wales and Tasmania exceed 5,000 km2 and were rigorously selected for (1) good quality bauxite; (2) near infrastructure connected to export ports; and (3) free of socio-environmental constraints. All tenements are 100% owned, unencumbered & free of third-party royalties.
ABx's discovery rate is increasing as knowledge, technology and expertise grows.
The Company's bauxite is high quality gibbsite trihydrate (THA) bauxite and can be processed into alumina at low temperature.
ABx has declared large Mineral Resources at Inverell and Guyra in northern NSW, Taralga in southern NSW, Binjour in central QLD and in Tasmania confirming that ABx has discovered significant bauxite deposits including some of outstandingly high quality.
In Tasmania, at Bald Hill, the Company's first bauxite mine commenced operations on schedule on 9 December 2014 – the first new Australian bauxite mine for more than 35 years.
ABx aspires to identify large bauxite resources in the Eastern Australian Bauxite Province, which is emerging as a globally significant bauxite province. ABx has created significant bauxite developments in 3 states - Queensland, New South Wales and Tasmania. Its bauxite deposits are favourably located for direct shipping of bauxite to both local and export customers.
ABx endorses best practices on agricultural land, strives to leave land and environment better than we find it. We only operate where welcomed.

Ian Levy
CEO and MD
Australian Bauxite Limited
T: +61-2-9251-7177

Related CompaniesAustralian Bauxite Ltd