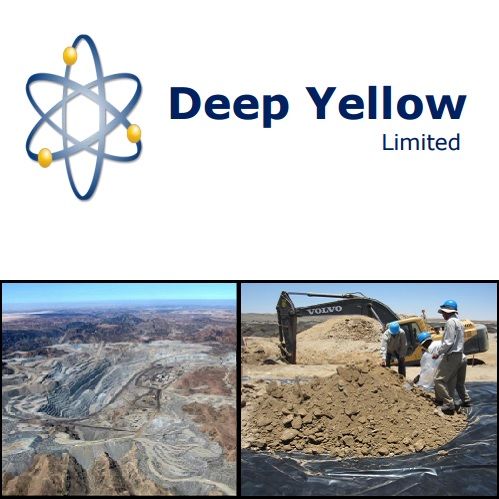 September Quarter Report and Appendix 5B
Perth, Oct 27, 2016 AEST (ABN Newswire) - Deep Yellow Limited (

ASX:DYL
) (

OTCMKTS:DYLLF
) is pleased to provide its September Quarter Report and Appendix 5B.
HIGHLIGHTS
- Post quarter-end, John Borshoff appointed MD/CEO with accompanying strategic relationship with the Sprott Group and funding commitment to raise an initial A$1.42M.
- Post quarter-end, a Mineral Resource Estimate completed for the Tumas Project.
-- A 12% increase in metal content at the previous average grade and cut-off.
-- Mineral Resource Estimate now totals 16.6Mt at 366 ppm U3O8 for 13.4Mlb of U3O8 at a cut-off of 200 ppm U3O8.
-- Mineral Resources classified with 62% in Measured Category, 36% Indicated Category and 2% Inferred Category.
- Technology Licence Agreement for the application of the U-pgrade(TM) process signed with Marenica Energy Ltd on the Company's Tumas Project in Namibia.
-- If the Technology is proven and adopted, the agreement allows for sharing of the economic benefit based on a sliding scale and various criteria.
-- Final test work report received confirming preliminary findings.
-- Further test work required to prove up the Technology which shows potential to reduce both capital and operating costs
CORPORATE
On 24 October 2016, the Company announced the appointment of Mr John Borshoff as Chief Executive Officer and Managing Director and the establishment of a strategic relationship with an affiliate of the Sprott Group ("Sprott"). Concurrently, an affiliate of Sprott will be making an initial A$1.42M investment to recapitalise DYL and support the Company's future growth strategy, anchored by its flagship Namibian assets. A strategic review of the uranium sector will be undertaken to evaluate growth opportunities in addition to determining the priority focus for the Company's current projects.
The Board expressed its gratitude to the outgoing Managing Director, Mr Greg Cochran, for his efforts over the past 5 years.
Exploration Capital Partners 2014 Limited Partnership ("ECP"), an affiliate of Sprott, has agreed to subscribe to a private placement of 15% of the issued capital of DYL for gross proceeds of A$1,415,253.85. ECP will be issued 321,648,376 fully paid ordinary shares ("Shares") at A$0.0044 per Share, which price was calculated by reference to a discount to the volume weighted average share price ("Placement"). In being issued the Shares, Sprott will become the Company's largest shareholder and will have the right to nominate a Non-executive Director to the board so long as its ownership remains above 10% and a second Non-executive Director should its shareholding exceed 25%.
The Placement is expected to settle on or about 28 October 2016.
It is the intention of the Company and Sprott to develop a strategic relationship and, subject to ASX granting a waiver to Listing Rule 6.18, the Company will also grant Sprott a top up right to allow Sprott to maintain its equity position in DYL. The top up right will cease if Sprott's holding in DYL falls below 10%.
Should Sprott's shareholding exceed 25%, it may request the Company to seek a listing on the TSX-Venture Exchange.
To view the report, please visit:
http://abnnewswire.net/lnk/X8L72291
About Deep Yellow Limited

Deep Yellow Limited (ASX:DYL) (OTCMKTS:DYLLF) is a specialist uranium company implementing a new strategy to grow shareholder wealth. This strategy is founded upon growing the existing uranium resources across the Company's uranium projects in Namibia and the pursuit of accretive, counter-cyclical acquisitions to build a geographically diverse asset portfolio.
In parallel to its expansion objectives, the Company has a cornerstone suite of projects in Namibia, a top-ranked African mining destination with a long, well regarded history of safely and effectively developing and regulating its considerable uranium mining industry.
John Borshoff
Managing Director/CEO
Phone: +61-8-9286-6999
Email: john.borshoff@deepyellow.com.au
www.deepyellow.com.au
Related CompaniesDeep Yellow Limited