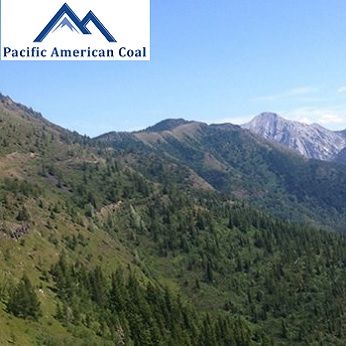 Quarterly Activities Report December 2016
Sydney, Feb 1, 2017 AEST (ABN Newswire) - Pacific American Coal Limited (

ASX:PAK
) is pleased to provide its Quarterly Activities Report for the three months ended 31st December 2016.
Key activities PAK engaged in during the Quarter include:
- Successful Capital Raising of $2,300,000
- Elko Coking Coal Project
o Commenced Community and B.C. Government approvals to enhance Elko's Mineral Resource status
o Palaris engaged to undertake Scoping Study
- Initial GCI Payment US$100,000 received
Successful Capital Raising of $2,300,000
During the Quarter, PAK successfully raised approximately $2,000,000, before costs, comprising a combination of a $1,800,000 subscribed through an entitlement offer and an additional $200,000 with a placement. Subsequent to the Quarter, PAK raised a further $300,000 with an additional placement on the same terms as the entitlement offer, bringing the total capital raising to $2,300,000.
The entitlement offer received strong support and confirms the Board's targeted use of funds to advance the Elko Hard Coking Coal Project.
The entitlement offer undertook pro-rata non-renounceable entitlement offer of one new share in PAK for every eight fully paid ordinary shares held in PAK at an issue price of $0.10 per new share (together with one attaching new option for every two new shares subscribed for and issued) to raise approximately $1,800,000, before costs.
The entitlement offer was fully underwritten by Far East Capital Limited, who also acted as the lead manager for the issue.
PAK allocated use of the funds is shown in Table 1 (please see link below).
During the Quarter, PAK initiated activity to support stakeholder engagement discussions with First Nation Groups and commence baseline environmental work.
The Board is thankful for support received from PAK Shareholders through the entitlement offer, and will continue its ongoing commitment to maximise use of funds - ensuring only essential activity is approved that creates greatest value for shareholders.
Commenced Community and B.C. Government approvals to enhance Elko's Mineral Resource status
PAK completed detailed exploration and work plans for its exploration program scheduled for mid-2017. PAK is applying for 'Notice of Work' permits to undertake exploration at the Elko Project. As part of this process, PAK is working with local First Nations companies to support the Notice of Work activities, including environmental and construction of access roads. PAK will update the market as exploration activity progresses.
The majority of funding raised through the entitlement offer has been allocated to improve the classification of the 257.5Mt JORC resources at the Elko Hard Coking Coal Project. This includes drilling programs aimed at increasing the geological understanding of the resource and coal characteristics.
PAK has identified priority drill sites and prepared a drilling program schedule that will achieve the objective of improving the resource classification at Elko (refer Figure 1 in link below).
PAK engaged Palaris to deliver Elko Coking Coal Project Scoping Study
During the Quarter, PAK engaged Palaris Australia Pty Ltd (Palaris) to deliver a Scoping Study at the Elko Hard Coking Coal Project. The Scoping Study will provide a preliminary assessment of the technical and commercial viability of the Elko Project and potential pathways to development.
Palaris will build on the work completed by Hatch, with a focus on:
- Financial Evaluation
- Geology and Resources
- Open-cut and Underground Mine Planning
- Mine Equipment and Underground Infrastructure
- Coal Handling and Processing
- Mine Facilities, Onsite Service and Infrastructure
- Project Delivery Schedule
Palaris have received a full data pack of the Elko Project. During the Quarter, Palaris uploaded the raw data to generate an independent geological model. Work has commenced on the development of cost optimisation models for both open-cut and underground workings.
The Scoping Study is on schedule to be delivered in the first quarter of calendar 2017.
Early receipt of initial US$100,000 payment from sale of interest in GCI During the Quarter, PAK was pleased to announce its receipt of a US$100,000 (A$130,000) initial payment from the sale of its interest in GCI. The initial payment was received earlier than anticipated, and is part of a payment plan that will see PAK recover 100% of its A$ 1,000,000 investment in GCI. The outstanding balance of A$ 870,000 will attract an 8% per annum interest rate from 15 Jan 2017, and is payable over a 24 month period. Late payment attracts an additional 4% per annum penalty.
The proceeds from sale of GCI will provide additional funding for the Elko Hard Coking Coal Project.
To view the full Quarterly Report, please visit:
http://abnnewswire.net/lnk/I3ZJC799
About Pacific American Coal Ltd

Pacific American Coal Ltd (ASX:PAK) is focused on the production, development and exploration of metallurgical coal assets in North America. The Company's strategic focus is on the 100% owned Elko hard coking coal project in British Columbia and its investments in technological advanced opportunities. PAK has 100% ownership in a total of 6 Coal Leases in the East Kootenay Coal Field in British Columbia - Canada and tenements in application in low volatile bituminous region of the Arkoma coal basin in Oklahoma.

Mark Sykes
Chief Executive Officer
Australia

Dom Hill
Business Development Manager
North America

Pacific American Coal Limited
Tel: +61-2-9252-5300
Fax: +61-2-9252-8400
www.pamcoal.com
Related CompaniesPacific American Coal Ltd