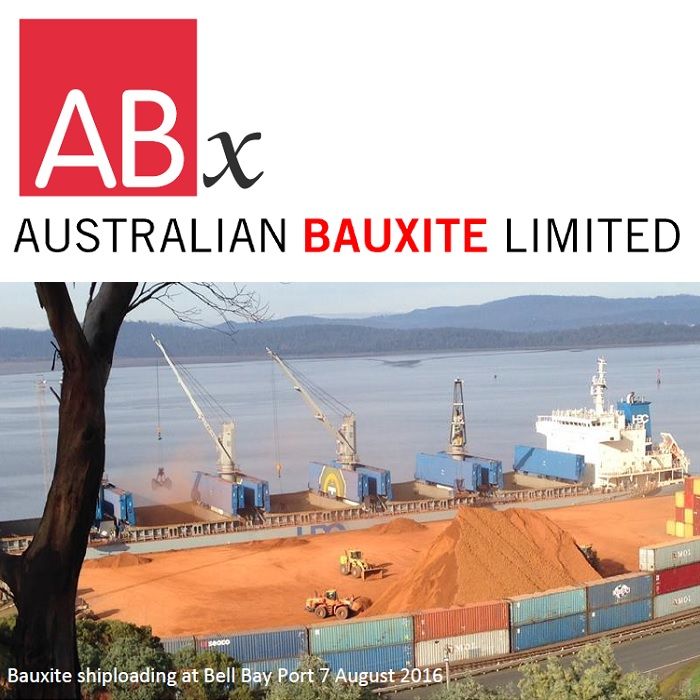 Annual Report to shareholders
Sydney, Mar 30, 2017 AEST (ABN Newswire) - Australian Bauxite Ltd (

ASX:ABX
) is pleased to provide the Company's Annual Report to shareholders for the year ended 31 December, 2016.
CHAIRMAN'S REVIEW 2016
Over the past 12 months ABx has extended its capacity to supply cement-grade bauxite into Australasian and international markets whilst remaining ready to sell metallurgical grade bauxite when the seaborne bauxite market returns to balance and prices improve. ABx's portfolio of bauxite resources can be sold into several markets in Asia, India, the Middle East, North America and Australasia, specialising in the gibbsite-rich trihydrate metallurgical bauxite market, the low-alkali high late strength cement-grade bauxite market, the fertiliser-grade market and potentially the high-priced refractory-abrasive grade bauxite markets.
ABx will supplement Australia's reliable supply of a range of bauxites to customers throughout the Pacific Basin in jurisdictions that are supportive of our plans to become an all-year round consistent supplier of clean gibbsite trihydrate metallurgical bauxite. The ABx product is very clean with good handling and can improve the blend with all other bauxites. ABx's ongoing research will lead to additional value-adding to its range of bauxite products.
The Chinese metallurgical bauxite market remains significantly oversupplied mainly due to excessive supply from Guinea and Australia. Chinese buyers stopped sourcing from the three countries that applied bans and additional taxes on bauxite, namely Indonesia, India and Malaysia - a salient lesson about sovereign risks.
As the Chinese aluminium industry rebalances demand and supply for alumina and aluminium metal, prices for metallurgical-grade bauxite are expected to remain unattractive for up to 18 months. As the global economy recovers, shipping costs should rise so that bauxite from Guinea in West Africa will become expensive and China will return to buying from its reliable suppliers in the Indo-Pacific basin.
However, prices in other bauxite markets, especially cement-grade and refractory-abrasive grade bauxite are firming as infrastructure construction expands, especially in North America. A more detailed market summary is presented later in this report.
ABx plans to enter the metallurgical bauxite market only when bauxite prices increase to satisfactory levels. In the meantime, ABx will grow its business by supplying cement-grade bauxite for making high strength cement and supplying fertiliser-grade bauxite for making superphosphate fertiliser. These are conservative industries and considerable market development testwork is needed before sales are finalised, and once a customer converts to ABx's product, repeat sales are very likely.
Long-term: Gibbsite-trihydrate bauxite demand is most critical. Gibbsite-rich trihydrate (THA) bauxites like Indian, Malaysian, Gove, Guinea and ABx bauxite is in strongest demand because it can be processed into alumina (the feedstock for smelting of aluminium) at low temperatures around 140degC thus achieving major cost savings compared with other bauxite types that must be processed at above 250degC. The long-term ABx strategy is to export low temperature, gibbsite trihydrate metallurgical bauxite with low SiO2 and excellent processing qualities from its Tasmanian mines and eventually building a large bauxite project at Binjour in central QLD, 115kms inland from Bundaberg.
Technology: ABx is accelerating the development of TasTech technology which allows ABx to separate Tasmanian bauxite into three product-types all year round. This will allow simultaneous production of high grade metallurgical-grade gibbsite bauxite exceeding 45% Al2O3 for the aluminium industry, cement-grade bauxite for the production of cement, fertiliser-grade and other bauxite-types.
During the research and development associated with this TasTech technology, ABx encountered new technologies that may produce much higher-value products from its type of bauxite. This will be pursued during 2017, starting with independent proof-of-concept tests.
ABx acknowledges the support of all stakeholders, including the local communities in which ABx operates. On behalf of the Board of Directors, I thank the ABx staff and supportive shareholders for your valuable contribution in 2016.
To view the full report, please visit:
http://abnnewswire.net/lnk/3KN99KMV
About Australian Bauxite Ltd

Australian Bauxite Limited (ABx) (ASX:ABX) has started its first bauxite mine in Tasmania and holds the core of the Eastern Australian Bauxite Province. ABx's 37 bauxite tenements in Queensland, New South Wales and Tasmania exceed 5,000 km2 and were rigorously selected for (1) good quality bauxite; (2) near infrastructure connected to export ports; and (3) free of socio-environmental constraints. All tenements are 100% owned, unencumbered & free of third-party royalties.
ABx's discovery rate is increasing as knowledge, technology and expertise grows.
The Company's bauxite is high quality gibbsite trihydrate (THA) bauxite and can be processed into alumina at low temperature.
ABx has declared large Mineral Resources at Inverell and Guyra in northern NSW, Taralga in southern NSW, Binjour in central QLD and in Tasmania confirming that ABx has discovered significant bauxite deposits including some of outstandingly high quality.
In Tasmania, at Bald Hill, the Company's first bauxite mine commenced operations on schedule on 9 December 2014 – the first new Australian bauxite mine for more than 35 years.
ABx aspires to identify large bauxite resources in the Eastern Australian Bauxite Province, which is emerging as a globally significant bauxite province. ABx has created significant bauxite developments in 3 states - Queensland, New South Wales and Tasmania. Its bauxite deposits are favourably located for direct shipping of bauxite to both local and export customers.
ABx endorses best practices on agricultural land, strives to leave land and environment better than we find it. We only operate where welcomed.

Australian Bauxite Ltd
Julie Young, Investor Relations
T: +61-2-9251-7177
F: +61-2-9251-7500
E: corporate@australianbauxite.com.au
WWW: www.australianbauxite.com.au
Related CompaniesAustralian Bauxite Ltd