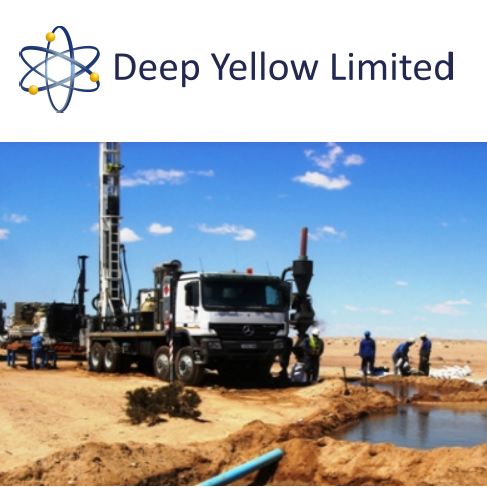 Investor Presentation
Perth, May 15, 2017 AEST (ABN Newswire) - Deep Yellow Limited (

ASX:DYL
) (

OTCMKTS:DYLLF
) is pleased to provide the Company's latest Investor Presentation which also includes reference to recently announced positive drilling results from Deep Yellow's 100% owned Namibian Project.
Overview
New management & core team in place
- Revitalised investor base with greater international interest
- Key alliance with the Sprott Group to support the Deep Yellow's growth
Strategic review completed and A$15M capital raising initiated
- Rights issue to raise $15M on a 7 for 15 basis with free attached option
- Conditions right to deliver shareholder growth through contrarian acquisitions
New direction and impetus for existing Namibian projects
- Targeting a major discovery of a Rossing or Langer Heinrich style deposit
- Highly significant new JV agreement with Japanese partner JOGMEC
Deep Yellow differentiated from all other mid-sized U companies
- Unrivalled "A to Z" uranium knowledge and proven sector experience
- Strong support from JV partners and investors for accretive growth strategy
A unique and successful track record of building and developing a multimine uranium producer from the beginnings as a small explorer
Value Creation Strategy
Imagine the scene in 2020:
- The global nuclear fleet continues to grow
- Reality of severe uranium shortage comes to fruition
- Once shortage sets in, prices will move significantly higher than the base incentive price
- Supply sector serviced by a diminished producer base - note difficulties experienced by majors at Husab, Imouraren, Mkuju, Rossing and Ranger
- Post-Fukushima, all uranium players have been forced into survival mode, causing structural limitations to the sector and stifling the possibility of a timely supply response
- Single project companies have not developed any significant new projects - there is a lack of shovel ready assets and teams with the proven expertise to develop new projects
In this context:
- A company that anticipates the current situation starting to position itself during 2017
- Perfect opportunity to create exceptional shareholder value by consolidating assets under a vehicle run by a high quality management team when prices are at cyclical lows
- Significant value can also be created through exploration and drilling by making new discoveries to build an organic resource base
- There is a limited window of opportunity in which to act
Vision for Growth
Deep Yellow has a clear, dual strategy running in parallel
- Focus on increasing the value of existing exploration projects in Namibia
- Build a future multi-project global uranium platform through accretive acquisitions
Extract full value from the potential that exists in Namibia
- Multiple opportunities for discoveries and resource upside within existing tenements
- Premier uranium mining jurisdiction with transparent regulatory framework
Develop a global pipeline with growth and optionality
- Current assets span early stage discovery and resource expansion opportunities
- Objective is to develop a project pipeline with multiple, phased development options
Create a genuine independent alternative supplier for utilities
- Maintain a register of supportive, long-term investors that share our vision
- Partner with high calibre organisations where value can be created for both sides
- A core team that has "been there, done that" across the uranium project life cycle
- Give utilities confidence in the ability to be a dependable uranium supplier of choice
What Differentiates the New Deep Yellow?
- The typical emerging uranium player - single project, promoter driven, unproven management and "struck in the groove"
o Generally, years away from production possibilities
o History tells us any new, large, high-grade Canadian discoveries will potentially suffer 10-15+ year delays due to severe permitting/regulatory constraints
- Deep Yellow is looking beyond this narrow band approach
o To create a sizeable uranium platform to support annual production 5 - 10Mlb
o Establish diversification across attractive geographies on projects with low technical risk - conventional open pit and ISR potential
- Unique prerequisites to execute on its consolidation strategy
o Once-in-a-cycle opportunity and Deep Yellow can be a partner of preference
o Low spot prices, capital shortage and availability of good assets
- Quality management team able to execute plan
o Credibility of a core team that launched two new mines in the last 15 years
o Ability to use advanced technologies to exploit low grade deposits and turn these into first quartile cash cost operations
To view the full presentation, please visit:
http://abnnewswire.net/lnk/11SUI3ZM
About Deep Yellow Limited

Deep Yellow Limited (ASX:DYL) (OTCMKTS:DYLLF) (Namibian Stock Exchange:DYL) is a specialist differentiated uranium company implementing a new contrarian strategy to grow shareholder wealth. This strategy is founded upon growing the existing uranium resources across the Company's uranium projects in Namibia and the pursuit of accretive, counter-cyclical acquisitions to build a global, geographically diverse asset portfolio. The Company's cornerstone suite of projects in Namibia is situated within a top-ranked African mining destination in a jurisdiction that has a long, well regarded history of safely and effectively developing and regulating its considerable uranium mining industry.
John Borshoff
Managing Director/CEO
T: +61-8-9286-6999
F: +61-8-9286-6969
Email: john.borshoff@deepyellow.com.au
www.deepyellow.com.au
Related CompaniesDeep Yellow Limited