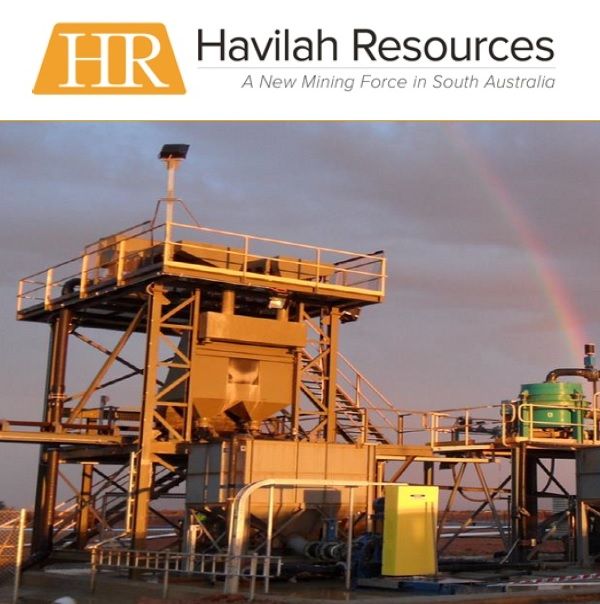 MOU for Kalkaroo Study Signed with Chinese Copper Producer
Adelaide, May 29, 2017 AEST (ABN Newswire) - Havilah Resources Limited (

ASX:HAV
) (Havilah) is pleased to announce that it has signed a Memorandum of Understanding (MOU) with Wanbao Mining Limited (Wanbao) for the completion of a pre-feasibility study (PFS) for the Kalkaroo Copper-Gold Project in northeastern South Australia. This follows on from a six month period of due diligence conducted by Wanbao on the Kalkaroo Project and the recent announcement of an upgrade of the Kalkaroo resource. Wanbao, at its expense, has engaged RPMGlobal (RPM), an independent mining consulting firm, to manage and complete the PFS work that will draw on RPM's extensive combined Chinese and Australian experience and expertise.
Highlights
- MOU signed with Wanbao Mining Limited for completion of a PFS for the upgraded Kalkaroo Copper-Gold resource.
- Wanbao Mining Limited is a substantial, Beijing based, international copper and cobalt producer.
Background
The objective of the PFS, which is scheduled to be completed in six months, is to provide sufficient information for Wanbao to make a decision on its future participation in financing and development of the Kalkaroo Project (The MOU is non-binding in terms of any further investment beyond the PFS at this time). Havilah has agreed to provide Wanbao with a period of exclusivity for the duration of the PFS study plus an additional two months, until approximately the end of January 2018.
Commenting on the MOU, Havilah Managing Director, Dr Chris Giles said: "We are delighted to have formed a co-operative relationship with Wanbao Mining, which is a well-respected and successful Beijing based off-shore copper and cobalt producer, with sizeable mining operations in Myanmar and the Democratic Republic of Congo.
"The PFS will primarily address the development implications of the recently upgraded resource for Kalkaroo and will increase the confidence in the final processing circuit and associated capital and operating costs for an expanded operation.
"This will be very much a co-operative effort with Wanbao bringing its extensive copper processing expertise to the table and Havilah contributing its resource and mine planning knowledge of the Kalkaroo deposit. RPM will co-ordinate the PFS and utilize its pool of highly experienced technical experts across the mining value chain to validate and add value to the study.
"It is our shared intention that at the end of the PFS Wanbao will be in possession of all required information to enable a decision on participation in the future development of the Kalkaroo Project" he said.
About Wanbao Mining Limited
Wanbao Mining Limited is a Beijing-based specialist international mining company with substantial copper mining operations in Myanmar and copper and cobalt mining and smelting operations in Democratic Republic of Congo. Currently Wanbao controls resources of more than 9 million tonnes of copper, 400,000 tonnes of cobalt and 800 tonnes of platinum. This year Wanbao is targeting 150,000 tonnes of cathode copper production from its Myanmar operations, where it has successfully developed and applied proprietary bacterial leaching technology.
(
http://www.wbmining.cn
)
About RPMGlobal (

ASX:RUL
)
RPMGlobal is a global leader in the provision of advisory services to the mining industry. Its global team has over 45 years of experience in the mining industry and is the world's largest publicly listed group of independent technical experts, including 200 specialists in 20 offices across 13 countries. RPMGlobal is well qualified to carry out the PFS work, having completed over 50 metalliferous PFS/FS studies and hundreds of compliant projects under relevant international reporting standards. Many of RPMS's team members have direct operational experience enabling them to add value via their practical advice. RPM 's Beijing office established in 2005 works for some of China's largest state owned and private enterprises on their outbound investment and ensures effective communications with Chinese partners and equipment suppliers.
(
http://www.rpmglobal.com
)
About the Kalkaroo Project
Kalkaroo is one of the largest undeveloped copper-gold projects in Australia, containing JORC Measured, Indicated and Inferred resources of 232 million tonnes of copper and gold for over 1.1 million tonnes of copper and 3.3 million ounces of gold (refer ASX announcement 29 March 2017). The project is capable of producing high quality copper-gold concentrates plus copper metal (as native copper) and gold dore. To develop the Kalkaroo project at an optimum mining and throughput rate requires a major capital investment and considerable mining and processing expertise.
To view tables and figures, please visit:
http://abnnewswire.net/lnk/3MH5VBNK
About Havilah Resources Ltd

Havilah Resources Ltd (ASX:HAV) is a debt free South Australian gold producer having recently financed and developed its first gold mine at Portia in north-eastern South Australia. It plans to follow on with three copper-gold-cobalt mining developments at North Portia, Kalkaroo and Mutooroo, which are underpinned by a JORC resources mineral inventory of over 1.4 million tonnes of copper, 3.6 million ounces of gold, and 18,000 tonnes of cobalt.
Dr Chris Giles
Managing Director
Havilah Resources Ltd
T: +61-8-8338-9292
E: info@havilah-resources.com.au
WWW: www.havilah-resources.com.au
Related CompaniesRPMGlobal Holdings Ltd




Havilah Resources Ltd