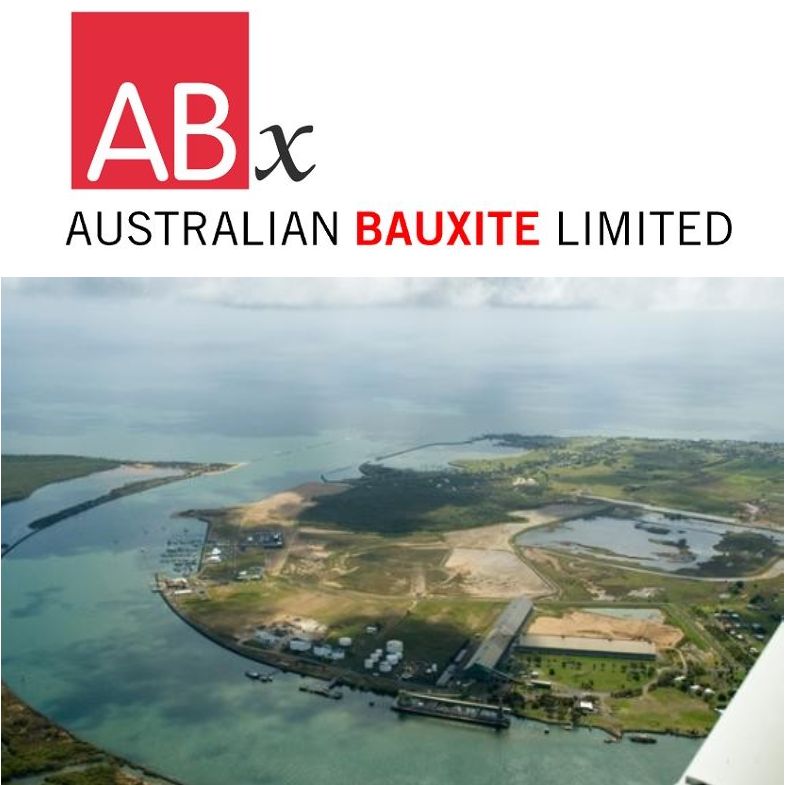 Binjour Bauxite Project - Government Application Lodged
Sydney, Aug 8, 2017 AEST (ABN Newswire) - Emerging bauxite producer, Australian Bauxite Limited (

ASX:ABX
) (ABx) is pleased to announce that it has made an application in conjunction with its marketing partner, Rawmin for a Regional Jobs and Investment grant for the commencement of the Binjour Bauxite Project in the Wide Bay Burnett region of central Queensland for the following purposes:
Project title and description:
Binjour Bauxite Mining Project & export from Bundaberg State Development Area ("SDA"), involving production of beneficiated metallurgical-grade and cement-grade bauxite from Binjour for export from Bundaberg Port in the Wide Bay Burnett Region of central Queensland.
Activities and outcomes:
Mining, crushing, screening, washing (optional) and production of beneficiated metallurgical-grade and cementgrade bauxite. The export grade bauxite will be transported by high efficiency trucks to an export facility at Bundaberg Port SDA for export to end-users worldwide.
Milestone 1: Collection and Preparation of Marketing Samples
Start October 2017: Bulk sampling of 500 to 2,000 tonnes of bauxite and preparation of marketing samples for the preferred customer to expedite the execution of an offtake sale-purchase agreement for the project.
Milestone 2: Selection of Processing Technology
- Trialling of mining equipment
- Trialling of crushing equipment
- Trialling of dry-screening and wet screening methods
- Analysis of products produced by different methods
- Selecting optimum process flow-sheet
Milestone 3: Simulating large-tonnage shipping from Port of Bundaberg to increase port capacity.
End 30 June 2018: Ship simulations to determine the maximum ship size that could operate at the Port of Bundaberg using loading techniques currently used in similar ports overseas. Bulk shipping costs are critical for the economic viability of this project.
ABx CEO, Ian Levy commented: "Binjour is ABx's largest and highest grade bauxite project with 28 million tonnes of high grade trihydrate gibbsite bauxite at Binjour and Toondoon (see Note below). This project needs long-term sales contracts with reliable customers to underpin its economic viability. Marketing partner, Rawmin, has commenced negotiations with potential customers in several countries on our behalf.
The synergies with Rawmin's own mines in India are substantial because Binjour can supply bauxite during the QLD dry season which is the wet season in India when Indian ports are closed.
Working with Rawmin with regards sales strategy and finance for the project may deliver the Binjour Bauxite Project earlier than expected.
Assistance from the Federal Government's Regional Jobs and Investment Package scheme would allow us to get started promptly. The assistance of governments and Rawmin are greatly appreciated."
Note: See Resource Statement in the link below
To view tables and figures, please visit:
http://abnnewswire.net/lnk/0Q16WPAB
About Australian Bauxite Ltd

Australian Bauxite Limited (ABx) (ASX:ABX) has its first bauxite mine in Tasmania and holds the core of the Eastern Australian Bauxite Province. ABx's 22 bauxite tenements in Queensland, New South Wales & Tasmania exceed 1,975 km2 and were selected for (1) good quality bauxite; (2) near infrastructure connected to export ports; & (3) free of socio-environmental constraints. All tenements are 100% owned, unencumbered & free of third-party royalties. ABx's discovery rate is increasing as knowledge, technology & expertise grows.
The Company's bauxite is high quality gibbsite trihydrate (THA) bauxite that can be processed into alumina at low temperature.
ABx has declared large Mineral Resources at Inverell & Guyra in northern NSW, Taralga in southern NSW, Binjour in central QLD & in Tasmania, confirming that ABx has discovered significant bauxite deposits including some of outstandingly high quality.
At Bald Hill near Campbell Town, Tasmania, the Company's first bauxite mine commenced operations in December 2014 – the first new Australian bauxite mine for more than 35 years. ABx has created significant bauxite developments in 3 states - Queensland, New South Wales and Tasmania. Its bauxite deposits are favourably located for direct shipping of bauxite to both local and export customers.
ABx endorses best practices on agricultural land, strives to leave land and environment better than we find it. We only operate where welcomed.

Ian Levy
CEO and MD
Australian Bauxite Limited
T: +61-2-9251-7177
M: +61-407-189-122
Related CompaniesAustralian Bauxite Ltd