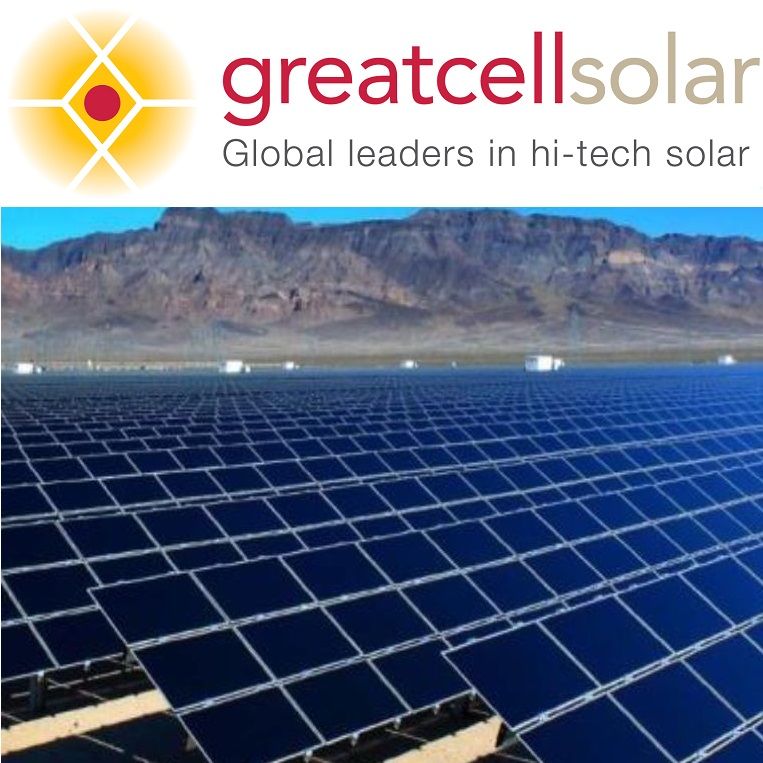 Extension of Share Purchase Plan
Canberra, Aug 17, 2017 AEST (ABN Newswire) - Greatcell Solar Limited (

ASX:GSL
) (formerly Dyesol Limited) wishes to advise that the closing date for its Share Purchase Plan (SPP) has been extended by one week to Friday, 25 August 2017.
The Company announced yesterday the award of a letter of negotiation (LON) for a $6 million Australian Renewable Energy Agency (ARENA) grant. The LON is an important development for the Company and, as a consequence, the Board has decided to provide a one week extension to the original closing date of the Company's SPP to allow shareholders sufficient time to consider this new information and their participation in the SPP. Please refer to the Greatcell Solar ASX announcement $6 Million ARENA Grant - Letter of Negotiation dated 16 August 2017 for further information.
We strongly believe the $6 million grant offer is a major validation of the Company's leading international technology position and its business plans for the commercialisation of its revolutionary Perovskite Solar Cell (PSC) technology. As recently reported, the technology is also generating key international commercialisation interest. In 2016, the global solar PV market enjoyed over 50% growth and is approaching US$100 billion.
Being awarded the grant would provide Greatcell Solar shareholders with $1.20 from federal government for every $1.00 invested by shareholders in the SPP. This "matched funding" opportunity to invest is consistent with the mininmum dilution strategy that the Company has been pursuing on behalf of shareholders.
The SPP provides eligible shareholders the opportunity to purchase up to $15,000 worth of fully paid ordinary shares (New Shares) at an issue price of $0.18 per New Share. All New Shares will be quoted on ASX and will rank equally with other fully paid ordinary shares on issue. The SPP is also a good opportunity for those shareholders holding unmarketable parcels to increase their holdings without incurring transaction costs.
Shareholders wishing to participate in the SPP should apply and pay (either via cheque or BPAY) in accordance with the details on the Application Form. Payment must be received by 5pm (AEST) on 25 August 2017.
The indicative updated timetable for the issue of shares pursuant to the SPP is:

SPP offer closes 5.00pm (Perth time) on 25 August 2017 
Issue date                                Friday, 1 September 2017 
Statement mailing date                    Monday, 4 September 2017 
Anticipated Quotation date of New Shares  Tuesday, 5 September 2017 

Greatcell may vary any of the above dates in its absolute discretion and will advise of any variation by lodging a revised timetable with the ASX.
About Greatcell Solar Limited

Greatcell Solar Limited (ASX:GSL) (OTCMKTS:DYSOY) is a global leader in the development and commercialisation of Perovskite Solar Cell (PSC) technology – 3rd Generation photovoltaic technology that can be applied to glass, metal, polymers or cement. Greatcell Solar Limited manufactures and supplies high performance materials and is focussed on the successful commercialisation of PSC photovoltaics. It is a publicly listed company: Australian Securities Exchange ASX (GSL) and German Open Market (D5I). Learn more at our website and subscribe to our mailing list in English and German.
Dyesol Headquarters:
Marine Andre
Manager Investor Relations
T: +61-2-6299-1592
E: mandre@greatcellsolar.com

Germany & Europe:
Eva Reuter, Dr Reuter
Investor Relations
T: +49-177-605-8804
E: e.reuter@dr-reuter.eu
Related CompaniesGreatcell Solar Limited