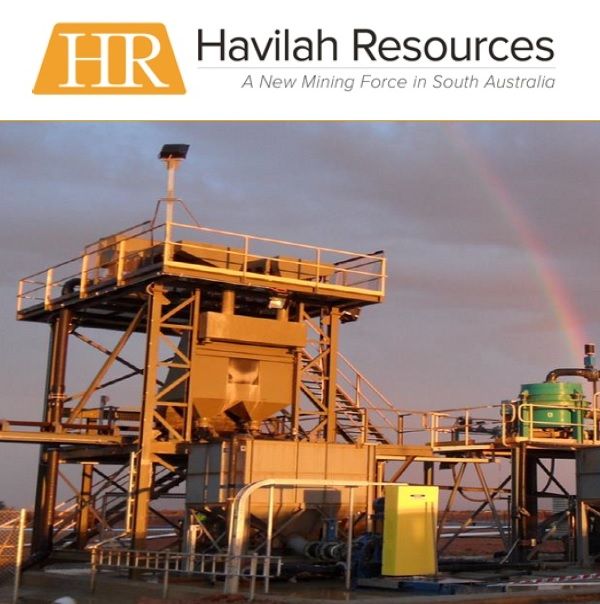 Portia Gold Mine Update - July 2017
Adelaide, Aug 23, 2017 AEST (ABN Newswire) - Havilah Resources Ltd (

ASX:HAV
) reports the Portia gold mine production numbers for the month of July.
Highlights
- Gold production for the July quarter of 1,740 ozs, 18% lower than the previous quarter due to lower processed grade and downtime to complete major plant upgrades.
- The final phase of plant upgrades was successfully completed in July and is allowing consistently higher throughput in August.
- Total nugget inventory increased to 325 ounces (Approximate value $0.5 million).
- August mining campaign has commenced targeting higher grade ore.
Key points from the production figures presented in the table in link below are:
1. Gold production was approximately 49% lower in July compared to the previous month partly due to processing slightly lower grade ore but mostly caused by lower total throughput as a result of downtime to complete the final phase of plant upgrades.
2. Gold production was lower by approximately 18% for the July quarter compared to the previous quarter mainly due to lower July monthly production due to plant downtime related to the plant upgrades.
3. Plant throughput was lower by 21% in July largely due to downtime for upgrades and ramp up during commissioning of the changes. However, July quarter throughput was 26% higher than the previous quarter for a record of 106,000 tonnes processed, reflecting the earlier plant improvements.
4. Ore stockpiles on the ROM pad of approximately 75,000 tonnes at the end of July will allow processing at the current rate for approximately one and a half months. This comprises a mixture of higher grade Base of Tertiary material and lower grade saprolite (weathered bedrock) ore, which is normally blended in order to optimise throughput.
5. Ore mining was limited to 12,000 tonnes of ore in July (after no ore mining in June), which limited the opportunity to add higher grade material on the ROM pad. A mining campaign targeting higher grade ore has commenced in August.
6. Limited overburden mining was necessary in July because a large part of the saprolite gold resource is now exposed in the open pit floor.
The final stage of plant improvements was completed in July with the installation and commissioning of cyclones that will increase slurry density to the Knelson Concentrators and allow for higher throughput and is expected to result in improved recoveries.
Roughly 120,000 tonnes of saprolite gold ore exists in the resource model to -30 RL, which is near the base of oxidation and some 10 metres below the current pit floor. Saprolite ore blocks that are presently being mined from the floor of the open pit lie within this resource envelope (see picture below). Havilah's internal resource model estimates that these blocks should contain higher grades than are currently being processed, lying in the range of 0.7 - 2.4 g/t, depending on the gold cut-off grade used.
Further details on drilling results and the outlook for future ore mining and processing at Portia will be presented in the forthcoming quarterly report.
Commenting on the production results, Havilah Managing Director, Dr Chris Giles said: "Production in July was lower in part due to the installation of the final phase of plant improvements that were initiated in May.
"The fourth quarter of this year saw lower gold production, but record throughput for the quarter reflects our large effort with our partner (Consolidated Mining and Civil) on plant improvements and we should see further benefits of the plant upgrades in future quarters.
"Mining commenced in the medium grade saprolite gold ore zones in August, which based on our resource models should see improved grades of material being delivered to the ROM pad and processed" he said.
To view tables and figures, please visit:
http://abnnewswire.net/lnk/LUFLHW8Y
About Havilah Resources Ltd

Havilah Resources Ltd (ASX:HAV) is a debt free South Australian gold producer having recently financed and developed its first gold mine at Portia in north-eastern South Australia. It plans to follow on with three copper-gold-cobalt mining developments at North Portia, Kalkaroo and Mutooroo, which are underpinned by a JORC resources mineral inventory of over 1.4 million tonnes of copper, 3.6 million ounces of gold, and 18,000 tonnes of cobalt.
Dr Chris Giles
Managing Director
Havilah Resources Ltd
T: +61-8-8338-9292
F: +61-8-8338-9293
E: info@havilah-resources.com.au
WWW: www.havilah-resources.com.au
Related CompaniesHavilah Resources Ltd