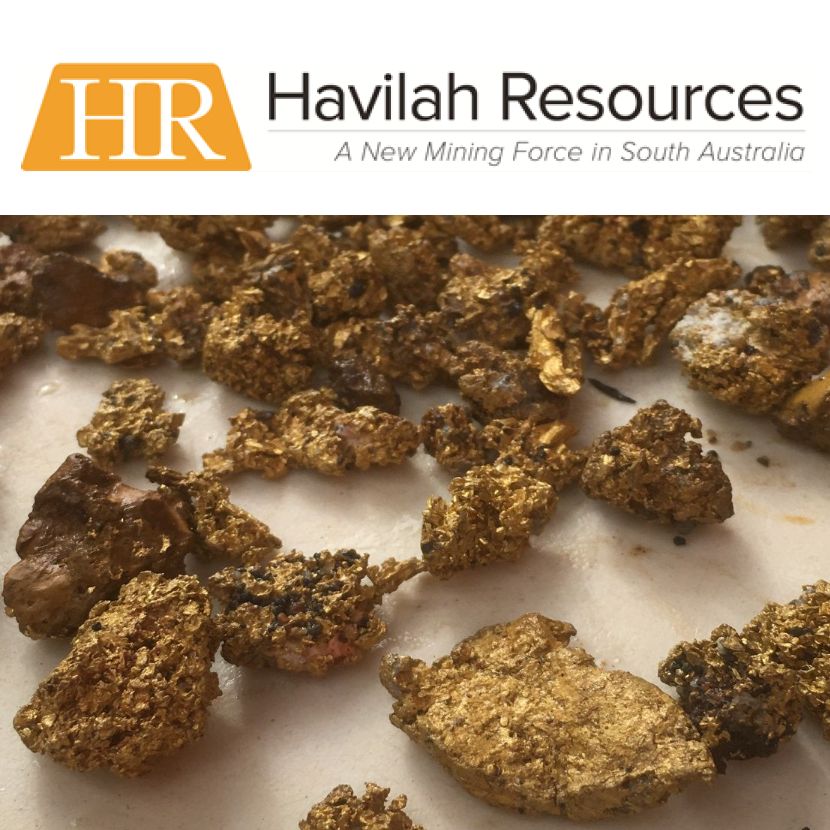 Portia Gold Mine Update - August 2017
Adelaide, Sep 25, 2017 AEST (ABN Newswire) - Havilah Resources Limited (

ASX:HAV
) (Havilah) reports the Portia gold mine production numbers for the month of August.
Highlights
- Gold production in August 126% higher than July at 982 oz.
- Record monthly processing plant ore throughput of 48,000 tonnes.
- Total nugget inventory decreased to 215 ounces (Approximate value $0.3 million).
Background
Key points from the production figures presented in the table below are:
1. Gold production was approximately 126% higher in August compared to the previous month partly due to processing higher grade ore and also higher throughput.
2. Plant throughput increased by 45% in August to a record monthly high with the plant operating at steady state after the recently completed plant upgrades.
3. 43,000 tonnes of saprolite ore was mined in August, which generated ore stockpiles on the ROM pad of approximately 75,000 tonnes as of the end of the month. This would allow processing at the current rate for approximately one and a half months. The ore on the ROM comprises a mixture of higher grade Base of Tertiary material and lower grade saprolite weathered bedrock) ore, which is normally blended in order to optimise throughput.
4. Limited overburden mining was again necessary in August because a large part of the saprolite gold resource is now exposed in the open pit floor.
Commenting on the production results, Havilah Managing Director, Dr Chris Giles said: "Production in August was higher due to the combination of processing higher grade material and record monthly throughput.
"We have also started the process of classifying the gold nuggets we have in inventory to separate significant nuggets from those which can be processed as coarse gold, therefore explaining the decrease in gold nugget inventory.
"A close-spaced pit-floor drilling campaign was commenced for grade control purposes and for delineation of deeper ore" he said.
To view tables and figures, please visit:
http://abnnewswire.net/lnk/DM1FU90I
About Havilah Resources Ltd

Havilah Resources Ltd (ASX:HAV) is a debt free South Australian gold producer having recently financed and developed its first gold mine at Portia in north-eastern South Australia. It plans to follow on with three copper-gold-cobalt mining developments at North Portia, Kalkaroo and Mutooroo, which are underpinned by a JORC resources mineral inventory of over 1.4 million tonnes of copper, 3.6 million ounces of gold, and 18,000 tonnes of cobalt.
Dr Chris Giles
Managing Director
Havilah Resources Ltd
T: +61-8-8338-9292
F: +61-8-8338-9293
E: info@havilah-resources.com.au
WWW: www.havilah-resources.com.au
Related CompaniesHavilah Resources Ltd