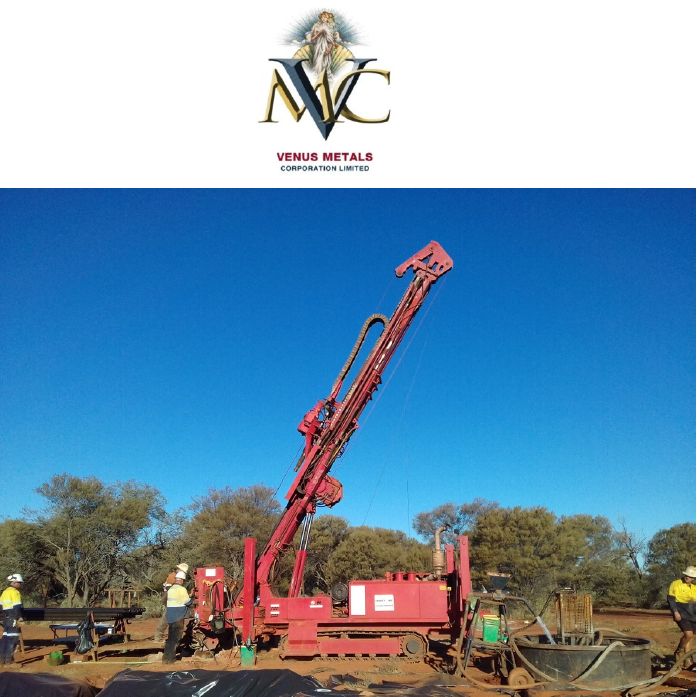 Annual Report
Perth, Sep 28, 2017 AEST (ABN Newswire) - During 2016-17, Venus Metals Corporation Limited (

ASX:VMC
) carried out exploration works on its diverse portfolio of projects focusing mainly on base metals, cobalt, gold and lithium. The exploration activities are summarised below:
Youanmi Pincher Well- Zinc-Copper Project
- Induced Polarisation ("IP") surveys (Phase 1 and Phase 2) were carried out at the Pincher Well North Dome area and southern extensions of North Dome area respectively.
- Reconnaissance phase-1 RC drilling of eight holes for a total of 980 metres over the Pincher Well North Dome IP anomaly were completed and seven drill holes intercepted a high-grade Zinc mineralisation at shallow depth.
- Phase-2 drilling completed and assays in progress.
Youanmi Gold Project
- Historical data review identified number of drill holes with high-grade gold intersections at three exploration target locations within Pincher Hill area and at two additional exploration targets at Youanmi North area. These gold targets are found within Youanmi shear at Youanmi north and structural playas from the main Youanmi shear at Pincher Hill area.
Sandstone Gold Project:
- Aboriginal heritage Clearance Survey followed by reconnaissance RAB drilling of 79 holes to a total depth of 1671m was completed.
- The assay results confirm the occurrence of significant gold mineralisation at shallow depth in selected VTEM anomaly areas which warrant additional RC drilling to test this mineralisation to depth.
Currans Well Cobalt-Nickel-Copper-PGE Project:
- Analysis of historical drill hole data at Currans Well revealed thick intersections of cobalt mineralisation within shallow Ferruginous Laterites/Duricrust cover and numerous historical drill hole samples have not been assayed for Cobalt.
- A Programme of Work approval was obtained from the Department of Mines, Industry Regulation and Safety (DMIRS) for reconnaissance RAB drilling at Currans Well.
Poona Lithium-Tantalum Project:
- Initial RC drilling of 9 holes for 781m was carried out at Poona. One RC hole at Poona East intersected significant lithium mineralisation from the surface.
Greenbushes East Lithium Project:
- A broad potassic rich target area (>9 km2) has been identified from regional radiometric data, and is located southeast of Talison Lithium's world-class Greenbushes Lithium-Tantalum mine. VMC is planning to conduct reconnaissance geological mapping and sampling followed by RAB/RC drilling.
Pilgangoora-Wodgina Lithium Project:
- Recent interpretation of regional geophysical data (aeromagnetic & radiometric) over Pilgangoora East and Wodgina South has identified a number of potassic-rich, pegmatite target areas.
- Lithium Australia NL (under MoU) is currently conducting a detailed geological mapping and surface sampling to refine the target locations at Pilgangoora East and Wodgina South tenements.
Curara Well Gold-Base Metals Project:
- Initial drilling of 5 RC holes totaling 961m depth followed by diamond tailing of selected 3 RC holes (DMP Exploration Incentive Scheme Co-funded drilling) totaling 361.9m depth were completed at the Curara Well. Three RC drill holes (in Phase1 drilling) intercepted ultramafic stratigraphy (serpentinised Peridotites) carrying disseminated nickel sulphides. Millerite (Nickel Sulphide) with accessory Pentlandite, Pyrrhotite and traces of Chalcopyrite were identified from two drill holes through Ore Petrography study.
- Interpretation of diamond tail assays and petrography studies were carried out.
Venus currently has 22 granted Exploration Licences, 3 Prospecting Licences and 1 Retention Licence and pending 6 Exploration Licence Applications (ELA) in Western Australia.
To view the Annual Report, please visit:
http://abnnewswire.net/lnk/ZVR9KGOU
About Venus Metals Corporation Limited

Venus Metals Corporation Limited (ASX:VMC) holds a significant and wide ranging portfolio of Australian base and precious metals exploration projects comprising lithium, cobalt, vanadium, copper, zinc, nickel, gold and platinum group of elements.
Key project areas in Western Australia include:
- Pincher Well Zinc-Copper Project (Youanmi): Over 5 km of under explored VMS trend with an Exploration Target of 15-20 Million Tonnes@ 2-8% Zinc,which also hosts a number of high grade lodes (>10% Zinc).
- Currans Well Cobalt-Nickel-Copper Project (Youanmi): Significant Cobalt mineralisation up to 1483 ppm Co in historical drilling. Extensive Lateritic Duricrust Co-Ni target areas identified.
- Curara Well Nickel-Copper-Gold Project (Doolgunna):10 km northeast of Sandfire Resources DeGrussa Copper Mine. Wide intercepts of disseminated Nickel Sulphides (Millerites) in Ultramafics.
- Southern Cross Vanadium Project (Youanmi): JORC 2012 Inferred Vanadium Mineral Resource of 167.7 Millions Tonnes @ 0.41% V2O5, 7.52% TiO2.
- Strategic Lithium-Tantalum Projects in WA.

Matthew Hogan
Non-Executive Chairman
T: +61-8-9321-7541

Kumar Arunachalam
Chief Executive Officer
T: +61-8-9321-7541
Fax: +61-8-9486-9587
E: info@venusmetals.com.au
Related CompaniesVenus Metals Corporation Limited