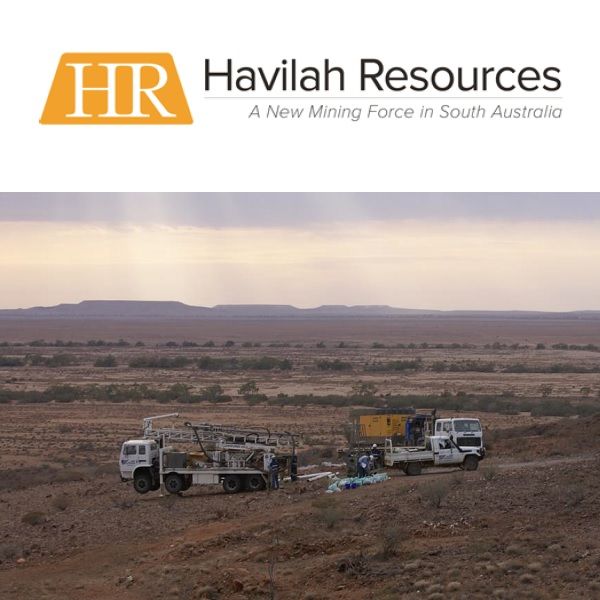 Secures $2M Placement to Fund Copper Growth Strategy
Adelaide, Oct 5, 2017 AEST (ABN Newswire) - Havilah Resources Limited (

ASX:HAV
) (Havilah) is pleased to announce the execution of a private placement subscription agreement (Subscription Agreement) with Bergen Global Opportunity Fund II, LLC (the Investor), a New York-based institutional investor managed by Bergen Asset Management, LLC.
Highlights
- $2.0 million placement of 6.2 million shares at a 13% premium to the share price.
- Funding to be used to progress work on Havilah's Copper Growth Strategy.
Background
Pursuant to the Subscription Agreement, the Investor will invest $2.0 million in Havilah by way of a subscription for a fixed number of 6,212,121 shares at $0.33 per share, in one tranche, representing a 13% premium to the price of Havilah's shares on 2 October 2017. This is a 14% premium to the 5-day volume average weighted price.
In addition, Havilah has also executed a funding agreement (Funding Agreement) with the Investor, which potentially provides Havilah with an opportunity to benefit from an appreciation in Havilah's share price arising from future developments. Under the Funding Agreement, the Company is required to make a payment to the Investor in consideration of the Investor entering into the Funding Agreement, and the Investor will thereafter make regular payments to Havilah over a period of up to 20 months, with the calculation of such payments taking into account Havilah's share price prior to each payment. Future amounts payable by the Investor to Havilah under the Funding Agreement are not subject to a cap, and no further shares will be required to be issued to the Investor under this arrangement (avoiding any further dilution by shareholders). The key aspects of the investment and Havilah's rationale for securing this funding are set out in the Appendix (see the link below).
Commenting on the placement, Havilah Managing Director, Dr Chris Giles said:
"Obtaining this investment for a fixed number of shares from the Investor, at a premium, provides additional funding and a vote of confidence by a substantial institutional investor in Havilah's Copper Growth Strategy.
"This opportunity is enhanced through the ability to receive additional funding from further appreciation in Havilah's share price over the next 20 months.
"At the same time, there is no potential for any further dilution from the funding as all the shares under the placement are issued in one tranche at the time of the placement" he said.
About Bergen Asset Management, LLC
Based in New York, Bergen Asset Management, LLC is an institutional investor with a particular focus on direct investments in small-cap companies around the world, and a track record of success in the Australian market.
To view the Appendix, please visit:
http://abnnewswire.net/lnk/8JE5G3WY
To view the Copper Strategy Positioned for Growth Presentation, please visit:
http://abnnewswire.net/lnk/7Z8TI4VH
About Havilah Resources Ltd

Havilah Resources Ltd (ASX:HAV) is a debt free South Australian gold producer having recently financed and developed its first gold mine at Portia in north-eastern South Australia. It plans to follow on with three copper-gold-cobalt mining developments at North Portia, Kalkaroo and Mutooroo, which are underpinned by a JORC resources mineral inventory of over 1.4 million tonnes of copper, 3.6 million ounces of gold, and 18,000 tonnes of cobalt.
Dr Chris Giles
Managing Director
Havilah Resources Ltd
T: +61-8-8155-4500
E: info@havilah-resources.com.au
WWW: www.havilah-resources.com.au
Related CompaniesHavilah Resources Ltd