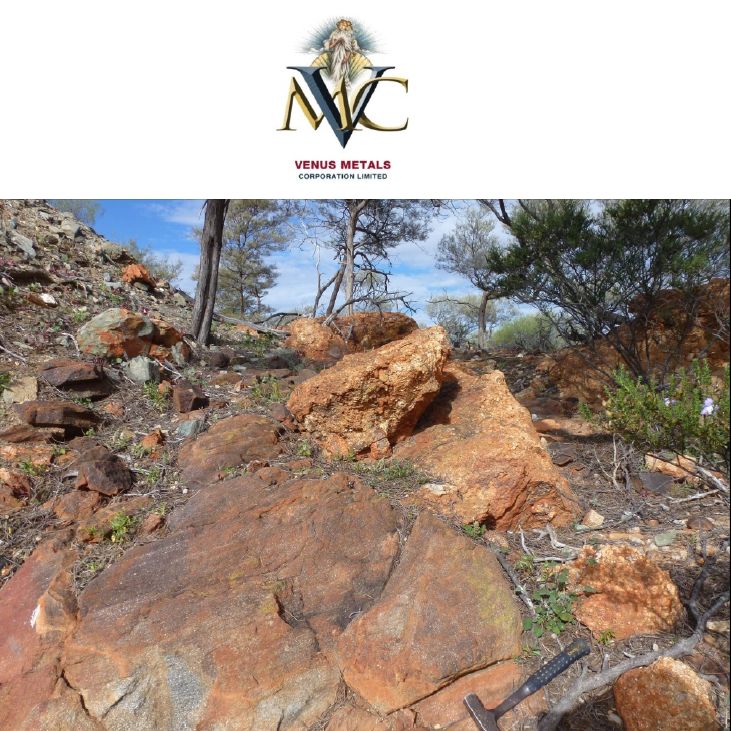 Addendum to ASX Release on Giant Pegmatite at Poona East
Perth, Oct 30, 2017 AEST (ABN Newswire) - Venus Metals (

ASX:VMC
) announces the following addendum to the previous ASX announcement "Giant Pegmatite identified within Poona East Project...." on 11 October 2017.
The target area was initially delineated from GSWA 100k map and subsequently a quick reconnaissance field visit was made in 2016. Recently a geological investigation and preliminary mapping was carried out by field traversing. The giant Pegmatite body (1.3kmx300m wide) was identified by our Senior Geological Consultant Mr Barry Fehlberg (MAusIMM). The strike extent of the zone containing the pegmatite body is interpreted to be 3.5 kilometres long, and much of it is under cover and therefore prospective. The geological mapping is at an early stage and it is not possible to produce a map consistent with the JORC Code at this stage.
The pegmatite is mineralised, with old Beryl workings being located and identified in the field traversing. Beryl mineralisation was also noted at other locations within the pegmatite body. The presence of Beryl in the Jackson's Reward pegmatite and Tantalum (identified from within a previously un-prospected downstream drainage system) makes it as potential target for LCT mineralisation. The Company has planned to conduct a detailed geological mapping and sampling soon to further refine the target.
About Venus Metals Corporation Limited

Venus Metals Corporation Limited (ASX:VMC) holds a significant and wide ranging portfolio of Australian base and precious metals exploration projects comprising lithium, cobalt, vanadium, copper, zinc, nickel, gold and platinum group of elements.
Key project areas in Western Australia include:
- Pincher Well Zinc-Copper Project (Youanmi): Over 5 km of under explored VMS trend with an Exploration Target of 15-20 Million Tonnes@ 2-8% Zinc,which also hosts a number of high grade lodes (>10% Zinc).
- Currans Well Cobalt-Nickel-Copper Project (Youanmi): Significant Cobalt mineralisation up to 1483 ppm Co in historical drilling. Extensive Lateritic Duricrust Co-Ni target areas identified.
- Curara Well Nickel-Copper-Gold Project (Doolgunna):10 km northeast of Sandfire Resources DeGrussa Copper Mine. Wide intercepts of disseminated Nickel Sulphides (Millerites) in Ultramafics.
- Southern Cross Vanadium Project (Youanmi): JORC 2012 Inferred Vanadium Mineral Resource of 167.7 Millions Tonnes @ 0.41% V2O5, 7.52% TiO2.
- Strategic Lithium-Tantalum Projects in WA.

Matthew Hogan
Non-Executive Chairman
T: +61-8-9321-7541

Kumar Arunachalam
Chief Executive Officer
T: +61-8-9321-7541
Fax: +61-8-9486-9587
E: info@venusmetals.com.au
Related CompaniesVenus Metals Corporation Limited