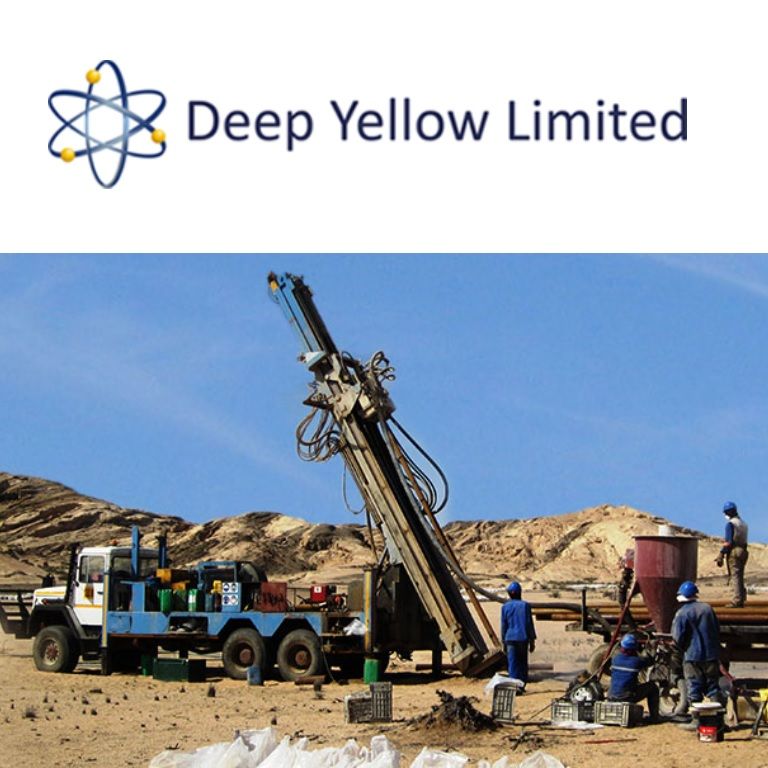 Successful Extension Drilling Completed at Tumas 3
Perth, Dec 14, 2017 AEST (ABN Newswire) - Deep Yellow Limited (

ASX:DYL
) (

OTCMKTS:DYLLF
) (Deep Yellow) is pleased to report continued encouraging drilling results from the recently completed extension drilling at Tumas 3 located within EPL3496 and held by Deep Yellow's wholly-owned subsidiary Reptile Uranium Namibia (Pty) Ltd.
HIGHLIGHTS
- Follow-on drilling on broad 400m x 100m spacing east and west of Tumas 3 completed and mineralised zone extended from 4.4km to 7.2km
o 27 of 62 holes drilled for 1,878m returned mineralisation >100ppm eU3O8 over 1m
- Notable intersections include:
o 4m at 296ppm eU3O8 from 5.1m
o 7m at 239ppm eU3O8 from 5.1m
o 6m at 309ppm eU3O8 from 2.1m
- Mineralisation is calcrete associated and hosted in palaeochannels, similar to the Langer Heinrich uranium mine located 30km to the north east
The drilling program focused on testing for extensions of Tumas 3 to the immediate east and west. This work was completed 2 December 2017 with 62 RC holes drilled for 1,878m. The maiden inferred resource announced 27 September 2017 was interpreted to be open to both the east and west and this short drilling campaign was targeted to determine the full extent of the previously identified zone of uranium mineralisation. The drilling delineated additional uranium mineralisation, extending the Tumas 3 discovery further to the east by 2.2km and to the west by 0.6km to a total strike length of 7.2km. Of the total 62 exploration holes drilled 27 returned positive results - an overall 44% success rate. Equivalent uranium oxide (eU3O8) values have been determined and the mineralised zone is defined by intersections showing greater than 100ppm eU3O8 over 1m or more as defined from gamma logging using a fully calibrated Auslog down hole logger.
Drill hole spacing was 100m along 300m to 600m spaced lines aiming to define the limits of uranium mineralisation to the east and west of the Tumas 3 resource within the main paleochannel system and to give a guideline for optimal spacing to use for future first-pass target drilling. Figure 2 (see link below) shows the new area that was tested within the palaeochannel system and also shows the drill hole locations in relation to the Tumas 3 deposit.
The results are regarded as very encouraging as this drilling further confirmed the highly prospective nature of the Tumas 3 palaeochannel. The width of the additional 2.8km long zone of mineralisation that has been delineated varies between 200m to 400m with thicknesses ranging from 1m to 8m.
Drilling has shown mineralisation extends further to the east than to the west of Tumas 3. East of the Tumas 3 resource the drilling intersected mineralisation on all 6 of the north-south lines that were drilled covering 2.2km of palaeochannel length. Some test drilling was also targeted further to the east to better define the location of a narrow but prospective tributary channel entering the main Tumas 3 palaeochannel. This channel shows promising calcrete-type uranium mineralisation from previous drill holes and needs to be further investigated. The drilling west of the Tumas 3 resource only extended uranium mineralisation a further 600m.
Appendix 1 (see link below) lists the results of the 62 latest drill holes completed in the November/December exploration program showing eU3O8 grade and thickness as determined from down hole gamma logging inside the RC drill rods with hole depth and coordinates also provided.
The mineralisation that has been extended by the new drilling occurs with no associated surface radiometric expression. This work again confirmed that, apart from the considerable benefit gained by the re-interpretation of the existing airborne geophysical data to locate the prospective palaeochannel systems more accurately, discovery is only possible by drilling.
Analysis
The follow-on extension drilling clearly demonstrates that the Tumas 3 mineralisation extends over a strike length of more than 7km. As indicated by the previous drilling at Tumas 3, the uranium mineralisation it is not confined to one simple, single channel but rather is associated with a complex palaeodrainage system containing numerous channels that head westward toward the ocean.
The drill-hole cross section shown in Figure 3 (see link below) indicates the continuous nature of the uranium mineralisation and also the variability and complexity of the palaeochannel topography.
Conclusion
This second drilling program - following on from the previous very successful drilling campaign that discovered Tumas 3 to test for extensions of the deposit - has again produced successful results. It indicates that the previously discovered and defined Tumas 3 uranium resource has potential to be expanded. This is not only expected to add to the current uranium resource base of this project at Tumas 3 but, more importantly, emphasises the strong exploration potential of the uranium-fertile, extensive palaeochannel system that is identified for future investigation.
There are now 4 JORC defined uranium resources identified within the 125km of palaeochannel (see Figure 1 in link below) occurring within the Reptile project tenements (Tumas 1 & 2, Tumas 3 and Tubas Sand/calcrete deposits). Some 80%, or approximately 100km, of these palaeochannels remain inadequately tested.
The encouraging results from the latest drilling confirm the benefit emanating from the reinterpretation of historic exploration data which has a far reaching positive implication. It provides management with increasing confidence that the existing uranium resource base for Langer Heinrich style deposit/s can continue to be expanded within the Reptile project area.
Further drilling programs to test the extensive, highly prospective, regional palaeochannel system, along with infill drilling required for expanding the uranium resource base at Tumas 3, is planned to be conducted during calendar year 2018. This drilling is scheduled to commence mid-February.
To view figures, please visit:
http://abnnewswire.net/lnk/697PGY8E
About Deep Yellow Limited

Deep Yellow Limited (ASX:DYL) (OTCMKTS:DYLLF) (Namibian Stock Exchange:DYL) is a specialist differentiated uranium company implementing a new contrarian strategy to grow shareholder wealth. This strategy is founded upon growing the existing uranium resources across the Company's uranium projects in Namibia and the pursuit of accretive, counter-cyclical acquisitions to build a global, geographically diverse asset portfolio. The Company's cornerstone suite of projects in Namibia is situated within a top-ranked African mining destination in a jurisdiction that has a long, well regarded history of safely and effectively developing and regulating its considerable uranium mining industry.
John Borshoff
Managing Director/CEO
T: +61-8-9286-6999
Email: john.borshoff@deepyellow.com.au
www.deepyellow.com.au
Related CompaniesDeep Yellow Limited