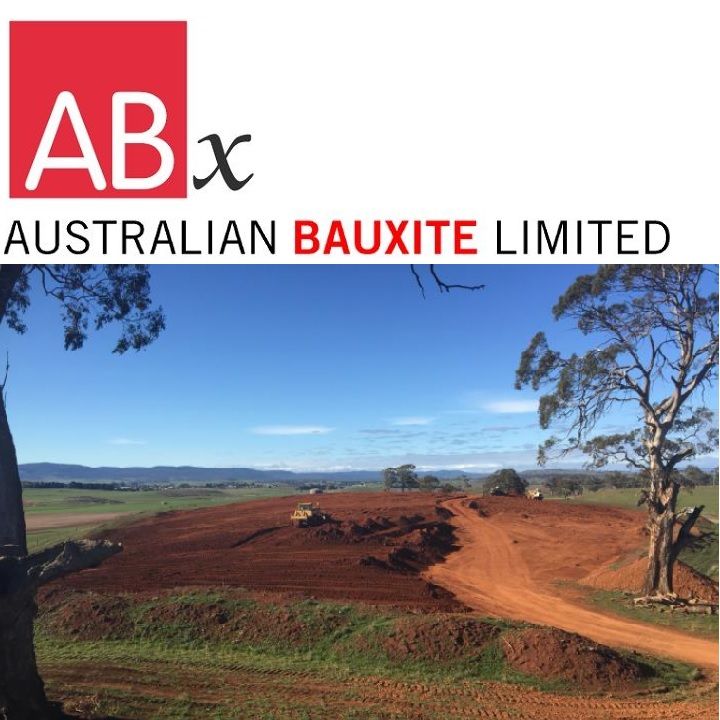 March 2018 Quarterly Activities Report
Sydney, April 30, 2018 AEST (ABN Newswire) - Australian Bauxite Ltd (

ASX:ABX
) provides the Company's Quarterly Activities Report for three months to 31 March 2018.
Corporate
- Group available cash at the end of the quarter was $1.45 million and now stands at about $1.47 million.
- ABx has lines of credit for working capital, if required, and has no current plans for capital raisings.
Sales & Operations
Sales of 1,412 tonnes of bauxite was concluded in the quarter as part of a regular sales of fertiliser grade bauxite.
Bauxite Refining Technology
- ABx has global exclusive rights to ALCORE technology to beneficiate and refine bauxite into high-value products:
a. Aluminium Fluoride (AlF3) used as an electrolyte for aluminium smelters & lithium ion batteries;
b. Silica fume for our cement industry customers and manufacturers of low CO2 geopolymer cement;
c. Corethane which is an ultra-pure hydrocarbon that can substitute for natural gas for electricity generation, heating, metallurgical use and brickmaking; and,
d. Refractory-grade bauxite and potentially high purity alumina for making scratch-resistant sapphire glass.
- ABx assisted technology owner, Refined Ore Industries Limited "ROIL" lodge the patent application on 5 June 2017.
- ALCORE's business plan is to develop the first of several ALCORE bauxite refinery projects in Tasmania and/or northern QLD. ABx's uniquely clean bauxite is ideal for ALCORE because it is totally free of deleterious elements.
- ABx has a design and cost study for Stage 1 of the ALCORE project to generate bulk samples of products for market-testing by ALCORE's prospective customers. (see ABx ASX announcement dated 26 March 2018). Cost estimates for Stage 1 have reduced by more than 50% to between $5.5 and $6.5 million.
- Reductions in costs and technological risks arise from process simplification, lower cost modern components and by initially targeting products with wider specification tolerances. ALCORE technology is relatively low-risk because it operates at ambient temperatures and pressures.
- Stage 1 has commenced with quotations for construction and securing the approved site in Berkley Vale NSW.
- Subject to regulatory, statutory and shareholder approvals as required, the ALCORE project will hold discussions with governments, agencies and companies that have showed strong interest in both AIF3 and the main coproducts, Corethane and silica fume.
- $1.2 million of funding has already been promised by a party that will provide services to ALCORE.
- Financing plans are to be finalised in mid-2018. Funding proposals under consideration include selecting an engineering firm to part-fund Stage 1 evaluations of the ALCORE process and if satisfied, build, own, operate and transfer the large bauxite refinery production plant to ALCORE ("e BOOT financing").
- ABx has been approached by a party involved in the Aluminium Fluoride industry to discuss Stage 1 financing and, if successful, other participants in the Aluminium Fluoride industry have expressed interest in providing some finance for the construction of the 50,000 tonne per year production plant, subject to offtake agreements.
- A third party is also seeking access to the Stage 1 Plant for the purification of graphite on terms that may supply one third of the cost of the Stage 1 Plant during its 12 to 18 months of testwork.
Review of Binjour project
- Resource modelling and mining sequencing is in progress. Binjour Bauxite project resources are currently estimated as totalling 28 million tonnes from Binjour exploration licences (see Note below) and granted mining lease at Toondoon south of Mundubbera. (see Note below)
- Bulk samples were collected and physico-chemical tests were conducted during the quarter in 5 laboratories in Queensland, Western Australia and India to expedite negotiations with customers for the execution of offtake salepurchase agreements for the project.
- ABx's marketing partner, Rawmin Industries of India has commenced shipping bauxite to the large alumina refinery of one of the prospective customers in India and has obtained a pro-forma contract terms from which ABx can conduct grade versus price studies for the processing of its Binjour bauxite.
Note: See Resource Statement
To view the full report with tables and figures, please visit:
http://abnnewswire.net/lnk/O3B080X6
About Australian Bauxite Ltd

Australian Bauxite Limited (ABx) (ASX:ABX) has its first bauxite mine in Tasmania and holds the core of the Eastern Australian Bauxite Province. ABx's 22 bauxite tenements in Queensland, New South Wales & Tasmania exceed 1,975 km2 and were selected for (1) good quality bauxite; (2) near infrastructure connected to export ports; & (3) free of socio-environmental constraints. All tenements are 100% owned, unencumbered & free of third-party royalties. ABx's discovery rate is increasing as knowledge, technology & expertise grows.
The Company's bauxite is high quality gibbsite trihydrate (THA) bauxite that can be processed into alumina at low temperature.
ABx has declared large Mineral Resources at Inverell & Guyra in northern NSW, Taralga in southern NSW, Binjour in central QLD & in Tasmania, confirming that ABx has discovered significant bauxite deposits including some of outstandingly high quality.
At Bald Hill near Campbell Town, Tasmania, the Company's first bauxite mine commenced operations in December 2014 – the first new Australian bauxite mine for more than 35 years. ABx has created significant bauxite developments in 3 states - Queensland, New South Wales and Tasmania. Its bauxite deposits are favourably located for direct shipping of bauxite to both local and export customers.
ABx endorses best practices on agricultural land, strives to leave land and environment better than we find it. We only operate where welcomed.

Australian Bauxite Ltd
Julie Young, Investor Relations
T: +61-2-9251-7177
F: +61-2-9251-7500
E: corporate@australianbauxite.com.au
WWW: www.australianbauxite.com.au

Related CompaniesAustralian Bauxite Ltd