To fund ALCORE Stage 1 refining bauxite into Aluminium Fluoride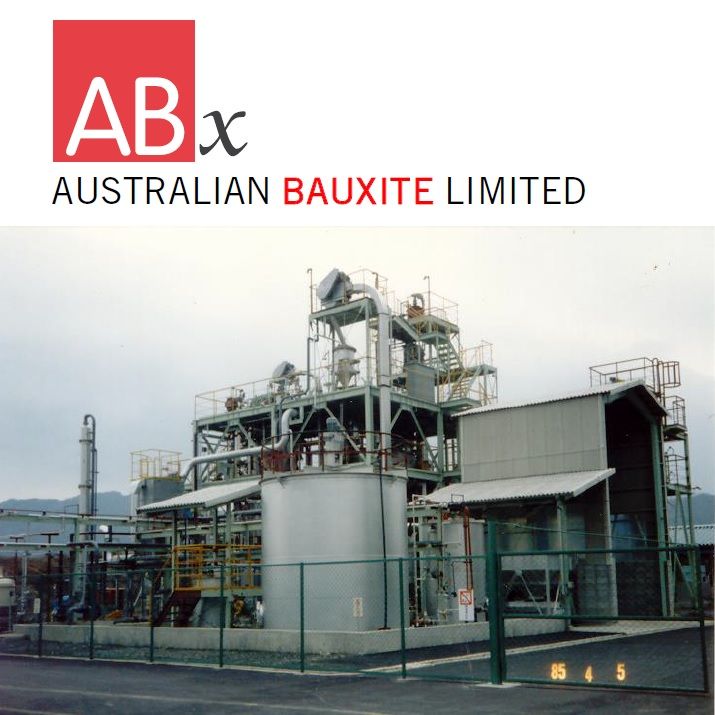 ALCORE Limited Seed Capital Presentation
Sydney, May 28, 2018 AEST (ABN Newswire) - In accordance with the requirements of Listing Rule 3.1 Australian Bauxite Ltd (

ASX:ABX
) submit the attached material (see link below) being presented to investors to the ALCORE project.
Summary:
- ALCORE Limited will be a wholly-owned subsidiary to fund and manage the ALCORE Project, leading to the construction of an ALCORE Production Plant to produce 50,000 tonnes per year of Aluminium Fluoride (AlF3) and co-products
- ALCORE technology converts raw bauxite worth approximately $50 per tonne into products worth more than $1,000 per tonne of bauxite.
- Preliminary in-house and independent engineering estimates of the operating cost is of the order of $400 to $500 per tonne of bauxite, which leaves an attractive operating margin
- ALCORE project is starting with the commencement of Stage 1 pilot plant at a pre-approved factory site in Berkeley Vale, central coast NSW for the production of AlF3 test samples
- Stage 1 costs reduced to $2.5 million site operations (including contingencies), plus $0.5m pre-IPO costs plus $0.3m working capital and administration cost
- $1 million of funding has been promised, $0.5 million has been provided and $0.2 million has been pledged by parties supportive of this new technology
- It is anticipated that the remaining $1.6 million of seed capital will be fully subscribed to complete the funding of Stage 1
- Once Stage 1 completes the production of AlF3 test samples, it will be modified to test the production of Corethane, which is pure hydrocarbon powder refined from low-value coals
- Corethane will provide heat and electrical power for the ALCORE Production Plant and will also demonstrate its use as a gas-substitute in gas turbine electrical generators or its use as a diesel substitute for fuel security purposes. Corethane has many industrial markets
- Discussions with governments and agencies are progressing at the highest levels
- Companies that showed strong interest in purchasing and/or marketing both the Aluminium Fluoride and the main co-products Corethane and silica fume are being consulted
- ALCORE and ABx are on schedule to complete funding arrangements by 30 June 2018
ABx CEO, Ian Levy Comments:
"After 5 years of hard work and fine-tuning the ALCORE technology with the patent holder, Refined Ore Industries Limited (ROIL), ABx can, subject to a successful IPO or superior funding process, unlock considerable shareholder value that is not reflected in ABx's current share price. ABx and ROIL will control the destiny of ALCORE so as to maximise shareholder values.
"At current product sale prices, ALCORE has the potential to produce 50,000 tonnes per year of Aluminium Fluoride and deliver a significant annual EBITDA. This is why The ALCORE Project must be pursued without delay to be ready to supply existing Australasian aluminium smelters and new aluminium smelters under construction. Lithium-ion battery demand will be a bonus upside.
"ABx will continue progressing the development of its three core bauxite projects, namely the Tasmanian mine and additional resources, the large Binjour Project in central QLD and the Penrose refractory bauxite project 90km inland of Port Kembla NSW. Separating ALCORE into its own entity with its own management and destiny will unlock considerable value for shareholders in both the short and medium terms. Financing of the ALCORE Production Plant cannot be pre-determined but an IPO during 2019 is one route, should there be no superior offers at the time."
To view the presentation, please visit:
http://abnnewswire.net/lnk/HEA85Z2G
About Australian Bauxite Ltd

Australian Bauxite Limited (ABx) (ASX:ABX) has its first bauxite mine in Tasmania and holds the core of the Eastern Australian Bauxite Province. ABx's 22 bauxite tenements in Queensland, New South Wales & Tasmania exceed 1,975 km2 and were selected for (1) good quality bauxite; (2) near infrastructure connected to export ports; & (3) free of socio-environmental constraints. All tenements are 100% owned, unencumbered & free of third-party royalties. ABx's discovery rate is increasing as knowledge, technology & expertise grows.
The Company's bauxite is high quality gibbsite trihydrate (THA) bauxite that can be processed into alumina at low temperature.
ABx has declared large Mineral Resources at Inverell & Guyra in northern NSW, Taralga in southern NSW, Binjour in central QLD & in Tasmania, confirming that ABx has discovered significant bauxite deposits including some of outstandingly high quality.
At Bald Hill near Campbell Town, Tasmania, the Company's first bauxite mine commenced operations in December 2014 – the first new Australian bauxite mine for more than 35 years. ABx has created significant bauxite developments in 3 states - Queensland, New South Wales and Tasmania. Its bauxite deposits are favourably located for direct shipping of bauxite to both local and export customers.
ABx endorses best practices on agricultural land, strives to leave land and environment better than we find it. We only operate where welcomed.

Ian Levy
CEO and MD
Australian Bauxite Limited
Telephone: +61-2-9251-7177
Mobile: +61-407-189-122
Related CompaniesAustralian Bauxite Ltd