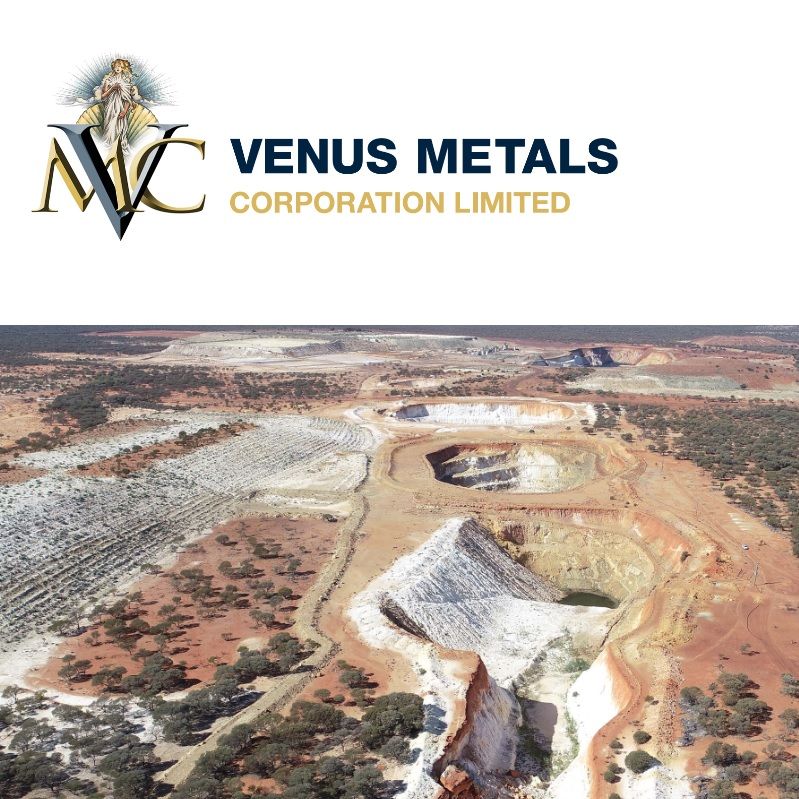 Aligns with Lepidico (ASX:LPD)
Sydney, Aug 9, 2018 AEST (ABN Newswire) - The Directors of Venus Metals Corporation Limited (

ASX:VMC
) ("Venus" or the "Company") are pleased to announce that they have entered into an Option Agreement with Lepidico Ltd (

ASX:LPD
) ("Lepidico") on terms under which Lepidico is to explore for lithium mineralisation in Lepidolite bearing pegmatites on exploration licence E57/983 located in the Murchison District in Western Australia, approximately 20 km southwest of the historical Youanmi gold mine(under option to purchase by Venus). Lepidico owns the technology to a metallurgical process (L-Max(R) Process) that has successfully produced lithium carbonate from nonconventional sources, specifically lithium-rich mica minerals including lepidolite and zinnwaldite.
HIGHLIGHTS:
- On signing: Venus to receive $50,000 cash and $120,000 in Lepidico fully paid ordinary shares. Lepidico earns a 12-month option to explore the tenement.
- During the option period the parties intend to negotiate the terms of a farm-in and joint venture agreement on the following indicative terms:
o Venus to receive $350,000, comprising 50:50 cash and shares; shares issued at 5 day VWAP. Lepidico will have a 4-year period to complete a full Feasibility Study leading to a Decision to Mine to earn an 80% interest in the Lithium Rights.
o Venus's 20% will be free-carried to a Decision to Mine and Venus will be carried through project finance, with cost of finance to be repaid from 100% of Venus's share of production.
o Venus is to receive a benefit linked to the price of lithium carbonate equivalent received by Lepidico on sale of L-Max(R) products from material sourced from the Rights.
o If at any time in the 4-year period, Lepidico spends $2 million on project expenditure Lepidico will earn a 51% interest in the Rights.
The deal with Lepidico gives Venus a guaranteed path to market for its share of any lithium concentrate produced should exploration be successful. For further details of Youanmi Lithium Project please refer Lepidico ASX release 26 July 2018.
About Venus Metals Corporation Limited

Venus Metals Corporation Limited (ASX:VMC) holds a significant and wide ranging portfolio of Australian base and precious metals exploration projects comprising lithium, cobalt, vanadium, copper, zinc, nickel, gold and platinum group of elements.
Key project areas in Western Australia include:
- Pincher Well Zinc-Copper Project (Youanmi): Over 5 km of under explored VMS trend with an Exploration Target of 15-20 Million Tonnes@ 2-8% Zinc,which also hosts a number of high grade lodes (>10% Zinc).
- Currans Well Cobalt-Nickel-Copper Project (Youanmi): Significant Cobalt mineralisation up to 1483 ppm Co in historical drilling. Extensive Lateritic Duricrust Co-Ni target areas identified.
- Curara Well Nickel-Copper-Gold Project (Doolgunna):10 km northeast of Sandfire Resources DeGrussa Copper Mine. Wide intercepts of disseminated Nickel Sulphides (Millerites) in Ultramafics.
- Southern Cross Vanadium Project (Youanmi): JORC 2012 Inferred Vanadium Mineral Resource of 167.7 Millions Tonnes @ 0.41% V2O5, 7.52% TiO2.
- Strategic Lithium-Tantalum Projects in WA.

Matthew Hogan
Managing Director
T: +61-8-9321-7541

Kumar Arunachalam
Executive Director
T: +61-8-9321-7541
E: info@venusmetals.com.au
Related CompaniesVenus Metals Corporation Limited







Lepidico Ltd