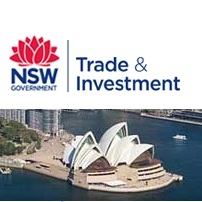 Presentations in Sydney - Next Wednesday 15th May, 2013
Sydney, May 9, 2013 AEST (ABN Newswire) - NSW Trade & Investment invites you to the NSW Mineral Explorers Presentation, Wednesday 15 May 2012 at the New South Wales Trade & Investment Centre, Sydney.
The May 2013 Miners-Explorers Presentation showcases four explorers, companies whose NSW projects have been selected for their high growth potential and investment readiness.
Presenters will deliver the latest news on their projects, and outline their prospects for development with the timely backing of the right financial partners and funding.
The May 2013 Presentation is an opportunity for resources sector focused investors and intermediaries to hear the explorers' presentations and directly discuss with them their projects at length; to make connections that enable them to invest in a current project, or to develop key contacts for future prospects.
The NSW Miners-Explorers Presentation brings together both miner-explorers and investors with the aim of generating key new strategic investment and partnerships and new economic growth in New South Wales, stemming from the opportunities the resource sector offers.
Explorers at the 15 May presentations include:
Ausmon Resources Limited (

ASX:AOA
) Pieter Moeskops, Project Manager
Platina Resources Limited (

ASX:PGM
) Robert Mosig, CEO Managing Director
White Rock Minerals Limited (

ASX:WRM
) Geoffrey Lowe, Managing Director
Carpentaria Exploration Limited (

ASX:CAP
): Nick Sheard, Executive Chairman
NSW Trade & Investment, through its Resources and Energy Investment Unit, is proud to provide this occasion to promote a vital State industry sector and to assist in promoting future activity in a key export segment of the New South Wales economy.
We look forward to receiving your response and registration for the 15 May presentation event.
To register, or for inquiries please contact
Wayne Sonter
Manager, Investment, Division of Resources & Energy
NSW Trade & Investment
Tel: 02 8281 7364,
Email: Wayne.Sonter@industry.nsw.gov.au,
W:
http://www.industry.nsw.gov.au
About NSW Dept of Industry

Industry Investment & Export Support Branch (II&ES) is the NSW Government's lead economic development agency for the state's resources and energy sector. It is the first point of contact for investors wanting to participate in the NSW mineral/energy industry, and for explorer-miners seeking key strategic investors to help develop their NSW projects. II&ES can facilitate introductions between potential investors and company representatives.

Wayne Sonter
Manager, Investment, Division of Resources & Energy
NSW Trade & Investment
Tel: 02 8281 7364,
Email: Wayne.Sonter@industry.nsw.gov.au,
W: www.industry.nsw.gov.au
Related CompaniesWhite Rock Minerals Ltd






Platina Resources Limited









NSW Dept of Industry
Carpentaria Resources Ltd






Ausmon Resources Limited